I would however point out a couple of things:
1. this very heroic older gentleman is a DEMOCRAT; and
2. Iowa is typcally a BLUE state - you know, LIBERAL
3. the Congressman didn't require a gun to confront the intruder, just training.
By way of

MSNBC news staff and news services

:
Congressman, grandson fight off armed intruder
77-year-old Rep. Boswell wrestles man who attacked his daughter at Iowa farm home; grandson grabs a shotgun
DES MOINES, Iowa
 —
An eight-term congressman from Iowa helped fight off an armed man who invaded his farm house in Decatur County and attacked his daughter on Saturday night, according to a statement from his office.
The attack occurred around 10:45 p.m. on Saturday at a farm in Lamoni, where Rep. Leonard Boswell, a 77-year-old Democrat who represents Iowa's third congressional district, was spending the weekend with his wife, daughter and grandson.
"The intruder entered the front door of the farm house and physically assaulted Cindy while demanding money at gunpoint," read the statement from Boswell's office.
After hearing his daughter's screams, the congressman "entered the walkway of their house and immediately went for the guy's gun and was wrestling with him. They were both on the ground," Boswell's chief of staff Grant Woodard told local news station KCCI.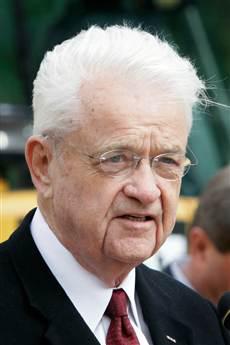 Charlie Neibergall

 / 

AP file
Rep. Leonard Boswell, D-Iowa, helped fight off an invader at his farm house on Saturday night.
While the two scuffled, Boswell's 22-year-old grandson Mitchell Brown grabbed a shotgun from a nearby room and confronted the intruder, who then fled into the surrounding field and reportedly was still on the run.
"The congressman just did what anybody would do if he knew his family was in trouble," said Woodard. "He jumped right into the situation and helped his daughter."
"Besides some scrapes and bruises, Congressman Boswell and his family are fine," read the statement. Boswell lives in Des Moines and owns the farm in southern Iowa.
The Decatur County Sheriff's Department and state and federal authorities are investigating. The sheriff's department said Saturday that the intruder had not been caught.
"The congressman says the military is the best training for situations like this," said Woodard, referring to Boswell's 20-year military career. "It's a wakeup call to everybody to take precautions and do what they need to do to keep their family safe."
Reuters contributed to this report.
Well done, Congressman!