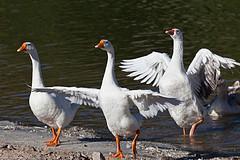 photo : Mike Baird
November 11th has been a day marred by disaster in Austria, yet also brightened by the story of geese that gave a Bishop away. It's also known as Armistice Day, Independence Day and Remembrance day – depending on where in the world you live. Kaprun in Salzburgerland, Austria also recalls it as a very dark day in its history.
Kaprun
Nestled at the foot of the mighty Kitzsteinhorn Glacier, Kaprun is a tiny alpine village. It's in the Hohe Tauern mountain range, which was first climbed in 1838. In 1965 the Gletscherbahnen (Glacier railway) with the world's tallest cable car tower was opened, making this Austria's first Glacier ski slope.
In 1974 another mode of transport to the top was opened – the funicular railway. This was the scene of a major disaster on 11th November 2000, when a fire broke out in a tunnel ascending the mountain and 155 people in a railcar were killed.
November 11th
The 11th of November is the 315th day of the year in the Gregorian calendar and 50 days until the end of the year – which in Austria is the start of the Viennese Ball season. In 1918 11:00 on 11th November saw the end of fighting in WWΙ, though the war didn't officially end until the signing of the Treaty of Versailles on 28th June 1919.
This day is marked round the world:
Armistice Day – New Zealand, France and Belgium
Remembrance Day – UK, the Commonwealth of Nations, Australia and Canada
Veterans Day – USA
Independence Day – Poland
In a different kind of war – one against civil liberties – American minister Martin Luther King Snr. died on this day in 1984. In Austria it's known as St Martin's day which refers to ye another kind of war – that of a defender of the Faith.
St Martinstag
St Martin is the Patron Saint of Soldiers. Born in what is now Hungary, St Martin was a wandering Christian who refused to go to war. He stated he was a soldier of Christ and accordingly could not and would not fight.
Legend tells that in his youthful years, St Martin came across a semi-clad traveller. He tore his own cloak in half and shared it with the man. That night this good Samaritan dreamt of Jesus wearing the half of the cloak he had given to the traveller. This was to confirm him as a follower of Christ.
The Gaggle of Geese
It is also held that St Martin didn't want to become a Bishop, so hid from his followers amid a gaggle of geese. Such were the groans and gripes of the geese and ganders at this intrusion, that Martin's masquerading was uncovered. The geese gave the Bishop away!
Austrian Celebrations
11th November is a notable occasion in Austria. Children make lanterns and participate in a Martinstag parade. This is often led by a man dressed at St Martin, riding a fine horse.
Celebratory meals are traditionally served with goose as the main meat. Other culinary delights are also shared.
Chalet Lowonahill is an all-season holiday home in Styria. It's an ideal place for you to discover the delights of the 9 provinces of Austria. To find out more, simply click here.