Leading into this year's US Open, Novak Djokovic no doubt will still have memories of the bizarre incident that got him kicked out of the tournament last year.
Trailing 5-6 in the opening set of his pre-quarters clash against Spaniard Pablo Carreno Busta, the Serb, in a moment of frustration and fury, smacked a tennis ball which accidentally caught a woman line official flush on the neck.
Novak Djokovic was sent packing at last year's US Open for accidentally hitting a line judge
Even though Djokovic apologized to the official, his offense was deemed one which merits immediate disqualification from the event and moments later, he received his marching orders.
However, keen to avoid a "deja vu" incident this year, the organizers have decided to do away with line officials altogether and turn to technology instead.
The US Tennis Association and the ATP and WTA, who are primary stakeholders of the year's final Grand Slam, announced on Monday that the chair umpire would be the only match official on the court during this year's tournament.
It was further announced that all line calls would be adjudged electronically, with the benefit of Hawk-Eye cameras.
The cameras would take real-time pictures of where the ball landed, thereby taking away the element of human error and helping the umpire arrive at an accurate judgment while awarding points.
The electronic line-calling technology was introduced at this year's Australian Open, with encouraging results, and the practice would be carried forward at the US Open.
Even in the tournament's last edition, the USTA had leaned on the Hawk-Eye technology for line calling, with the exception of matches hosted at the two main arenas – the Arthur Ashe Stadium and the Louis Armstrong Stadium.
This year, however, the technology would be introduced uniformly across all the arenas.
Djokovic was deemed to have merited disqualification with his act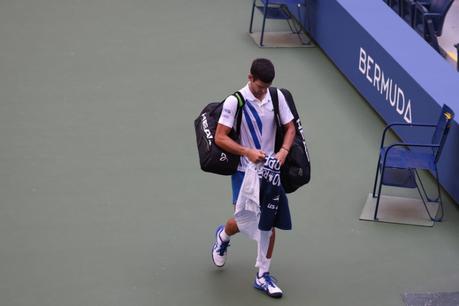 Novak Djokovic of Serbia walks off the court after being defaulted due to inadvertently striking a lineswoman Laura Clark with a ball hit in frustration during his Men's Singles fourth round match against Pablo Carreno Busta of Spain. | Photo Source: Getty Images
Even as the line official was taken to a hospital last year, tournament officials and the chair umpire went into a huddle and eventually decided to send Djokovic packing.
Tournament referee Soeren Friemel, who took the eventual call, was quoted as saying later, "We all agree that he didn't do it on purpose but the facts are still that he hit the line umpire and the line umpire was clearly hurt."
Since the incident, Djokovic has made a strong pitch for the introduction of line-calling technology at all events, including the Grand Slams.
It was primarily on his request that Tennis Australia formally rolled out the e-calling system at Melbourne Park this year.