Chemical Free. Cruelty Free. Concern Free.
Discover what it means to never again worry about what you put on your skin. Every nurturing Nourish product contains nutrient-rich, organic fruits, vegetables, and plant extracts – and nothing else.
I discovered Nourish USDA through glowing reviews on Dina's wonderful natural beauty blog Be Beauty Smart. She mentioned the fact that they were the world's first USDA Organic Certified line of skin care products and loved the simplicity of the brand. I was intrigued and decided to check it out for myself, and I'm very glad I did!
Nourish USDA keeps things simple and basic. Organic body butter, lotion, body wash, deodorant, hand wash, body polish, and even raw shea butter are your choices here. With fragrances like fresh fig, lavender mint, almond vanilla, wild berries and even unscented, there's definitely a scent perfect for your senses.
I bought the Organic Body Wash and Organic Body Cream in Wild Berries. I was leaning towards lavender mint but had tried on a bunch of lavender products recently so I was  a little tired of the smell. The order arrived quickly and with minimal packaging.
The body wash is surprisingly creamy and thick for an organic, natural product. It has a yellowish tint. The wash did smell like wild berries – the scent wasn't as strong as I expected, but it was definitely there and very tart, yet light. It lathered up quite nicely, again a surprising feature for a product without sulfates. I don't normally use body wash but this has changed my mind about them – now I'm a big fan! So are my brother-in-laws and my husband, as they too used the wash with abandon. So, I can conclude that this is definitely a unisex product that anyone would enjoy.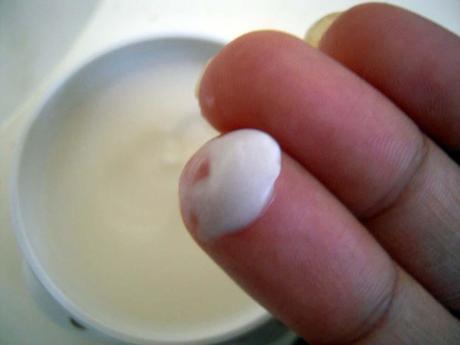 The body butter is super thick, firm and moisturizing, and very potent. You'll need to warm it up a bit before use so it's easier to spread. Only a little is needed to soften rough areas. It has the same lovely scent as the body wash, but better since it's in butter form. I initially used it on my arms and legs, but saw that the rich, creamy texture was too heavy for my skin so I relegated it to just my elbows, knees and feet. I love using this body butter on my feet, then covering them with socks overnight. My toes are incredibly silky the next morning, an amazing feat for such an inexpensive product!
Oh right, I should mention that – Nourish USDA have great, affordable prices for such high-quality products. When you think organic, you usually think $$$. Not Nourish – a big 10 oz bottle of body wash and their long-lasting body butter will set you back a mere $9.99 each. Awesome, especially since my budget's so tight lately. The body wash lasted about 2 months, and that's with everyone using it about twice a week. If it's just you, expect it to last longer. I'm still working through the body butter and it's been almost 7 months!
Overall, I'm super pleased with my experience, and would definitely purchase again! I look forward to trying the organic body lotion and hand wash in Lavender Mint.
Ingredients:  http://www.nourishusda.com/ingredients/
Price: $9.99 for a 10 oz bottle of body wash, and 9.99 for a 3.6 oz jar of body butter
Buy at: Nourish USDA
Rating: