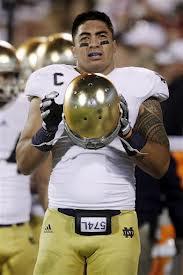 By now most of you know that Notre Dame star linebacker Manti Te'o was potentially duped into thinking his girlfriend Leenay Kekua (of which he had never met in person) had died 24 hours after his real life grandmother died.  The death of the two (in September) provided inspiration for the linebacker and the resurgent Notre Dame Football team.
Deadspin.com broke the story this week that his girlfriend was in fact non-existent.  It is not clear yet if Te'o was actually duped or if this was part of some elaborate ploy to garner favor to win the Heisman Trophy.  
An independent investigation revealed online "chatter" among the alleged perpetrators that demonstrated "the joy they were taking" in foiling Te'o.  The pranksters even made sure that the player sent white roses in her honor and told him what time they planned to close her casket. 
An unnamed source suggested the death was a publicity stunt hatched by Te'o and his West Coast counterpart, according to Deadspin.
"This is incredibly embarrassing to talk about," Manti Te'o said in a statement.  "To realize that I was the victim of what was apparently someone's sick joke and constant lies was, and is, painful and humiliating."
The player received a phone call Dec. 6, while at an awards show, from what he believed was Kekua's old cellphone number.  The woman on the other end—in a voice he recognized as Kekua's—told him she wasn't dead.
There have been so many conflicting stories.  His father told the local paper that he had met his girlfriend in Hawaii and that they had been dating since 2009.  Many people have asked why he didn't use Skype to see her at any point.  Te'o said he maintained the 4 month relationship strictly online and on the phone.
My take:
I think he in fact was duped.  "Catfish" is the name of the MTV series following people who are fooled into thinking they are dating someone online that in fact neither exists nor looks like their profile suggests.  I think he really thought she died.  They might not have Skyped because "she had leukemia and was in the hospital."
I think someone wanted to pull a prank on an emerging football star.  This isn't uncommon.  The only thing uncommon is that it hasn't happened to someone this famous.  I think he told his parents he had met her years prior because he didn't want to admit he met her online.  Just because you are a football player it doesn't mean you are highly self-confident off the field.
I think he genuinely believed she died.  When he found out on December 6th that he was duped he didn't reveal anything to the press because he was terribly embarrassed.  Who wouldn't be?  It is embarrassing enough to be that naïve, but to be that naïve in the public makes it even worse.  He might not have wanted to draw the firestorm before their championship game.  As for the Heisman ceremony, if you are voting for him because his grandmother and girlfriend died then you aren't voting for the right reason.
I think he should have revealed the truth the day after the game.  Now we will never know if he, as the family contends, was planning to reveal the truth next week.  He should have refused talking about his "girlfriend" after he found out she didn't exist.  He perpetuated the story and should apologize for that.
I'm giving him the benefit of the doubt.  But then I again, for so long I did the same for Lance Armstrong.
What do you think?
Do you believe him?
Or do you think he was in on it the whole time?
Email: [email protected]
Twitter: @adrakontaidis & @talkrealdebate