notloB Folk Concerts is pleased to welcome John Roberts & Debra Cowan on Saturday, March 19 (doors 7:30, concert 8:00) at the historic Loring-Greenough House, 12 South Street, Jamaica Plain.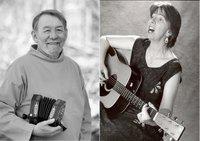 It all started with a question in 2009: "How are you getting to Chicago?"
And with that, folk musicians John Roberts and Debra Cowan decided to team up for a series of small concerts in Pennsylvania, Ohio, Michigan and Illinois before arriving as separately booked artists at the Fox Valley Folklore Society's annual festival. The combination of car-pool and mini-tour was successful enough that John and Debra decided to do more performing together both in the USA and the United Kingdom.
John and Debra met for the first time at the New Bedford Whaling Museum in 1999 where John and his long-time musical partner, Tony Barrand were performing a concert of Maritime Songs. Afterwards, they continued to meet at various folk music events in New England and became friends, often appearing on stage together at New England folk festivals.

John and Debra both share an enthusiasm and passion for the old songs and ballads that have been handed down through the oral tradition in the English-speaking world. Even though a John Roberts and Debra Cowan evening will certainly include many traditional songs, there will be contemporary songs as well, some by writers personally known to both performers. Be prepared to join in and sing along!
About John Roberts:
Before coming to the United States in the 1960's, John Roberts developed his interest in folksongs in high school when he and a group of friends decided to form a folk club. While doing graduate work at Cornell University, John met fellow student Tony Barrand and the two, sharing a common heritage and interest in folksong, began a partnership in 1969 that continues to this day. Their second recording, "Across The Western Ocean" is still regarded as a classic documenting the songs of the transatlantic packet ship trade and together they have numerous recording credits on many compilations in addition to their own releases. But as well as performing with Tony, John has also continued to develop his art as a solo performer. With concertina and banjo, he sings the traditional folksongs of his native Britain in a manner that is at once authentic and authoritative, yet highly engaging and entertaining. His solo CD of sea songs, Sea Fever, was released in 2007 to critical acclaim.
About Debra Cowan:
Debra Cowan was once asked what kind of songs she writes. Her reply? "Bad ones. Besides, there are so many good songs out there written by others and they should be sung." Her captivating warm alto carries each folk song she chooses with such emotion that you'll forget that they were written by others. She performs a cappella and with guitar in the great tradition of folk singers like Joan Baez and Judy Collins, with a clear vocal that calls forth the ghosts of long past but can also offer a more modern urban landscape. In her newest release Fond Desire Farewell, she's taken contemporary and time-honored public domain songs and put them in a modern setting. Debra's shared the stage with artists as varied as Brooks Williams, Richard Shindell and John Renbourne. She's performed in many prestigious UK folk clubs and for six months in the late 90's held a residency at Sandy' Bell's Bar, Edinburgh's premier folk music pub. Now based near Worcester, Massachusetts, Debra tours extensively in North America and the United Kingdom.
Artist's websites: http://www.debracowan.com/Cowan.Roberts.publicity.html
Doors 7:30, Concert 8:00
Coffee, tea and pastries will be available.
Suggested donation $15 + $1 preservation fee. Reservation to notlobreservations at gmail dot com at least 24 hours in advance are recommended.
notloB Folk Concerts are volunteer run and not for profit. Anyone interested in volunteering is encouraged to send an email to notlobreservations at gmail dot com
Website ~ http://sites.google.com/site/notlobmusic
Facebook ~ http://www.facebook.com/notloBFolkConcerts
Mail list ~ http://groups.google.com/group/notlobmusic