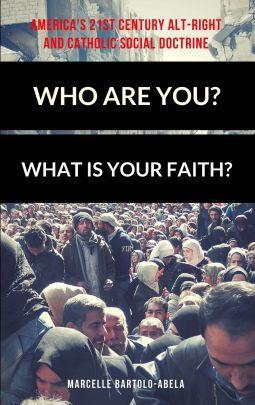 As all you readers know, my latest book Who Are You? What is Your Faith? America's 21st Century Alt-Right and Catholic Social Doctrine has been released to the general public in April by Hope & Life Press. It has been receiving great reviews by everyone who has read it. However, retaliation has been no less forthcoming due to its 'hot' subject topic.
Since its release – indeed, from when it got to the in press stage – some individuals, specifically American Catholic right-wingers of a rather fundamentalistic bent, in particular those from the Bible Belt region and below, have done everything in their power to first stop the book from coming out, then attempt to suppress it, because of its cutting and empirically verifiable data about what is presently happening in the United States, and how this all goes against the Catholic Faith despite a multitude of rationalizations to the contrary. Personal retaliation has also occurred, with both threats directed against me and significant repeated attempts to silence me.
Given the above, therefore, and the importance of the book's content, I am going to be posting the entire book online, section by section, chapter by chapter. Like that, the book will be freely available and widely accessible to anyone who may wish to read it. Further details will be forthcoming shortly.
Advertisements