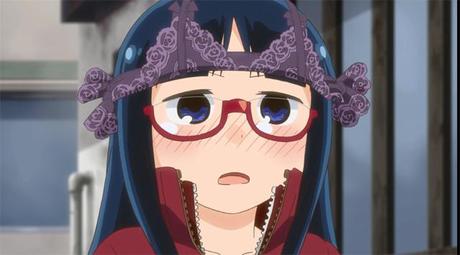 Tomoko Kuroki would be proud.
Previously on Denki-Gai no Honya-san, Sensei tells everyone she's been assigned an editor for her work, which makes them sad because they believe she's leaving the store for good, which turns out not to be true. Then she 'accidentally' asks Umio out, and worries on how to show herself to him, so ask Hio-tan, Fu Girl and Kameko to help, only for her to turn crazy on them all.
Summary of Denki-Gai no Honya-San Episode 9 and 10
Hio-tan catches a cold, so both Director, Sensei and Sommelier check up on her. Director ends up getting on Hio-tan's nerves, while Sensei is too busy making "girl power" notes in Hio-tan's somewhat messy apartment. Then when Christmas Eve comes, the staff up their game and make a varied amount of shelves to show off their latest releases.
Later, in Episode 10, Valentine's Day rears its ugly head again, and with Sensei's girl power at an all-time low, she resorts to Tsumorin for help making a cake, only for them to eat it all instead of wrapping it to present. Then when Director and Hio-tan get locked out of the store, they resort to staying at a private rented room.
My take
Okay I guess I get the chance to say that I'm starting to feel a little sorry for some of the characters now. Now we know who likes who in the show. Even Director's turned into some kind of harem boy, with Hio-tan, Tsumorin and Kameko at his feet. At least Umio/Sensei and Fu Girl/Sommelier are okay and have nothing in their way…it just turns out to be one big messy quadruple love triangle now. And it's both likable and annoying at the same time. Both Hio-tan and Kameko are too embarrassed to say what they really think, but Tsumorin, Director's ex, ends up helping the others, only to feel sorry for not thinking about her own feelings and keeping her own urge to bed Director to herself.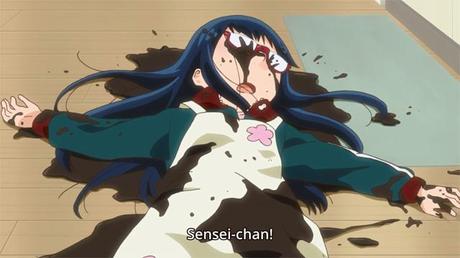 Dat chocolate!
We won't see the last of her though. At least I hope we won't. It's true that none of the characters change, but it's almost like Tsumorin's different because she's both kind and caring, but lewd all at the same time. Amusing for the viewers who want the same kind of slice-of-life shows every season.
After a lot of time when I felt the terrible urge to drop the show, Episode 9 came along and made me feel a little better. Cute little Hio-tan with her horrible cold, only for Director to kick down the door and help her, then later catching her cold himself. It's now blatantly obvious that Hio-tan/Director are the other couple, and personally I'm finding it so much better than Umio/Sensei. While Umio and Sensei are too quiet, Hio-tan's own conscientious musing of her feelings for Director are so much better. We're never really shown how Director feels, but it doesn't matter…Hio-tan does all the work for the both of them.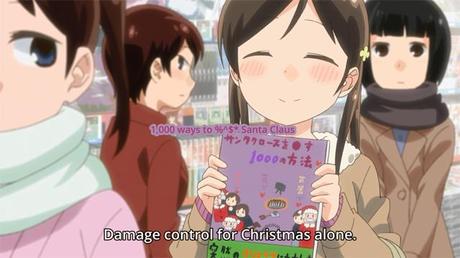 …for my Amazon wish list.
So poor Tsumorin. Not even Valentine's Day could help her this time.