Hey everyone!!!!
I'm back with another NOTD that I really like and hope you like too!  I used two colors that I got for my birthday last week. As soon as I saw these colors I knew I had to use them together. You'll see why... :)
I used Sally Hansen's Xtreme Wear in Flirt as the base,  it's a nice rich burgundy color with a subtle tint of purple. It's a great color for fall or winter. The other color is also from Sally Hansen, its called Big Money and its from their Gem Crush line. Big Money is a fine gold glitter with large light purple glitter. It's gorgeous and the gold & purple glitter matches the burgundy nicely.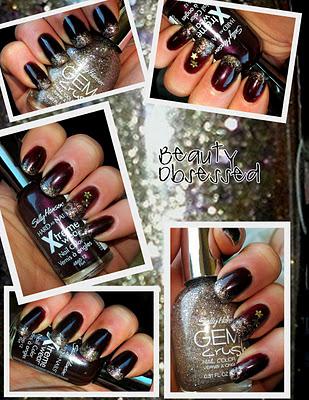 I decided to just use Big Money on the tips instead of over the whole nail so I used a regular makeup sponge and dabbed the glitter on the tips. Then went back a second time and dabbed the very top of the tips again so it would have that gradient/faded look but as you can see I failed at that part. lol. I need to practice that whole gradient look.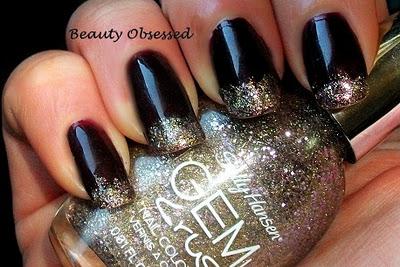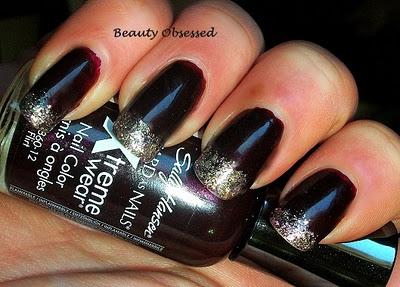 As if that wasn't enough, I was looking through my basket of endless nail gems, stickers, rhinestones, ect. I have so many that i forget about and hardly use. I found these little gold stars that I thought would look cool with the gold glitter. I placed two of them on my ring finger, nice little extra touch.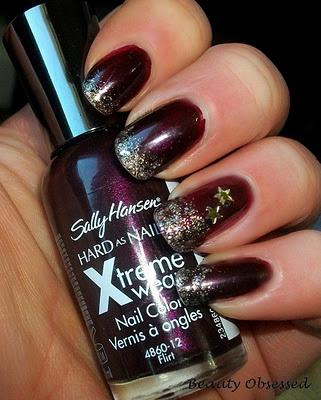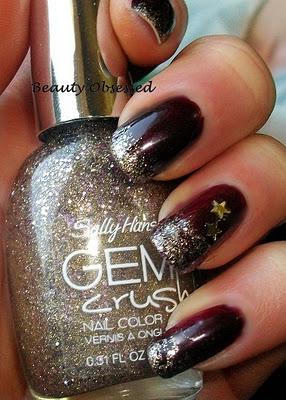 As far as the polish; Flirt by SH Xtreme Wear was extremely easy to apply. I actually only needed one coat which was surprising but I'm not complaining! If you've been following my blog then you probably know that I really like Sally Hansen's Xtreme Wear line, I have a lot of their colors. It's the formula + the brush that I like.
Big Money by SH Gem Crush was also very easy to apply, there's one thing I noticed that I personally don't like, the brush. It seems to have almost the same exact brush as Sally Hansen's INSTA-DRI line. These brushes are pretty wide and short. A lot of people prefer that brush but I personally don't like it. I'm sure it has to do with the size of our nail beds.  I like a semi thin long brush but since these are glitter polishes it doesn't really make a difference. Here's a swatch of Big Money, you can see the large flexs of purple glitter.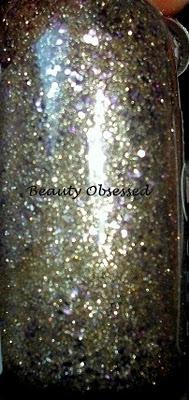 Click the links below :) Follow via GFC Follow me on Twitter