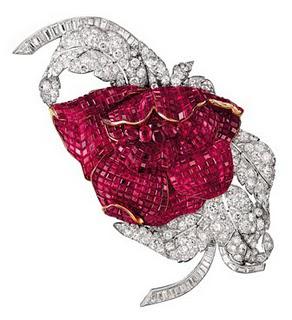 Peony brooch
Designed by Van Cleef & Arpels Paris, France, 1937
Gold, platinum, diamonds, Mystery Set rubies
Van Cleef & Arpels Collection
Photo: Patrick Gries/Van Cleef & Arpels
The Cooper-Hewitt National Design Museum's blockbuster exhibition, "Set in Style: The Jewelry of Van Cleef & Arpels" is coming to a close this weekend, and it is not to be missed. Breathtaking is probably the most suitable adjective to use in describing this show. It is impossible to walk out of this exhibition and not be mesmerized by the three-hundred plus pieces on view.
One does not to be a jewelry lover-although who isn't? - to be wowed by this show. It is organized in five categories: Innovation, Transformation, Nature, Exoticism, Fashion, and Personalities. These categories place the pieces in the larger context of jewelry history and transform this show from being a commercial for the jewelry house to an expertly curated museum exhibition in a prominent museum. Since this is not just any museum, but a design museum, we are prompted to pay close attention to the way the pieces are made. Each object is surrounded by mirrors so that we don't miss a single detail.
I was surprised to find out that they while the company's boutique is famously located on Place Vendôme in Paris (since 1906, ten years after the company was formed), the Van Cleef family and the Arpels family were actually stone dealers from the Netherlands and Belgium.
The exhibition teaches us about famous
Serti mystérieux
or "Mystery Setting" technique, which is the house's trademark. The gemstones must be so closely matched in color, and cut so precisely, that when they are set in the metal channels, the setting is made invisible and all one sees is an uninterrupted sea of color. Lots of different examples, from sapphires brooches to ruby earrings, to diamond necklaces, makes us experts in the ways of the
Serti mystérieux
.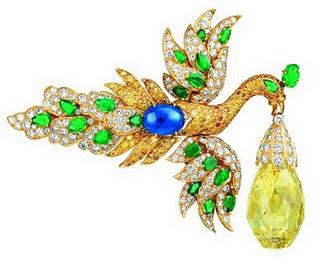 Brooch/pendant of bird and briolette diamond owned by Ganna Walska
Designed by Van Cleef & Arpels New York, NY, 1971
Yellow gold, sapphires, yellow diamonds (briolette 95 carats), white diamonds
Bird brooch and detachable briolette and wings
Courtesy of Private Collection
Photo: Patrick Gries/Van Cleef & Arpels
The exhibition is full of show-stoppers. One of my favorite pieces is the magnificent "Walska" brooch/pendant (ca. 1971), which incorporates a 95-carat yellow diamond previously belonging to the opera star Ganna Walska. This stunning creation can be converted into several pieces of jewelry: the wings can be removed and worn as earrings, the tail becomes a brooch, and the 95-carat diamond, in the bird's beak, can be removed to be worn as a pendant, just the way Walska originally wore it. The jewelry house was famous for creating pieces which could be worn in multiple ways. Some of these can do absolutely everything but talk.
I also loved looking at all of the fabulous jewels that were worn by some of the most beautiful women in the world. It is unimaginable that some of the actresses wore these pieces only once.
Daisy Fellows's bold emerald and diamond "Manchettes" (ca. 1926) or Marlene Dietrich's great ruby and diamond "Jarretière" bracelet (ca. 1937) are just two of the big draws. I cannot tell you how often I heard women near me gasp at the size of some of these pieces too. Big and beautiful is an understatement for most of the objects.
The designers at VC+A were smart enough to listen to their clients ideas when designing some of the jewelry too. After all, many of the women who wore the house's jewelry were worldly, sophisticated, stylish, and very rich. Wallis Simpson, the Duchess of Windsor, famously suggested to the head designer that they create a necklace resembling a zipper. Although it took them almost twenty years, the house eventually introduced the "Zip" necklace (ca. 1952), a necklace that can be zipped-up to create a bracelet. I was also impressed by the "Lotus Necklace" (1951), commissioned by the Maharani of Baroda, made of thirteen pear-shaped Colombian emerald drops weighing a total of 150 carats.
The exhibition is very interactive and high-tech: videos demonstrate setting and stone cutting techniques and iPads are used in lieu of wall-text. Even the display cases, thanks to Patrick Jouin, are very cutting-edge.
If you are prone to jealousy-this is not an exhibition for you. Pick up the catalogue instead.