July 16, 2014
— San Diego Padres (@Padres) July 16, 2014
At least the San Diego Padres properly celebrate their Hall of Fame outfielder who passed away earlier this year.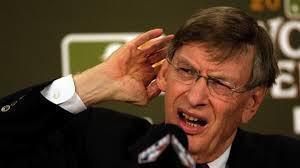 Ever heard of Tony Gwynn, Bud?
Via SBNation: Earlier this year, Major League Baseball said an unfortunate goodbye to one of the greatest hitters of the last generation with the death of Tony Gwynn at the age of 54. A Hall of Famer and memorable icon to anyone watching the game today, it was noticeable to many that FOX never mentioned the passing of Gwynn or held a moment of silence for the former Padre star during the 2014 MLB All-Star Game broadcast.
If you read this blog, you know how I feel about Bud Selig.  Guy is a slime ball who cares only about his standing in Major League Baseball.  Guy should have retired years ago but has somehow been able to hang on to his position pulling in tens of millions of dollars a year even as he makes a mockery of his job position.  Last night was no different.  While I get the hoopla around Derek Jeter, the fact that Selig and MLB gave no time to Tony Gwynn is a joke.  The guy was one of the best hitters of all time, a true ambassador to the game and a guy who did it all the right way.  The least Selig could have done was make note of him, instead, as Barstool pointed out, he only clapped when he knew he was on camera.  Fuck this guy.  Such a clown.
Post navigation
← Chicks Doing It Big Again: Broad Drives Her SUV Through A Fence and Into a Pool and Blames Brakes. Chicks Doing It Big AGAIN, AGAIN! Argentinian President Didn't Watch The World Cup Final That Her Country Played In. →