Cross posted from Deep Green Resistance News Service
By Rachel Ivey / Deep Green Resistance Cascadia
In the arid Powder River Basin of Northern Wyoming and Southern Montana, the long roots of sagebrush draw water from deep beneath the soil.  The ability to access water in this way makes sagebrush an important star of the Basin's biotic constellation.  Species of grasses and herbs are allowed to thrive on the moisture that the sagebrush draws toward the surface.
Elk, mule deer, and pronghorn antelope access the water stored in the plant's pale gray, three-pointed leaves.  Greater sage-grouse eat the sagebrush too, while making their nests and performing their complex courtship rituals among the plant's low branches.  The soil is the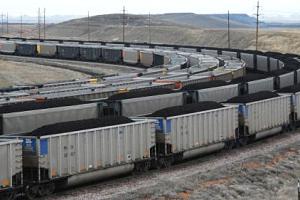 basis for the lives of these creatures and countless others, and the precious moisture within the soil is thread that connects them in a web of relationship.
The Powder River Basin's coal extraction industry doesn't place the same value on soil, and neither does the government that serves the coal extraction industry.  The region extracts about forty percent of the coal mined in the United States.  More coal is mined annually from the Powder River Basin than is mined annually from the entire Appalachian region.
In 2010, the Fish and Wildlife Service decided that the listing of sage grouse as a species endangered by human activity was "warranted but precluded," meaning that the bird needs protection but "other species in bigger trouble must come first."  Presumably, the "other species" they refer to include the US coal industry – which is definitely in big trouble.  Though coal remains a major source of electricity generation, the combination of band-aid environmental protections and increased competition from cheap natural gas is driving the coal industry's profits way down from previous levels.  The industry is not taking this decrease in revenue lying down.
The coal industry is looking to boost their profits by tapping into the Pacific market.  Unlike the US coal market, which has lately been flat, the Asian market's demand for coal is exploding.  China is building at least one new coal-fired power plant every week.  A big obstacle to exploiting this market is a lack of coastal Pacific transport capacity.  To really cash in on Chinese demand, they'll need more rail lines and expanded West coast ports, and there's already a plan in the works to get those things in spite of the impact that their construction will have on marine life.
One of the most aggressively pursued port-expansion projects is the Gateway Pacific Terminal proposed for Cherry Point Washington, home to the Cherry Point herring.  As a keystone species, the herring support a variety of other species that share their habitat.  They provide as much as two thirds of the food supply for Chinook Salmon, who in turn provide as much as two thirds of the food supply for the Puget Sound Orcas.