Today is a very exciting day here at the Hearthfire: Liz Kessler is here to talk about her setting for North of Nowhere (which by the way is a fabulous story of families, mystery, magic and the sea - my review's here). So, without further ado, I'll hand you over to Liz.
About seven years ago, I went on holiday in the Scottish highlands. Whilst there, I visited various tiny towns and attractions along the coast. One of these was a small town called Pennan, the setting for one of my favourite films, Local Hero. But just a little way along the coast from this town that has now become a tourist attraction, there was another, smaller village. Little more than a row of houses standing silently, yards from the water's edge, this one is not on most people's tourist destination maps. And yet it was the one that stayed with me.
Crovie (pronounced 'crivvy') was once a busy fishing town. A storm in 1953, however, put an end to that. The storm washed away many of the houses and forced the residents to flee. Today, the houses that remain are mostly holiday lets – I guess, for those who really want to get away from it all. There is certainly not a lot to do here.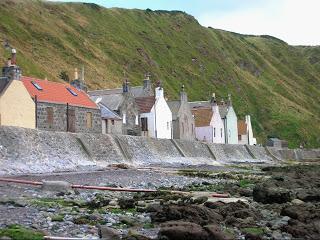 Crovie
But as I walked along the tiny ridge between the houses and the sea, what struck me was the intensity of the silence, the feeling of history trapped here, the creepy atmosphere that seemed to fill every inch of the place. It was the atmosphere that got inside me, and I knew instantly that I wanted to write a book that featured this place or somewhere like it – and most certainly this atmosphere.
It was about five years later that I began to write the story. Many of my books are inspired by a place and, if possible, I always try to go to the place itself in the early stages writing the book. As I had now moved to Cornwall, the prospect of a visit to the Scottish highlands – and the fifteen-hour drive that this would involve – was, I confess, not the most enticing thought in the world.
So I began to look at other possibilities. Were there any other similar towns a
little nearer? That was when I discovered Hallsands.
Hallsands has a similar history to Crovie – only worse. A small but thriving fishing town in Devon, the village was all but destroyed in a storm about 100 years ago. Almost every house was destroyed. Miraculously, there were no casualties from the storm – but every inhabitant had to start a new life elsewhere.
It didn't take me long to pack a bag and book a trip to Hallsands.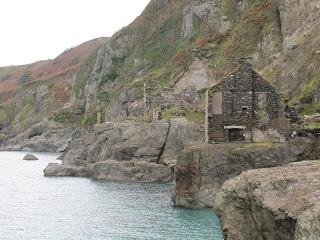 Hallsands
A few nights in a nearby apartment; a few conversations with the right people to allow us over the fence and through the gate that blocked off the land as it is now too unstable to allow public access; a few pages of scribbled notes as I wandered around soaking up the atmosphere of this incredible place; a few hundred photos…All of this led to a head buzzing with ideas and inspiration.
For me, there is nothing quite like going to the place that has inspired a book.
It's not just about what you can read in a book or on the internet. It's about standing in the place itself and feeling its history – almost hearing and seeing the events that took place where you are standing – this is what gets my creative juices flowing. This is what really excites and inspires me.
And so, seven years on from the original moment of inspiration, North of Nowhere is written and out in the shops, and this feels like a very exciting point of an amazing journey.
I hope that I have managed to do justice to the places and the people that inspired this book. And I hope that, if you happen to read it, you will feel at least an inkling of the atmosphere and drama that I have tried to convey.
Thank you for having me as a guest on this blog, and for giving me the opportunity to relive the feeling of inspiration that I had when this book began to form in my mind.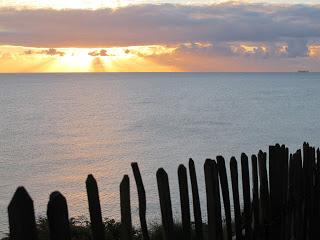 The path down to Hallsands
Thank you, Liz - what a fab post! The sea is such a great place for stories. Where I grew up, on the East Anglian coast, Dunwich is the focus of 'washed into the sea' stories, having been diminishing for centuries - at least half a dozen churches and monastery buildings, for example, are 'out there' in the sea somewhere, the tower of the last having fallen in 1922.

NORTH OF NOWHERE by Liz Kessler was published by Orion Children's Books on 24 January in hardback at £9.99.