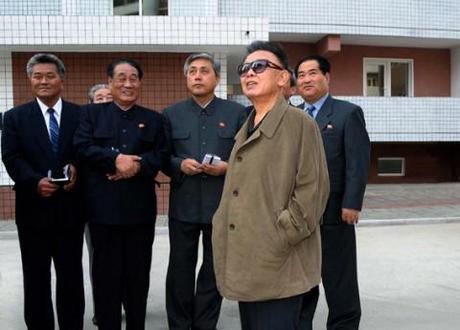 North Korean leader Kim Jong-il at Mansudae Apartment Complex in Pyongyang (October 2009). Photo credit: Alexandermacpherson
Kim Jong-il, North Korea's leader, doesn't travel abroad much – there aren't many countries that would have him, to be honest – so his visit this week to Siberia for talks with Russian President Dmitry Medvedev is intriguing.
Kim is frightened of flying and so his voyage has been conducted by a specially kitted-out bullet-proof train. The somewhat paranoid dictator preferred that curious Russians didn't get too close, and so "Residents by the Bureya rail station, nearly 2000 miles along the Trans-Siberian railway, were told not to use their cars, stay in their houses and not look out the window as his armored train arrived," The Daily Telegraph reported. The crowd of enthusiastic flag-wavers that greeted the Dear Leader, as seen in this video, were probably security service offers, "yanked from their summer vacations by the welcoming committee to pose as regular locals," said The Moscow Times. So far, so stage-managed. But was the real purpose of Kim's trip?
Diplomacy, North Korean-style. Few details of Kim's itinerary in Siberia have been released, but as The Financial Times suggested, it's likely that one reason for his journey is "an attempt to reintegrate himself into the diplomatic fold after international condemnation over two attacks against South Korea last year." Specifically, a Russian spokeswoman confirmed that Kim and Medvedev discussed the resumption of six-party talks on nuclear disarmament with China, Japan, the US and South Korea. However, Kim's insistence that North Korea be allowed to enter talks "without preconditions" – i.e., without making any firm commitment to denuclearisation – is "unnacceptable to Washington, Seoul and Tokoy," said The Financial Times. But beyond these discussions, the most interesting topic of conversation seems to have been a potential Russian gas pipeline running via North Korea into its hated neighbour to the south. According to Aidan Foster-Carter, North Korean expert writing at Asia Times Online, the idea for this pipeline "has been around for over 20 years." And while its construction may have been politically unthinkable for much of that period, these days "energy infrastructure is about as unthreatening as it gets. All Pyongyang has to do is sit there and collect a fat rent. Or if it gets bored, turn the tap off for a bit – just for a laugh." Joking aside, Foster-Carter believes that the pipeline will be built, and that this is "a game-changer," because it will simultaneously bring North Korea back into the diplomatic fold and give them a degree of influence over South Korea, which desperately needs the power. "This won't solve North Korea's problems, let alone the North Korea problem," wrote Foster-Carter. "But yet again Kim Jong-il looks to have won a new lease of life. You have to admire the old poker player."