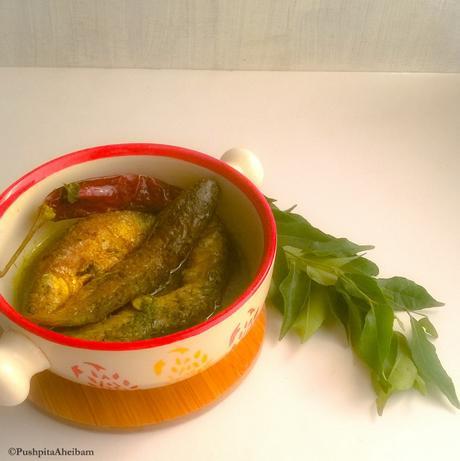 Pushpita Aheibam, an Economist by qualification, a freelance writer by profession, a homemaker, a mother and last but not the least a food enthusiast and a dear friend of mine has an amazing Blog Ei Gi Chakhum where she shares her  passion for cooking , sharing, reviving & spreading some inherited authentic Manipuri cuisine along with fusion cuisine . I always like the detailed infromation she shares about the recipes and some of my favourites from her Blog is Thandai Souffle, Yongchak Singju,Crispy Chicken Drumsticks/Legs, Kelichana Shots,Butter Garlic Prawns to name a few.It is absolute pleasure to have her at my place with her recipe Noroxingho Maasor Anja-Assamese styled Fish Curry with Curry Leaveswhich she has prepared with so much love and care for CulinaryXpress.I would like to  thank Pushpita for accepting my request to do a guest post for me this month and I knew it would be a traditional dish with her signature style of writing and narration. Over to Pushpita and read her views and impression on CulinaryXpress.
It was a sweet and pleasant surprise for me when I received a request from my talented Blogger friend Alka Jena of www.culinaryxpress.comto contribute a guest post for her blog. An inspiration for me who is carrying forth her passion of sharing traditional recipes as well as out of the box recipe ideas through her beautiful blog.Full of detailed information's, her blog has the magic to attract potential readers. The sole Recipe Developer, Author, Food Stylist and Photographer of her Food Blog, Alka dreams of continuing her passion of cooking, food styling and photography through her lovely blog.Curious to know more about her traditional recipes like I do?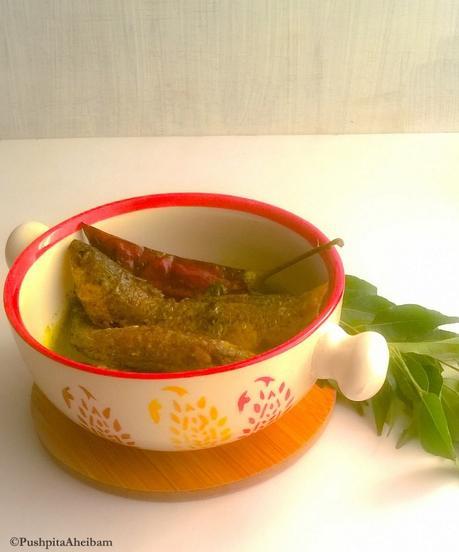 Then, do check out her recipes to name a few of them- Badi Chura,  Odia Kanji, Enduri Pitha, Wood Apple Tamarind Aquafresca , Kulfi, Egg Biryani, Spiced Chickoo and Raisin Cake,Oats and Dry Fruits Cigar, Chai Ice-cream among the varied recipe collection Alka has shared.Knowing about my interest in traditional recipes, she asked me to do a  Guest post for traditional and lesser known recipes from North-East India as I hail from the region.Hence, I am here to share a not so known Assamese Fish Curry recipe with freshly ground Curry leaves paste.
Curry leaves has numerous health benefits. Curry leaves or Kadi patta helps prevent dandruff and premature greying of hair, the anti-fungal and anti-bacterial properties help prevent fungal infections and acne.

It helps prevent morning sickness during pregnancy, anaemia, helps control your blood sugar level and help fight against indigestion.
It was during my last trimester of pregnancy, I have had relished this flavourful Assamese Styled Noroxingho Maasor Anja cooked by my Uncle-in-law more than a decade ago prepared with xinghi or shing maach (fossil cat or Asian stinging catfish).
Your taste-buds can never do away with tasty delicacies which you have ever tasted. I happen to experience the same, as such without any delay simply learnt the method of cooking this tasty fish curry from my Mother-in-law, who is an Assamese by birth.

So without further delay peek into the ingredients included and method of cooking this tasty and healthy Assamese styled fish curry with curry leaves.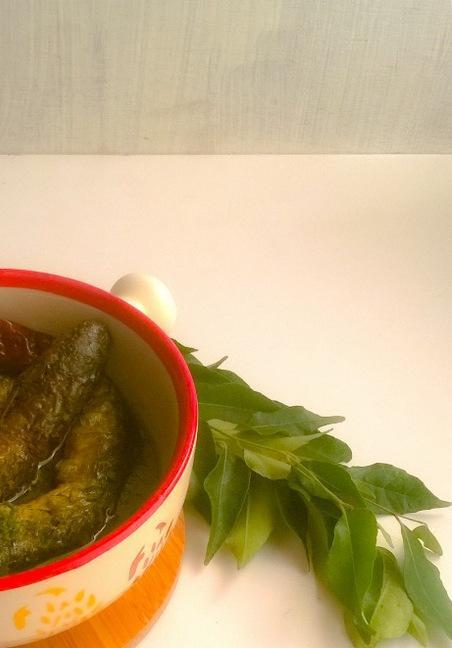 Cuisine: Assamese
Noroxingho Maasor Anja
Yields 3 serving
Ingredients
300 g small Grey Mullet/Parshe fish, scaled, cleaned and washed properly

150g fresh Curry leaves/Kadi patta, ground to a smooth paste

4-5 small Garlic cloves, smashed or finely chopped

2-3 whole dry Red Chillies/Pepper

1 tsp of Turmeric powder

1/3

rd

cup (80ml) + 2 Tbsp of Mustard oil, for deep frying+cooking the fish

Salt for seasoning

½ cup (120ml) of warm Water
Method
Put the fishes in a bowl, rub ½ tsp turmeric powder, ½ tsp salt on them and set aside.

Mean while heat the mustard oil in a wok or large pan until it reaches its smoking point.

Reduce the heat and fry the fishes in two or three small batches until crisp and golden brown or lightly brown. Remove them on a plate with blotting paper or kitchen towel to let soak the excess oil.

In the same wok or pan add 2 tbsp of remaining oil, let it heat and smoke.

Reduce the heat to low to prevent further smoking of oil. Now add garlic, whole red chillies/pepper, sauté in for few seconds until the garlic gives out its fried aroma without browning.

Add the curry paste, give it a good stir, add the remaining ½ tsp turmeric powder, salt. Saute and let the oil separate from the fried mixture.

Add half the water, increase the heat to medium. Bring it to a boil uncovered.

Add in the fried fishes one by one gently stir the curry, add the remaining water and let it simmer for few minutes or until done.

Once done turn off the stove, remove and serve the

Noroxingho Maasor Anja

with piping hot plan White rice and some sliced onions by the side.
Note:
You can use any fresh water fish or small fish for this tasty fish curry.