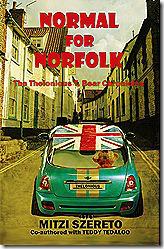 Pub landlords are being murdered in Norfolk!
Thelonious T. Bear, ursine photojournalist, leaves behind the big city life of London to take an assignment in the Norfolk countryside, where he hopes to find the real England. Instead he stumbles upon gastropubs, crazed Audi drivers and murder.  As the hapless Thelonious keeps ending up in the wrong place at the wrong time, he attracts the attention of Detective Chief Inspector Horatio Sidebottom of Norfolk Constabulary CID, who's determined to tie Thelonious to the crimes.  Add in a pair of hoods from London's East End, celebrity TV chef Paolo Louis Black, and plenty of oddball local characters and it all adds up to a madcap journey through England's most quirky county, where everything is normal (for Norfolk)!
Contains some adult language.
Genre:
Cosy Mystery, Crime, Humour, Fantasy
Purchase from:
Amazon.co.uk
Amazon.com
Amazon.fr
Amazon.de
Amazon.it
Amazon.es
Amazon.co.jp
More information:
Book website
Mitzi Szereto website
Mitzi Szereto on Twitter
Mitzi Szereto Facebook fan page
Mitzi TV
Teddy Tedaloo on Twitter
Teddy Tedaloo Facebook fan page
Reviews:
Cozy Mystery Book Review
Readers' Favorite Book Review
Open Book Society Book Review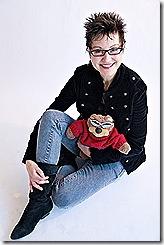 A Bit About Mitzi Szereto and Teddy Tedaloo:
Mitzi Szereto is an author and editor of multi-genre fiction and non-fiction, blogger for Errant Ramblings: Mitzi Szereto's Weblog, and creator/presenter of Mitzi TV, which brings you all things quirky and London. Her other books include Wilde Passions of Dorian Gray;Thrones of Desire: Erotic Tales of Swords, Mist and Fire; Pride and Prejudice: Hidden Lusts; Red Velvet and Absinthe: Paranormal Erotic Romance; In Sleeping Beauty's Bed: Erotic Fairy Tales; Getting Even: Revenge Stories; Dying For It: Tales of Sex & Death; Wicked: Sexy Tales of Legendary Lovers; Silk Sheets: Collected Stories of Mitzi Szereto; and the Erotic Travel Tales anthology series. She's been featured in publications ranging from the Sunday Telegraph, Guardian, Independent, Times, Observer, Toronto Star, The London Paper, Company Magazine, Dare Magazine, Family Circle, Writing Magazine, Scarlet Magazine, and Forum, to Bravo UK Television, Telecinco TV 5 (Madrid), Talk Radio Europe, Newstalk Ireland, FM4 ORF (Vienna), and BBC Radio. Her anthology Erotic Travel Tales 2 is the first anthology of erotica to feature a Fellow of the Royal Society of Literature.
Teddy Tedaloo is a celebrity teddy bear, trendsetter, world traveller, and the production assistant extraordinaire/co-star of the web TV channel Mitzi TV, which covers "quirky" London. Widely popular in social media circles such as Facebook and Twitter, he's known for his entertaining commentary and opinions as well as being an advocate for animal welfare. He lives (and goes) wherever Mitzi lives (and goes). Normal for Norfolk is his first novel.
52.057772
1.143786