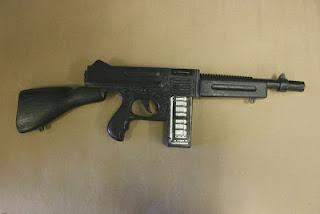 The Daily Press reports
A man who was shot to death in a standoff with Virginia Beach police over the weekend was pointing a toy machine gun at the officers who shot him, according to an investigation by police.

Daniel Guy Newcomb, a 33-year-old Norfolk resident, was a suspect in an armed robbery when he was confronted by officers on Saturday afternoon. He was shot during the standoff in the 300 block of South Witchduck Road and later pronounced dead at the hospital.
The Virginian-Pilot reports that this was the second time that Newcomb had been shot by police officers while threatening them with a replica gun. The newspaper reports that in 2009, he was shot during a standoff with Norfolk police officers while wielding a starter's pistol.
What's your opinion? Can the police be faulted for mistaking that toy gun for the real thing? If not, then
here's my solution
.
What do you think? Please leave a comment.