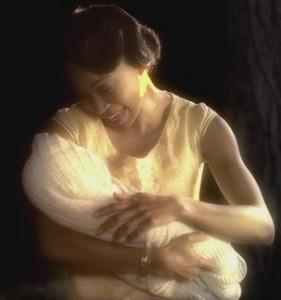 Nondumiso Tembe was seen in True Blood Season 4 as the spirit Mavis. Below she speaks about her role of the mother seeking her son.
"I play a woman from the 1940s, so my look had to be very period," she started. "She is a new kind of supernatural. Every season, the show introduces a new kind of supernatural being to the world of 'True Blood', so I think she is the first of her kind on the show so far," Tembe explained.
And knowing other 'True Blood' characters that range from shape-shifters to vampires, Tembe's role as a French-speaking Creole was an interesting one.
"Although I didn't have much time between casting and my first day of shooting, I felt really ready as I had done extensive research on the French Creoles of Louisianna and had really worked hard on the dialect, which is incredibly complex, by the way.
"It is very much a hybrid. Kind of like our coloured accent. It is a complicated mixture of many languages, sounds and cultures – French, African and southern American being the foundation," she said.
"And, fortunately, I speak French, so I was very comfortable with the Creole. In addition to my research and dialect work, I then basically had a 'True Blood' marathon."
Though Tembe was not necessarily a fan of the show, she does love the blood-splatter genre.
"I am fascinated by vampire stories and found the show enter- taining, yet I had never really got into it before I started working on it. After that it was 'True Blood' all day, every day," she confessed.
The actress took her role seriously and immersed herself into it so much so she mentally lived the spooky world of True Blood.
"I enjoy exploring all the different kinds of worlds and stories, as long as I don't feel they are demeaning or harmful, either to myself or to society. And I don't feel that way about 'True Blood'. It's dark, yes, but that's the genre. And people should enjoy it for what it is and not put too much stock into it," she said.
Working on 'True Blood' meant Tembe is now in the league of the likes of Ashley Jones ('The Bold and the Beautiful') and popular model and actor, Mechad Brooks. She could easily have been intimidated and overwhelmed by her colleagues on set, but that's not the case.
"They are the most friendly, supportive, hard-working, dedicated and professional group of people. And all of the stars of the show are lovely, genuine people.
"I had some great conversations on set and enjoyed getting to see what the actors were like in real life versus who they were as their characters."
Read the rest of this article by going to: iol.co.za/tonight