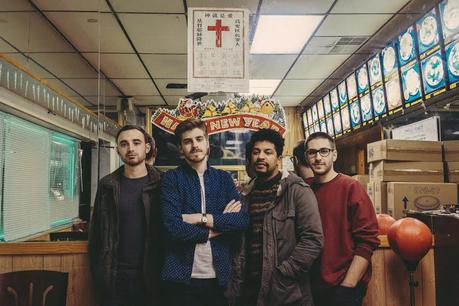 The New Jersey quartet, YJY, have made a name for themselves with infectious, crowd-pleasing guitar pop that often favors nonsensical swagger over emotive sentiment. Contrary to the name of their new sophomore release, The Same Noise, though, YJY have spent some serious time in reflection after their first album cycle and have come up for air with a little more to give than blissful guitar fuzz.
This change is most apparent on their nostalgic single "Evergreens," which falls somewhere between earnest melodies of early Shins and the sonic melodrama of The Cure. With some killer melodies on hand, the band deliberately steps out from behind their wall of noise to offer a poignant meditation on dystopian dissatisfaction and a deeply satisfying, yet elusive, connection to nature. Listen to the track above, and learn more from guitarist and lead vocalist Steve Sachs below.
Evergreens was written in two parts. I wrote the chords, the vocal melody and the guitar melody after listening to the song In Between Days by The Cure everyday for about a month straight. I couldn't come up with any lyrics, so I took it to Dave, our drummer. Turned out that was a smart move because the song came really quickly once we started writing. Dave really provided most of the lyrical ideas for Evergreens. He felt like the melody had a nostalgic feel, so we worked in that direction, and latched onto the idea of an evergreen tree as a metaphor for a memory that just won't fade away. After an hour or two, we had the whole thing done. As we were writing we decided to change the key, which took away some of that Cure vibe, but if you listen closely you can still feel it.