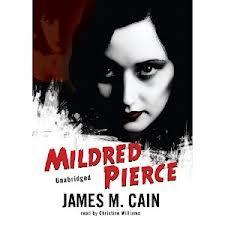 While Mildred Pierce is not one of Cain's most famous books I found it surprisingly engaging and liked it a lot more than I thought I would.  Mildred Pierce is a middle-class, married woman in the 1930s.  Her husband is in financial straits (not unusual for a family during the Great Depression) and he find relief in the arms of, surprise surprise, another woman.  When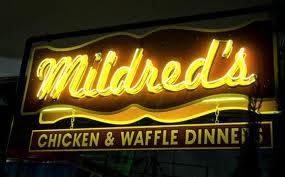 Mildred finds out about the affair she's had enough and asks her husband to leave.  Now a "grass widow" with two children to raise on her own and no income with which to do so Mildred tries to "hook herself a man" a failed venture she, for some reason, continues throughout the rest of the book.  Cain takes us on Mildred's job search as she travels from department store to department store apply for jobs that don't exist with hundreds (if not thousands) of other unemployed women.  Finally Mildred falls into a job as a waitress and starts to make a little money, supplemented by her pie baking business.  In addition to Mildred's job struggles and man-hunt Cain adds another layer to his story, that of Veda, Mildred's oldest daughter.  After Mildred's youngest daughter dies Veda becomes her whole world and we see Mildred burying herself in debt to please her snobbish, purely unlikable daughter.  As the book twists to its expected but still astounding conclusion Mildred becomes less of a heroine, less of an "I can do it" woman, and turns into a fragile woman betrayed by the only thing she ever loved.
As a whole Mildred Pierce is simplistic.  The plot isn't totally unique, the twists aren't unexpected.  It's just the story of a woman trying to find her way in the world while raising her child.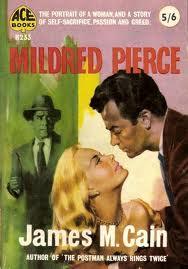 Yet something about Cain's way with words add a depth to this character that a lesser author wouldn't have been capable of.  This isn't your average "struggling-single-mom-looking-for-love" chick lit.  Even though you don't have gangsters, rum runners, or private dicks this novel is full of those noir characteristics any "dime-store" detective novel fan would love.  Mildred has spirit, just not enough to overcome her flaws, to some extent I think you could make the argument Mildred Cain is a tragic hero(ine).  (At least using the most basic definition of the term).  She loves her daughter almost obsessively, but in a way that makes you feel sorry for her rather than her daughter.  Veda doesn't realize how lucky she is and you want to scream at Mildred to let her daughter go and never come back.  Instead Mildred does what any other loving mother would.  She fights with her daughter, hates her at times, but always wants to find a way to bring her daughter back into her life.  I couldn't stand Mildred for some of the stupid things she did, but at the same time couldn't helping seeing how realistic they were.  While Mildred might be a frustrating character you can't help but admit she feels human.  Veda, on the other hand, feels anything but.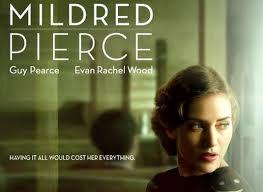 There isn't much mystery or intrigue in 
Mildred Pierce
but it moves fairly quickly for the kind of book it is.  Definitely falling into the "femme fatale" noir  category it may not appeal to those readers who aren't interested in that genre but fans of Great Depression drama won't be disappointed.  Now, don't get me wrong, when I say this book is well written I'm saying this in the context of the noir-genre, so don't pick it up expecting a brilliantly written human interest story in literary-fiction style because you'll be disappointed.  This book is gritty, dark, poignant, and heartbreaking in a way that reminds you of black and white movies and flickering street lights.
This book has also been made into several movies/t.v. series off shots which I haven't seen (even though I am using the trailer of the series as my video clip for this post) so I can't comment on how well done they are or if the book or film version is better.  What I can say is that, after reading the book, I'd be willing to give the films a try and the trailer looks like it follows the book fairly well, but we all know how misleading that can be.