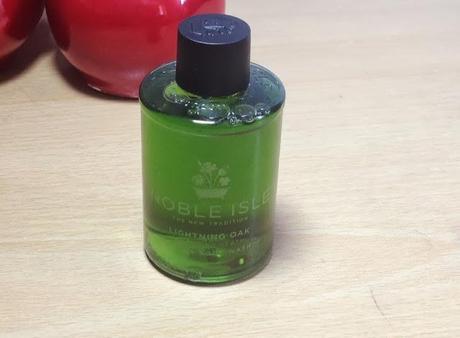 Noble Isle Lightening Oak Hair & Body Wash is most probably one of the most masculine products I have ever used.
On the other hand, I love the ingredients, Bergamot ( I like Earl Gray tea), Grapefruit another citrusy note, Sandalwood (I burn Sandalwood incense sticks) so kind of familiar to the fragrance.


It is very very masculine but it smells gorgeous and the smell fragrance lasts much more longer than ladies body wash.


I believe the products for gentlemen always much better than the ladies ones. Sometimes I use my hubby's shampoo when I runout mine at the last minute, my hair feels much better the ones I use for my hair.
Also the bottle is quite bulky it won't smash or you won't loose any of your body wash if you drop it down in the shower :)
Here is the list of ingredients
Fragrance Notes
Top notes: Bergamot, Grapefruit
Heart notes: Cardamom, Clove Bud
Base notes: Vetiver, Sandalwood
250ml £20.00



Facebook | Follow Me On Twitter | Pinterest | Follow Me on G+ | Follow Me on TUMBLR | Follow Me On SSB | Follow Me On Nuffnangx | Follow Me On We Heart it |