The 20-year-old midfielder has missed the entire season for club and country and, after suffering yet another setback, will be a huge miss for the Three Lions in Ukraine and Poland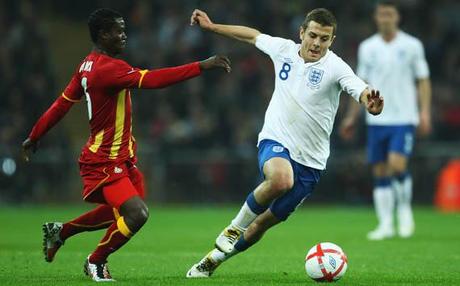 Arsenal
 supporters have been resigned to another campaign without a trophy, and now, with the news that 
Jack Wilshere
 won't be traveling to 
Euro 2012
, 
England
 fans can do the same
After the Gunners' defeat to Wigan on Monday night, Arsene Wenger delivered the death knell for the Three Lions' hopes of success in Ukraine and Poland: "Wilshere will not go to the Euros, that's for sure."
In a sparkling 2010-11 season, Wilshere demonstrated his ability, maturity and creativity while flourishing at the top level, but a new-found fragility has ruined his, Arsenal's and England's 2011-12.
The ease with which the 20-year-old dominated Barcelona and Spain's Xavi and Andres Iniesta at the Emirates in February 2011 was a showcase of his enormous talent.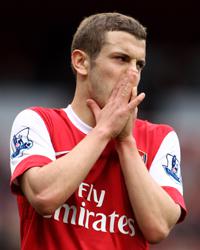 The then-teenager proved at the highest level he was able to recycle the ball intelligently, drive through midfield and even snap into challenges when required before a magnificent combination with Cesc Fabregas set the Gunners away for Andrey Arshavin's winner.
He also displayed a hugely beneficial versatility for England. Deployed as a tenacious, yet creative shield in victory against Denmark, Wilshere went on to shine in the No.10 shirt playing between midfield and attack in a draw with Switzerland.
This mass of talent is now torn from the ranks but it is far from the only reason why the nation's 'years of hurt' tally will have another two added to it come June.
Completely lacking in direction and gameplan, mere weeks before a major tournament, there is no excuse for England not having a fixed manager at the helm.
Stuart Pearce has claimed that he is implementing plans that were in place under Fabio Capello, but these are likely to go out the window when a new man eventually arrives. 
And with Tottenham's season falling apart as soon as Harry Redknapp eyed the 'Arryvederci' headlines, the once unanimously-popular Spurs boss may not be the best bet to take over anymore.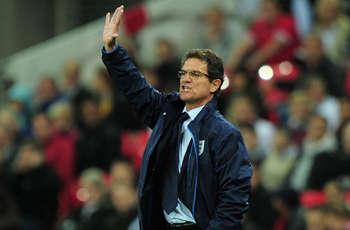 "England lack a manager, are short of creativity in midfield & are desperately lacking in attacking options due to Rooney's suspension - all of which is casting a dark cloud over their Euro 2012 preparations." 
This leaves the likes of Pearce, who won't take the job full-time, and Roy Hodgson, who failed in his last high-profile job, as the best of the rest that the Football Association might be looking at instead.
Hodgson has taken West Brom to the relatively dizzy heights of back-to-back mid-table snooze-fests - the equivalent of a national side perennially reaching the quarter-finals of a major tournament, perhaps.
England lack a manager, creativity in midfield and are desperately short of attacking options for the games against Sweden and France, with Wayne Rooney's idiotic suspension casting a dark cloud over their Euro 2012 preparations.
That dark cloud became a miserably-British drizzle as Darren Bent, England's only proven replacement for Rooney, lay on the heavy turf of Wigan's DW Stadium in February, clutching a knackered ankle.
The replacements for Bent and Rooney do not strike confidence in the heart of many.
Danny Welbeck has huge potential but lacks the composure in front of goal required to trouble the nets of the finest shot-stoppers Europe has to offer.
Peter Crouch, that strike past Joe Hart aside, has not been consistent enough for a recall and Jermain Defoe may be Spurs' top scorer this season, but goals against Stevenage, Cheltenham and Shamrock Rovers do not, generally, earn players a spot at international tournaments.
Others such as Bobby Zamora, Andy Carroll and Grant Holt are either out of form, out of luck or simply not proven at the top level to lead England from the front when they need it most.
Of course, things 
could
 end up rosy. Paul Scholes, the only man able to match Wilshere's metronomic impact, 
could
 make another shock return, Carroll's recent resurgence in Red
could
 spill over to Kiev, and Redknapp 
could
 regain his focus just in time for a stint England's dugout.
But right now, it looks set to be yet another bleak summer of pain for Three Lions fans.