.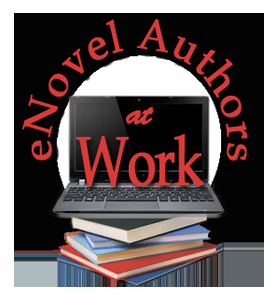 eNovel Authors At Work

is a site founded and administered by Jackie Weger. You have to be ready for Jackie. She is ornery, outspoken and infamous for pulling her snake gun on indie authors who get in the way of their book's success.< grin> eNovel's motto is "Pay it forward" - meaning authors who are accepted into the group are dedicated to helping one another promote their books, give advice, share experiences, and encourage one another on difficult journey of indie publishing.




If you are an independent/ self published author looking for resources you can depend upon, look no further. eNovel Authors At Work offers a rich source of information ranging from editing, marketing, formatting, and how to get reviews, blog hops and tours, and recommended reading. Read the blog post for personal insights by fellow authors about the importance of having an online presence, setting up your Amazon author page, how to approach a reviewer, and how to avoid pitfalls and scams. There are useful links to follow and you will want to check out the authors pages. In the comments on their author pages eNovellers often report the honest results of their book promotions—what worked, what didn't and if the authors saw a return on investment. Or, if an author achieved the goal in downloads s/he hoped for. For instance, Jackie reported the results of recent KCD on her author page and offered to anyone who asked the list of promo sites she used to achieve those results.




I like to tell folks I am an eNovel Authors At Work Groupie. I have honorary status as a book reviewer, but the biggest reward is seeing these indie authors blossom. Every success, small or large is honored. Each member has a unique talent and shares that with the other members to help them gain the maximum exposure for their book. It truly is a warm environment and I am so pleased to be a part of it.




I applaud Jackie for seeing the need for a site such as eNovel. There are numerous pitfalls an independent author can fall into, even the possibility of losing rights to your book if you follow the wrong advice or do not carefully research things. Jackie works tirelessly to give indie authors the latest and most accurate information when it comes to marketing and setting the author on the path to success by making sure they know the basics. You contact Jackie via the website for more information.




eNovel Authors at Work

is dedicated

to helping one another to understand the challenges facing writers in the digital universe. Everything we discover will find its way into these pages, to help authors and readers alike to navigate the ever-changing world of books. Our goal is all about 

THE BOOK

. We help each other to get our books noticed and expand our audiences. Indie Publishing is constantly changing, and we do our best stay informed. Our members can participate in individual and group promotions. Whether an author has published one book or ten, success requires diligence, dedication, and focus. We don't know all the answers, but we are learning who to ask, who to listen to, and how best to use the tools available to sell BOOKS.  




  




Follow eNovel Authors at Work on Twitter:


https://twitter.com/eNovelAuthors
Look for #eNovAaW.
 


Footnote: While eNovel respects an author's choice in what he or she writes, we do not promote erotica, gratuitous sex, or extreme violence.




Although Jackie spends a great deal of time helping others find success, she is also writing her own books. I am so pleased to welcome her back to The Book Review in support of her newest release, "

No Perfect Secret" 

which is featured today.




NO PERFECT SECRET BY JACKIE WEGER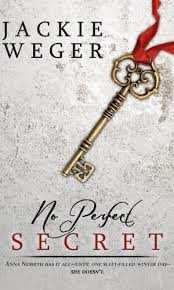 A single secret begets a layer of lies.
Anna Nesmith believes she has it all--a great marriage, a dream job and a home of her own. When a State Department investigator begins asking questions, Anna's ordered world implodes. Frank Caburn is man to the bone and manufactures testosterone like Frito Lay does chips. Instantly attracted to Anna, he is determined to make her his own--if only can pick through the emotional rubble to find her bruised heart can love once again

MY REVIEW:


No Perfect Secret by Jackie Weger
My rating: 5 of 5 stars
No Perfect Secret by Jackie Weger is a 2014 independent publication. I was provided a copy of this book in exchange for an honest review.
This is a deeply absorbing portrayal of a woman, Anna Nesmith who discovers her husband, Kevin, has betrayed her in multiple ways. This book will have you thinking twice about taking anything or anyone at face value. But, one deceitful person shouldn't have everlasting control over your life and you should never give them that power. Anna's journey is touching, and left me feeling warm all over and with a smile on my face.
When Anna learns her husband has been living a double life, his work in the state department makes things even more difficult. When Frank Caburn is assigned to look into this very delicate matter, he never expects to encounter Anna, a strong, beautiful woman trapped in a horrible marriage and about to discover it was all a big lie. Needing to tread carefully, Frank informs Anna a little at a time about her husband's activities. But, this not the only issue. Anna literally has the "mother-in-law from hell", and then some. Good Lord! Even after all that has been heaped on Anna, she begins to slowly comes back to life finding herself feeling free and ready to shed all the terrible years she spent married to a creep and chained to her mother-in-law's will.
Anna could very well have folded , could have decided all men were like Kevin, could have allowed her anger to turn to bitterness. However, instead she finds Frank is the kind of man she was looking for all along. Frank was absolutely dreamy, just my kind of guy! A confident, attractive man with a good open heart who is willing to go all in to keep Anna safe, happy, and give her the chance of having the family she has always wanted.
This is truly an uplifting story and while the drama is heavy, there are poignant, grab the tissues, moments where Anna thinks of her mother and the support she would have offered. But, this story is not without the trademark Weger humor many of you are familiar with. The secondary characters give the story a lighter tone when it was needed and I especially liked Frank's work partner, Helen.
The story is devoid of immature angst and self absorption and shows how love can and should grow on an emotional level, giving the sensual aspects of the romance more meaning. I really wish there were more stories written like this one.
5 stars!
Buy it now on Amazon.com
http://www.amazon.com/No-Perfect-Secret-Jackie-Weger-ebook/dp/B00N53VJTK/ref=sr_1_1?s=digital-text&ie=UTF8&qid=14139239
02&sr=1-1&keywords=no+perfect+secret+by+jackie+wager
FREE FOR A LIMITED TIME IN THE AMAZON KINDLE STORE!!
ABOUT THE AUTHOR: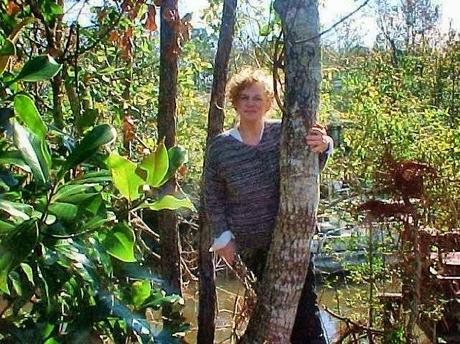 An award-winning author, Jackie Weger has been writing romance novels off and on for thirty years. When she's writing, she's anchored in a tiny room with a desk, a chair and a cat. When not writing, blogging or chatting with fans, she's traipsing around the Internet searching for recipes, but much prefers to travel the good earth by foot, bus, canoe, sloop, mule, train, plane or pickup--and let somebody else do the cooking.
Jackie's most popular book to date is The House on Persimmon Road. By popular demand The House on Persimmon Road is now available in paperback.
~~Follow Jackie on Facebook at;
 https://www.facebook.com/pages/Accent-on-Romance/328632520587813.
~~Visit Jackie's blog at:
 www.jackieweger.com/blog
~~Follow Jackie on Twitter at:
 https://twitter.com/JackieWeger
~~Keep up with Jackie and other award winning authors at http://enovelauthorsatwork.com.
~~~Sign up for eNovel Authors At work Newsletter. It will only land in your mailbox to tell you when a books are on special, announce a book tour, giveaways and contests.