To be fair, I have to first admit that I do enjoy shopping in supermarkets. It lets you explore a colourful world of exotic finds, gain new knowledge through food names and labels, meet people from all walks of life, which combine to make each visit a fun learning experience for the family.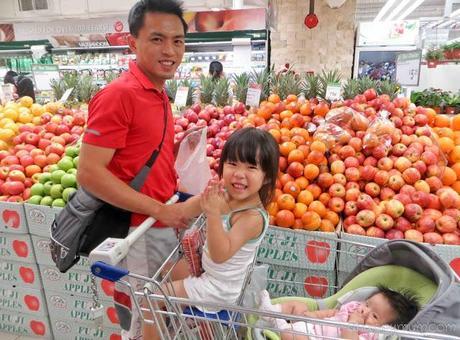 And yes, the family includes the hubby. While we like to go to supermarkets as four, when it becomes a three-girls outing, the shopping experience can turn into an adventure, and at times nightmare, instead.
Things that I am not particularly fond of include having to rummage through my pockets for a 1-dollar coin just to get a trolley, having my preschooler lay her hands on every food item she sees and dropping them in the midst, the need to answer her incessant questions and satisfy her curiosity, the responsibility of looking care after a needy, sometimes crying, infant, the hassle of searching through lanes or asking for help to find my items, having to face jostling crowds and horrifying queues, and just when you think that is the end, there lies the problem of how you are going to lug all the bulky items home.
At times like this, I tend to procrastinate going to the supermarket or wish that there is an easier way out. Remember I introduced you to RedMart, Singapore's online grocery service? Yes, that is a way for me to escape from the nightmare on days when I just don't feel like stepping out of the house.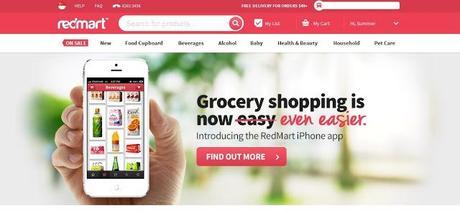 With the RedMart iPhone app, grocery shopping becomes even easier. Now, you can browse through over 4,000 groceries and household products anytime, anywhere. For me, I am just glad to know that on lazy mornings, all I need to do to get my household supplies is to turn on my computer, go to RedMart's site and start clicking away.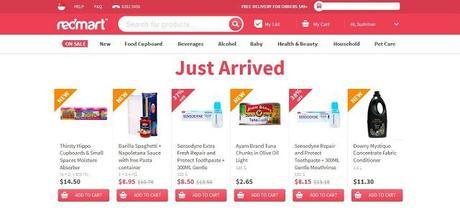 In my previous user experience post, I shared with you the four easy steps to making your first purchase at RedMart, of which the very first step is to sign up using an email address and password. Once that is done, you have cut down one step and re-ordering becomes simple and straightforward.  One of my favorite sections is to visit the 'New' category and see what goods have just arrived on the shelves.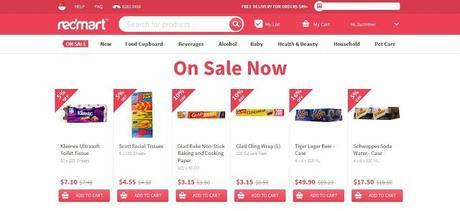 If you love to look out for discount coupons in the newspapers, also be sure to check out RedMart's 'On Sale' section to see how you can save some dollars and cents in buying groceries. Many a little makes a mickle and when you are using four diapers a day and cans of formula a month, every bit counts.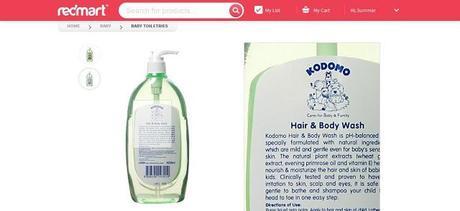 I'm not a big fan of scrutinizing every label in my house until I became a mom and realised I should avoid giving my kids too much processed, preserved, or worse, expired food, or let them use toiletries with chemical ingredients not meant for baby's sensitive skin. The thing about purchasing groceries online means you can't touch and feel every product, but the good news is that RedMart provides clear product pictures, both front and back, and you can zoom in to read what is written on the labels.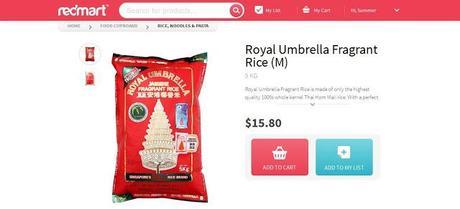 Even though I sometimes picture myself as a mom with eight arms and legs, but no, I don't look forward to the weightlifting workouts of having to carry big, heavy items home. These include rice, detergents, softeners, diapers, wet wipes, formula and so on. Add these to your normal groceries plus a preschooler, a baby, a pram, a diaper bag, well, it takes a superwoman to make it home. Thankfully with an online grocery shopping option, I can now choose to buy these online and even top it off with some beer, wine and cocktail which will arrive at my doorstep.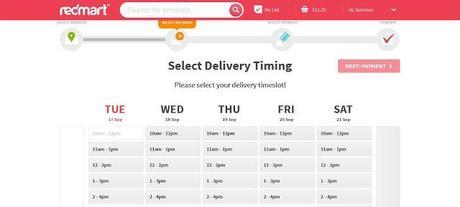 With the two-hourly timeslots provided all seven days of the week, RedMart ensures that its delivery service is efficient and convenient for consumers.  I was happy to see that my orders came intact the next day and strongly advise that you check your orders upon receiving the goods too. For any spoilt, damaged, incorrect or missing orders, simply report them to RedMart by calling or emailing within 7 days from the delivery date.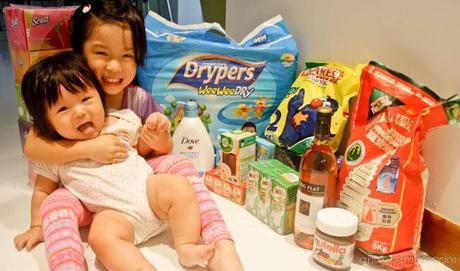 I guess it is fair to say that online grocery shopping helps me save some arm power and time, which I can devote to more meaningful play and bonding sessions with my girls. As for those 1-dollar coins, when I do manage to dig them out from the bag, let's go for some kiddie rides, shall we?


Disclosure: This is part of a series of sponsored conversations between RedMart and A Happy Mum. Shopping credits were also kindly provided by RedMart. All opinions are my own based on my shopping experi

ence.