So, as you all know I am due to compete tomorrow. Well, it is not so :( Today after I rode Seb, he came up in little bumps all over his body. They looked horrible and itchy so I hosed them with cold water hoping if they were heat bumps that they would go down, but they only got worse. I took his temperature, it was normal. I put it down to some kind of allergy to the straw perhaps, because I had sprayed nothing on him, done nothing different at all! The vet was coming to the barn anyway so he had a look at Seb and said it was an allergy to something. Because we were still supposed to be competing tomorrow, he gave him a homeopathic remedy instead of a cortisol shot because of drug testing.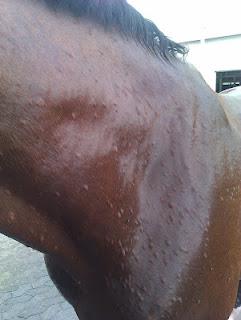 I continued preparing as normal, just in case the bumps would be gone by the morning and I could still compete. However, the decision was made this evening that we wouldn't go, and we would let him recover properly. I am incredibly sad and disappointed, I was so excited for my first competition in Europe and I felt both Seb and I were ready! I just have to remember that these things happen for a reason, whatever it may be, but it is just how it is. And that's horses for you, always so unpredictable!
Throughout the week it became more apparent that I maybe won't compete Chad on Sunday because we wanted to focus on Seb's two tests, though I'm still not sure. I don't even know if I'm competing Seb on Sunday, not because of his bumps but because his name wasn't on the list of horses to go. It seems that there is a very laid-back attitude towards competition here, from what I can tell most of the horses get entered, and whoever is going well at the time and whoever's classes fit together nicely are the ones that go. I'm not used to this, I enter the horses I want to go and I take them, and the shows are organised so that your horses don't clash. I guess it is different when you enter horses in mass, not just 2 or 3, and when the show organisers don't consider clashing classes.
On the brighter side of things, I went to the World Young Horse Championships in Verden yesterday! It was amazing... full of good horses, super trade stand shopping, yummy German food and beer... what more could you want! I went with my German friend Marcel, who made it a lot easier to understand what was happening and where everything was, because he could translate to me. If I went by myself, I wouldn't have even gotten into the car park! His car is 100 times faster than mine, so we got there in record time too thanks to the autobahnes ;)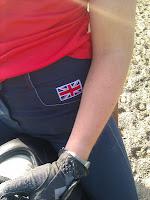 We watched the first qualifier class for the jumping championship, and the 4 year-old riding horse ability class for stallions, which was done in groups of three. And of course I had to look around the trade stands, and found an amazing pair of breeches that I could not resist!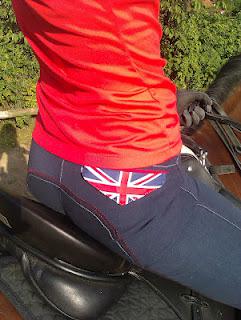 Because I am not competing tomorrow, I get to go back to Verden to watch Leonie ride in the 6 year-old small-final class. I just hope the rain holds off, it has been pretty unpredictable lately, even on Thursday there was a threat of a storm despite the perfect weather.