This No-Bake Vanilla Bean Cheesecake with Chocolate Ganache is a gluten-free, Paleo and vegan cheesecake made with a walnut crust, a creamy cashew cheesecake filling, topped with a luscious chocolate ganache. This healthier cheesecake alternative will satisfy your cheesecake cravings!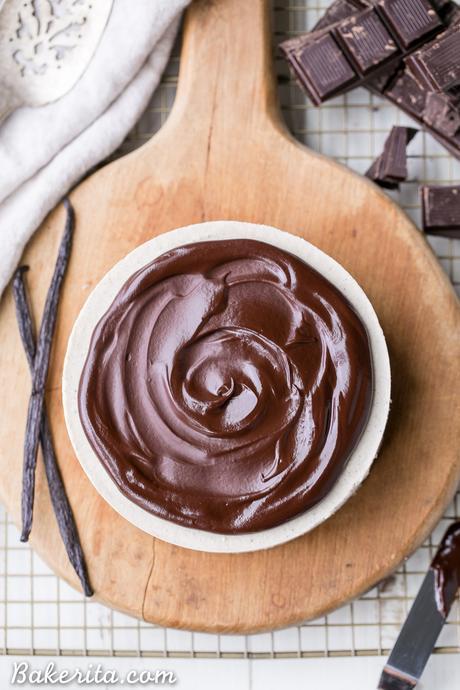 I've been on a cashew cheesecake kick lately – I can't seem to get enough of them, and I'm constantly impressed by the lusciously smooth and creamy filling that results after a few minutes whizzing in the blender.
It's kind of amazing, isn't it? Cashews, after being soaked in cold water overnight, transform into the most magically smooth and creamy paste, ready to take on any flavors you're adding to it.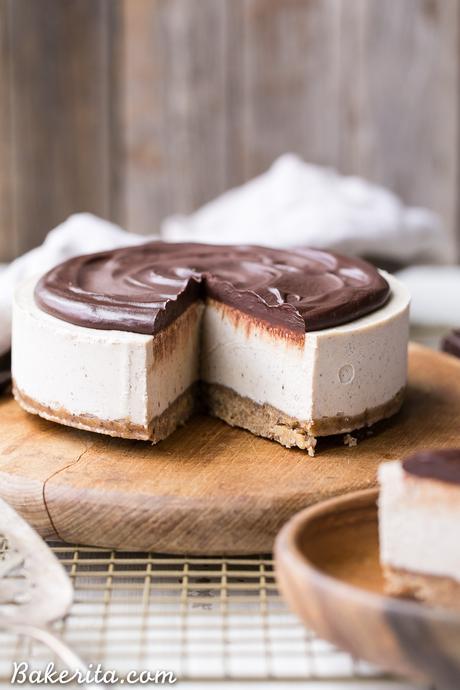 When they're blended up with some coconut milk, coconut oil, and maple syrup, the cashews somehow become even richer. A splash of lemon juice in the mix adds the tang we're all looking for in our cheesecakes. The hearty dose of vanilla bean is warm and comforting, flavor's version of a bear hug.
When I put the cashews used in this vanilla bean cheesecake in the water to soak, I was undecided as to which flavor of cashew cheesecake they were going to be made into. I had three flavors in mind, and took to Instagram Stories to poll my Instafriends to see which flavor was the most wanted.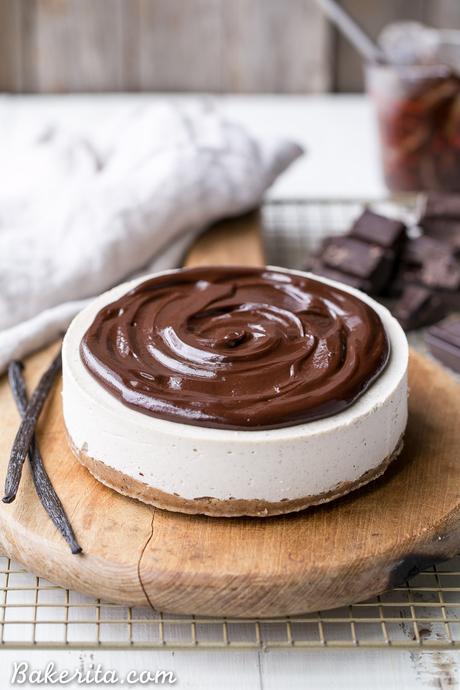 Of the options, vanilla bean with chocolate ganache won with flying colors. Strawberry and mango, the other flavor options, weren't too far behind – meaning those flavors have got to be made soon, too. Can't disappoint anyone ;) and let's be honest: I'm dying to eat them.
But back to the vanilla bean: you guys wanted classic, and I'm here to deliver. Vanilla bean is underrated, and here, it really shines. I opted for vanilla bean powder out of ease, but a freshly scraped vanilla bean would be incredible (when is it not, though?).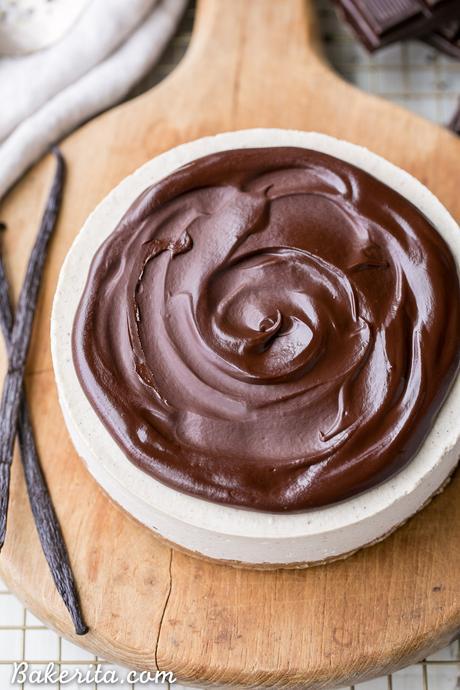 The chocolate ganache topping looks beautiful, and adds some fudgy richness to the cake. It's not entirely necessary though – the vanilla bean cheesecake can shine all on it's own. A topping of coconut whipped cream would also be amazing.
The crust is also worth mentioning – it's made with walnuts and almond flour, sweetened just as tad with dates, and spiced lightly with cinnamon and salt. A bit of coconut oil is also in there, helping hold things together. It's nutty, a little crunchy, and perfect paired with the smooth vanilla bean cheesecake filling.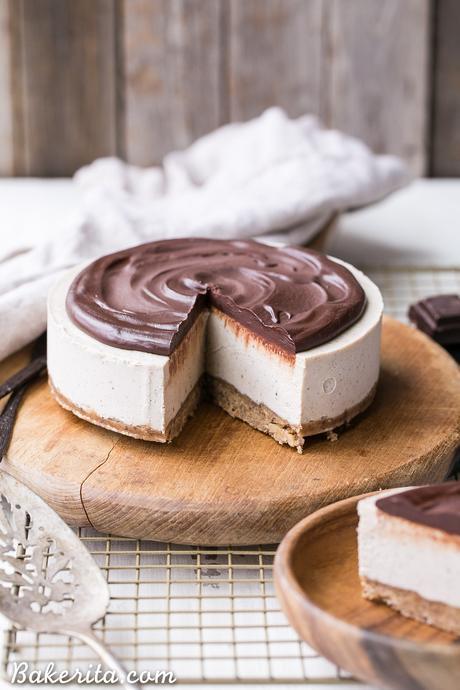 For those of you who like to keep it classic, this No-Bake Vanilla Bean Cheesecake with Chocolate Ganache is a certain winner. With the nutty crust, lusciously smooth and creamy vanilla bean filling, and rich chocolate ganache topping, it's hard to resist. Just a small slice of this rich cheesecake will do the trick – enjoy!
Want more cashew cheesecake goodness?! Check out these faves –>
No-Bake Lemon Cheesecake with Citrus Topping
Chai Cheesecake Bars
No-Bake Layered Blueberry Cheesecake
Remember to #bakerita if you try the recipe!
No-Bake Vanilla Bean Cheesecake with Chocolate Ganache (Gluten Free, Paleo + Vegan)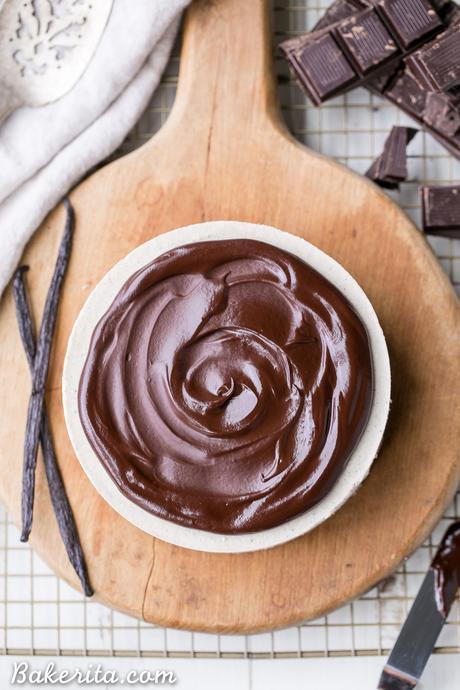 Save
Print
Prep time 30 mins Cook time 4 hours Total time 4 hours 30 mins   Author:
Rachel Conners
Serves:
1 6" cheesecake
Ingredients For the graham cracker crust
½ cup raw walnuts
½ cup almond flour
2 pitted dates
2 tablespoons coconut oil
1 teaspoon cinnamon
¼ teaspoon kosher salt
For the cheesecake
2 cups raw cashews, soaked in cold for at least six hours or preferably overnight (see Notes)
½ cup canned coconut milk, shaken
¼ cup coconut oil, melted and cooled (use refined coconut oil if you want no coconut flavor)
⅓ cup pure maple syrup
2 tablespoons fresh lemon juice
1 tablespoon vanilla extract or 1 teaspoon vanilla bean powder
For the chocolate ganache
3 oz. dark chocolate (I used 72%)
⅓ cup canned coconut milk
Directions
Grease a 6" springform pan with coconut oil, or line an 6" cake pan with strips of parchment paper for easy removal, and grease well with coconut oil. Set aside.
Add the walnuts, almond flour, pitted dates, coconut oil, cinnamon and salt to a food processor or high-powered blender and pulverize until it comes together into a sort of sticky dough, with small pecan bits remaining. Don't over process, or it'll turn into nut butter! Press the date dough evenly along the bottom of the prepared pan.
In the same food processor or high-powered blender (no need to wash between - I used my Vitamix, but most powerful blenders should do the job), combine all of the filling ingredients and blend for about 2 minutes, or until the mixture is silky smooth and creamy. Scrape down the sides as necessary. You may need to add a bit more coconut milk or lemon juice to get it to blend smoothly if your blender isn't super high-powered.
Once it's smooth, taste the mixture and adjust the sweetness/tartness levels, if desired.
Pour the filling into the prepared pan over the crust. Smooth out the top and tap the pan hard against the counter a few times to release any air bubbles. Place in the freezer.
Place in the freezer to set for at least 3 hours or until completely firm before adding the chocolate ganache.
To make the ganache, place the chopped chocolate into a bowl. Warm the coconut milk in a saucepan until just simmering, and pour over the chocolate. You can also warm the coconut milk in the microwave for 30 seconds. Make sure the milk is covering all the chocolate and let stand for 2 minutes. Stir until smooth, and then spread over the cheesecake.
Serve immediately, or place in the freezer until ready to serve.
Serve frozen or let them thaw at room temperature for 10-15 minutes before serving. I recommend running your knife under hot water to warm it up before cutting the cheesecake with the still-hot (dried) knife.
Store leftovers tightly wrapped in the freezer.
3.5.3226
What you'll need…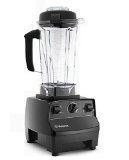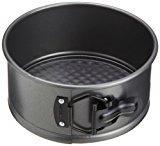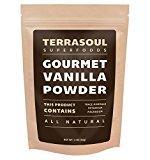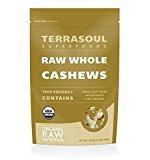 There's more where that came from!
No-Bake Layered Blueberry Cheesecake (Gluten Free, Paleo +…

Chai Cheesecake Bars (Gluten Free, Paleo + Vegan)

No-Bake Strawberry Shortcake Bars (Gluten Free, Paleo +…

Vanilla Bean Greek Yogurt Cheesecakes with Blueberry Compote

No-Bake Lemon Cheesecake with Citrus Topping (Gluten Free,…