Motichoor Ladoo.
Totally Desi.
And then a cheesecake.
Totally foreign.
And fusion.
A pretty plate.
And a new taste.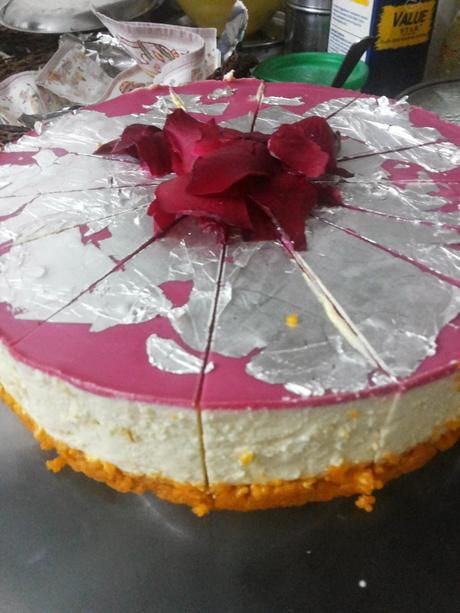 I had once upon a time seen Sanjeev Kapoor make a Motichoor Ladoo cheesecake on Khana Khazana. Only he used crackers and butter as a base.
The glaze was from another pudding.
That was not what I wanted.
So I made my base with the Motichoor Ladoo.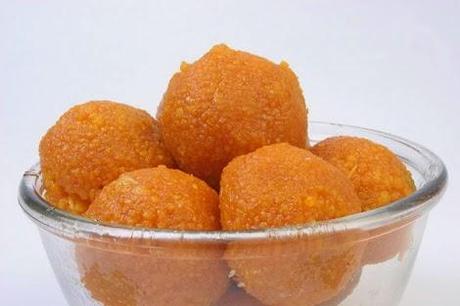 For those who don't know-Motichoor Ladoo are small balls made with teeny tiny fried gram flour drops and then soaked in sugar syrup and shaped.
They are yum...
And desi.
And a cheesecake is  well a cheesecake.
Soft ,tangy and creamy, and loaded with calories.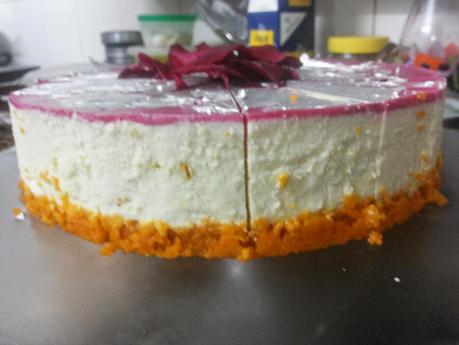 A fusion. Definitely not confusion.
And the best part , it had the guts to stand on its own without collapsing.
Perfect.
The taste was delicate, yet yummy.
Sweet child didn't care for the gulkand or rose layer...but it was too pretty to omit.
Just shows that fusion works.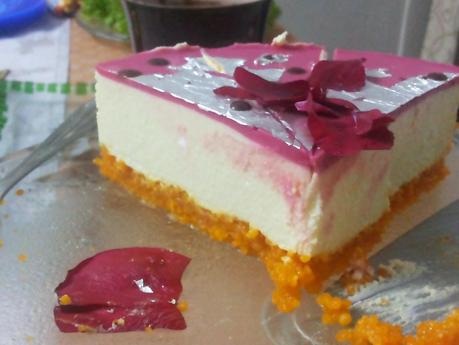 A stand alone dessert.
Worth trying out.
For the
No-Bake Motichoor Ladoo cheesecake Fusion Dessert 
You need
750 gms Motichoor Ladoo
200 gms cream cheese (You can make your own)
200 mils Coconut milk-I used Dabur Homemade
200 mils Dairy free cream-you can use dairy cream
200 mils condensed milk
2 tbsp gelatin
2 tbsp warm milk
1 generous pinch saffron
For the glaze
3 tbsp gulkand-Rose petal preserve used for paan
75 mils cream
pink or any food colour-I used raspberry red as I couldn't find yellow rose petals...
1 tbsp gelatin
Start with the spring form tin.
Since I wanted to serve this on a cake platter, I decided to skip the base and make space in the fridge.
I placed the ring without the base on the cake platter and then mushed the ladoos to fill the base. We bought 1 kg ,and used about 750 gms...the rest were -just eaten.
Stash in the fridge till you get your act together.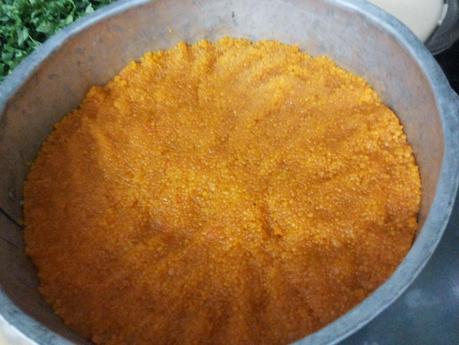 if you cant get hold of c ream cheese ,make your own. Boil 1l full fat milk and then allow it to curdle by adding a spoon of vinegar. Strain through a cheesecloth and remove excess whey. Allow it to sit 10 minutes and run the saved cheese or chenna or paneer through a blender with a couple of spoons of heavy cream. Close and a cigar!
Blend the cream cheese and the coconut milk in a blender. I chose the coconut milk because I had it...actually it was weeks from expiry...and I wanted to cut the cream.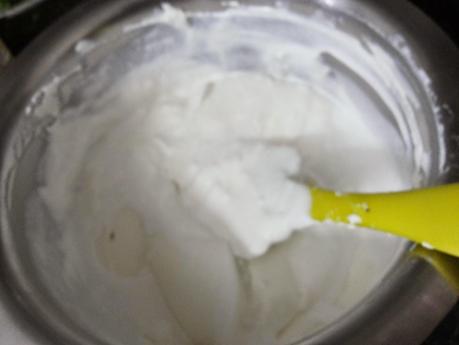 Whip the cream till peaks form.
Soak the saffron in the milk and set aside.
In a big bowl ,mix the cream cheese and coconut milk mix with the condensed milk.
Fold in the whipped cream. If you are not using non dairy cream , blend few spoons of sugar with the cream cheese.
Add in the saffron soaked milk.
Sprinkle the gelatin over some as in 1/4 cup old water and allow it to blossom. Warm over a bowl of hot water or microwave for  30 seconds or till the gelatin is melted.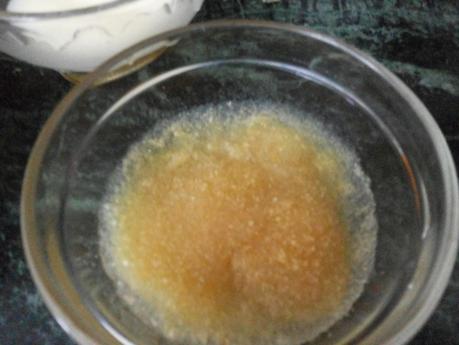 Pour the liquid into the cream mix and blend fast so as to allow the gelatin to mix and not streak.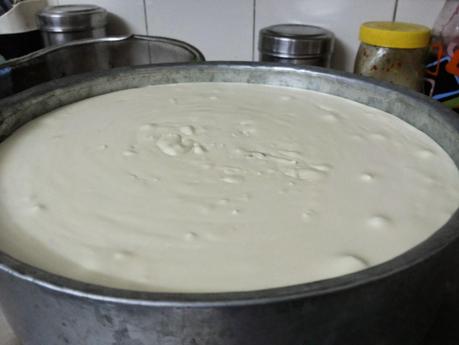 Using a silicone spatula, pour and scrape the cream mix on the Motichoor Ladoo base.
Pop back into the fridge.
After an hour or so make the glaze.
Melt the gulkand in 1/3 cup water. Add in the cream and heat Gently.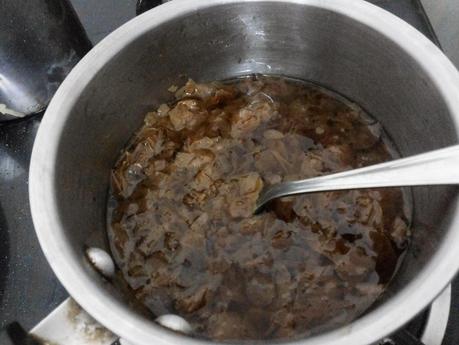 Add in the cream. Heat gently.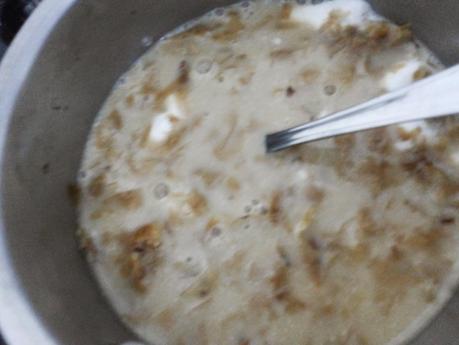 Remove from the flame.


Sprinkle the gelatin over water the same way and melt in the microwave.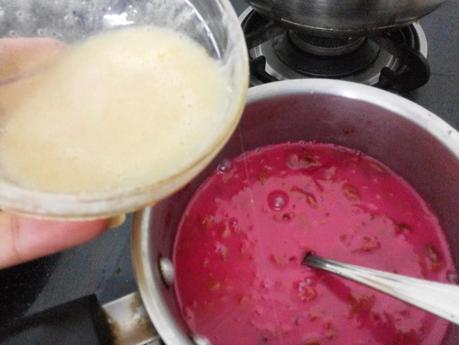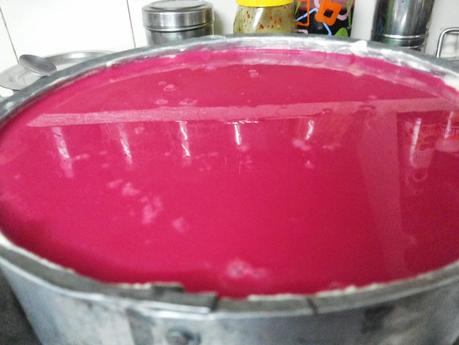 Tint the cream gulkand mix pink ,yellow purple whatever and then strain into a bowl.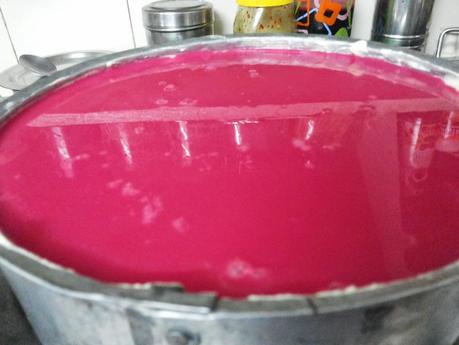 Spoon the glaze over the jiggly cheesecake and pop back into the fridge.
After a few hours ,check it out to see if it is done.
Mine was.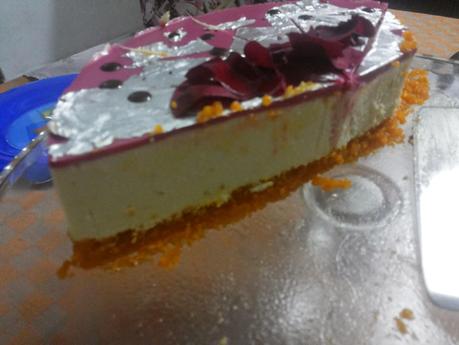 I used a knife dipped in hot water to run near the ring and gently lift tje ring.
I was dancing for joy when I lifted the ring. God bless Matt Moran from Master Chef Australia...the knife in hot water.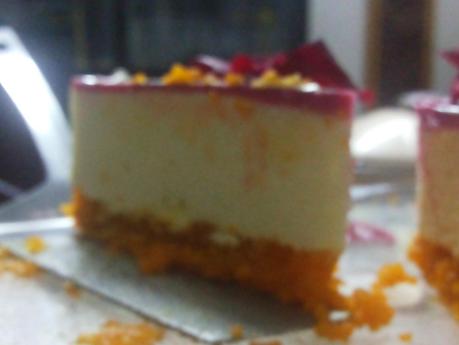 Same way...slice the cheesecake with a knife dipped in hot water.
Clean cuts.
I used Chandi ka Vark or Silver leaves and rose petals to make my Motichoor Ladoo Cheesecake pretty.
You can skip it and serve it with the glaze on the plate...
This is one dessert worth trying.
Its different.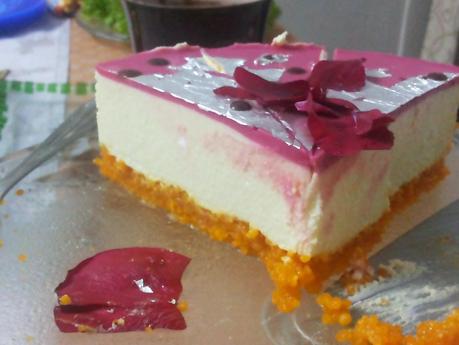 Its awesomely high in calories, but tastes lighter than air and makes a really pretty picture.
A labor of love ...almost Valentine ...
I have some of my own labours of love coming up...
Lets Celebrate.


So what are you No Baking today???