This No-Bake Layered Blueberry Cheesecake is a beautiful and easy-to-make Paleo-friendly + vegan cheesecake made with soaked cashews! The cheesecake layers are lusciously smooth and creamy with a tart, fruity topping.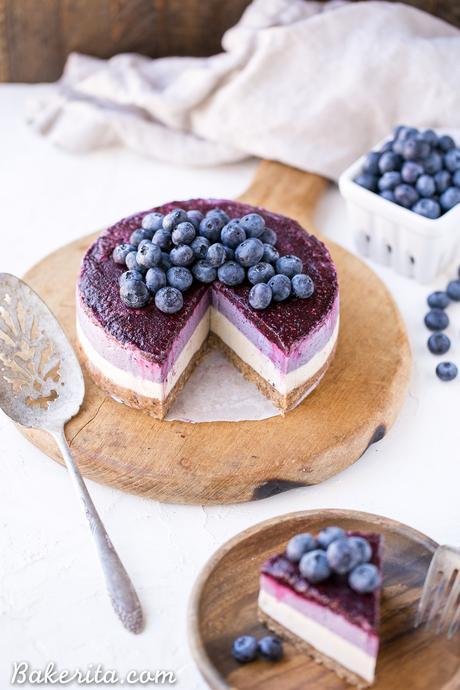 Looking at the pictures of this no-bake layered blueberry cheesecake makes me seriously giddy inside! Isn't she a beauty?!
I'm pretty sure no-bake, raw vegan cheesecakes are my new favorite thing. The love affair began when I realized how beautiful and photogenic they can be after photographing this raspberry one for my friend Monica over at The Movement Menu, and then this citrus-topped lemon cheesecake stunner.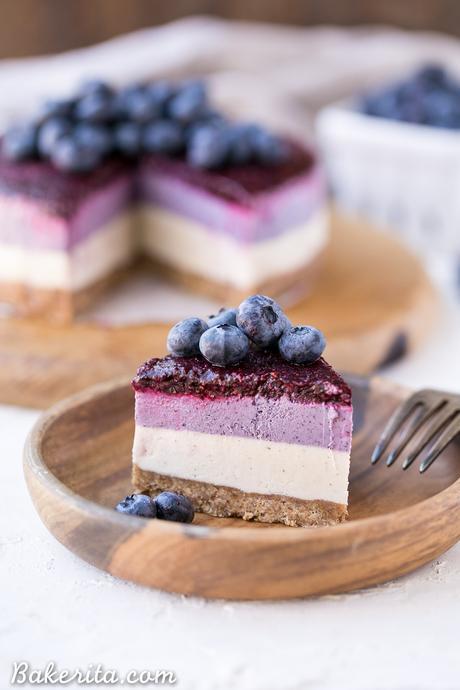 I think this blueberry version is my favorite though – so far, at least :) not only is it sooo pretty with those layers, but it tastes ridiculously good.
Like my other raw cheesecakes, this one is made with CASHEWS as the base! If you're skeptical about cashews' ability to replace luxuriously creamy cream cheese, you wouldn't be the first. I was skeptical for a while…until I tried it.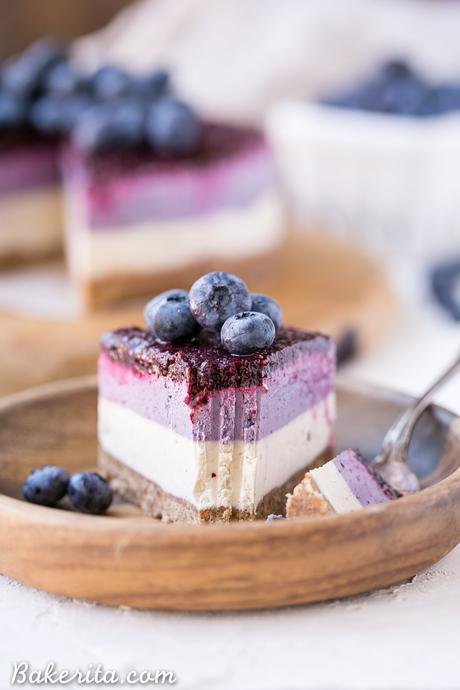 Once soaked for 8 hours, the cashews get soooo soft and blend into the most luxurious, creamy filling you can imagine. Paired with coconut milk, a bit of coconut oil, maple syrup, lemon juice, and vanilla, it makes a pretty damn close replica to the cheesecake you know and love.
This one takes away those refined sugars and dairy though, and makes a "cheesecake" that will actually fill you up and give you some nutrients. Such a win!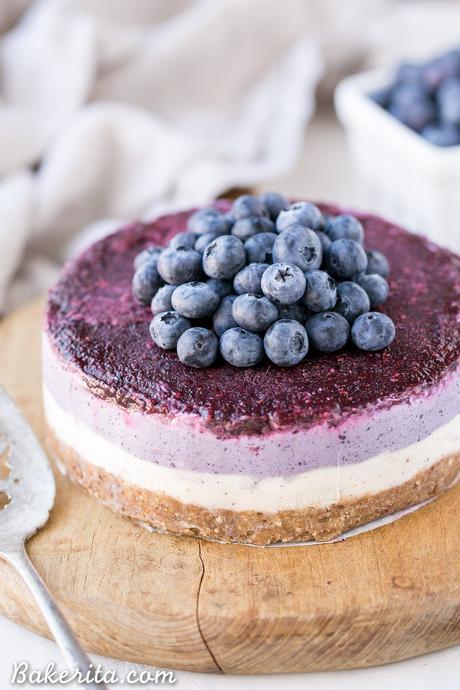 Once you've blended up the creamy cashew filling, half of it gets poured over the date-based crust. The crust is lightly sweet, chewy, and crunchy, with a hint of cinnamon. It works super well with the vanilla and blueberry flavors!
The other half of the filling has freeze-dried blueberries blended right into it, which give it that gorgeous blue color and a mellow blueberry flavor. It's layered on top of the first creamy vanilla layer, and then it all goes into the freezer to harden up while you make the final layer.
The top layer adds the final touch – a burst of tart blueberry flavor that helps brighten up the richness of the cashew-based layers. There's no sweetener, just blueberries blended with a touch of lemon juice and some chia seeds to help thicken it up.
The layered blueberry cheesecake is kept in the freezer, but you'll want to let it thaw for 10-20 minutes before serving. That way, you can slice into it super easily and it'll be perfect luscious and creamy when you serve it.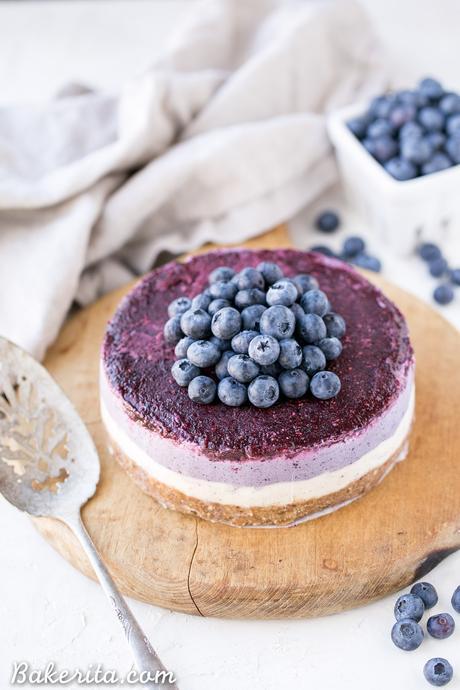 This no-bake layered blueberry cheesecake is going to be a new favorite around here. It's hard to resist the creamy cheesecake layers, especially with that tangy blueberry topping.
It's also perfect because if you're not serving a crowd, because you can store any leftovers in the freezer for a while – blueberry cheesecake on demand is always a win! Enjoy :)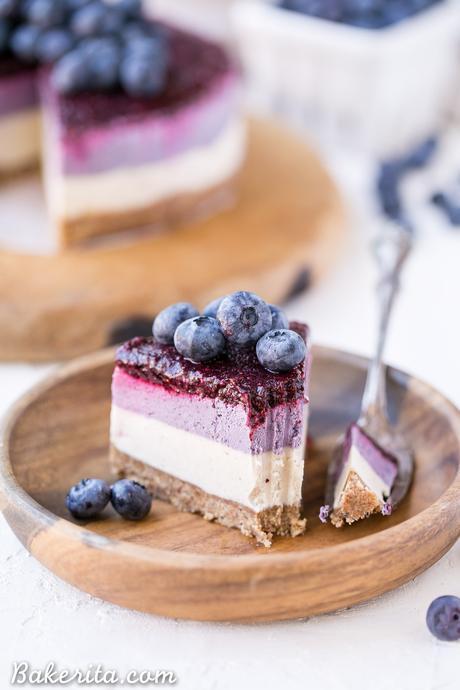 Remember to #bakerita if you try the recipe!
No-Bake Layered Blueberry Cheesecake (Gluten Free, Paleo + Vegan)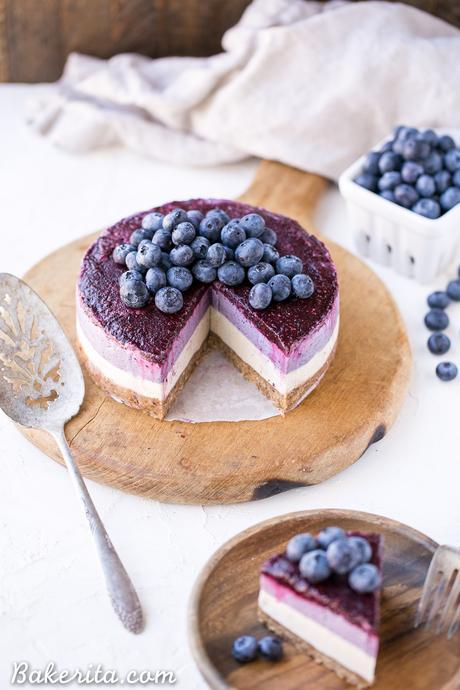 Save
Print
Prep time 45 mins Total time 45 mins   Author:
Rachel Conners
Serves:
8 slices
Ingredients For the crust
½ cup pecans
½ cup almond flour
2 pitted dates
2 tablespoons coconut oil
1 teaspoon cinnamon
¼ teaspoon kosher salt
For the cheesecake
2 cups cashews, soaked for at least four hours or preferably overnight
½ cup canned coconut milk, shaken
¼ cup coconut oil, melted and cooled (use refined coconut oil if you want no coconut flavor)
⅓ cup pure maple syrup
2 tablespoons fresh lemon juice
1 tablespoon vanilla extract or ½ teaspoon vanilla bean powder
¼ cup freeze-dried blueberries
For the blueberry layer
1 cup fresh or frozen blueberries (thawed, if frozen)
1 tablespoon fresh lemon juice
1 tablespoon chia seeds
Directions
Grease a 6" springform pan with coconut oil, or line an 6" cake pan with strips of parchment paper for easy removal, and grease well with coconut oil. Set aside.
Add the pecans, almond flour, pitted dates, coconut oil, cinnamon and salt to a food processor or high-powered blender and pulverize until it comes together into a sort of sticky dough, with small pecan bits remaining. Don't over process, or it'll turn into nut butter! Press the pecan date dough evenly along the bottom of the prepared pan.
In the same food processor or high-powered blender (no need to wash between - I used my Vitamix, but most powerful blenders should do the job), combine all of the filling ingredients except for the freeze dried blueberries and blend for about 2 minutes, or until the mixture is silky smooth and creamy. Scrape down the sides as necessary. You may need to add a bit more coconut milk or lemon juice to get it to blend smoothly if your blender isn't super high-powered.
Once it's smooth, taste the mixture and adjust the sweetness/tartness/spice levels, if desired.
Pour ⅔ of the filling into the prepared pan over the pecan crust. Smooth out the top and tap the pan hard against the counter a few times to release any air bubbles. Place in the freezer.
Add the freeze dried blueberries to the remaining batter and blend to incorporate. Spread over the plain layer. Return to the freezer.
Rinse out the blender, and add the fresh blueberries, maple syrup, lemon juice and chia seeds to it. Blend until smooth, and then pour over the other layers.
Place in the freezer to set for at least 3 hours or until completely firm before slicing and serving. I recommend running your knife under hot water to warm it up before cutting the cheesecake with the still-hot (dried) knife.
Serve frozen or let them thaw at room temperature for 10-15 minutes before serving. Store in the freezer for up to 2 weeks.
3.5.3226
Products I used: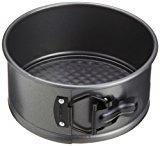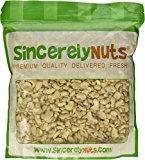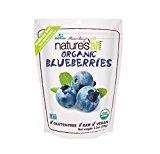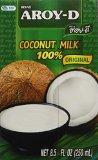 There's more where that came from!
No-Bake Lemon Cheesecake with Citrus Topping (Gluten Free,…

Chai Cheesecake Bars (Gluten Free, Paleo + Vegan)

Vanilla Bean Greek Yogurt Cheesecakes with Blueberry Compote

Mint Chocolate Chip Cheesecake