These No-Bake Chocolate Peanut Butter Cheesecake Bars have a peanut date crust and a super creamy cashew-based peanut butter filling – you'd never guess that they're vegan, gluten free, and refined sugar free!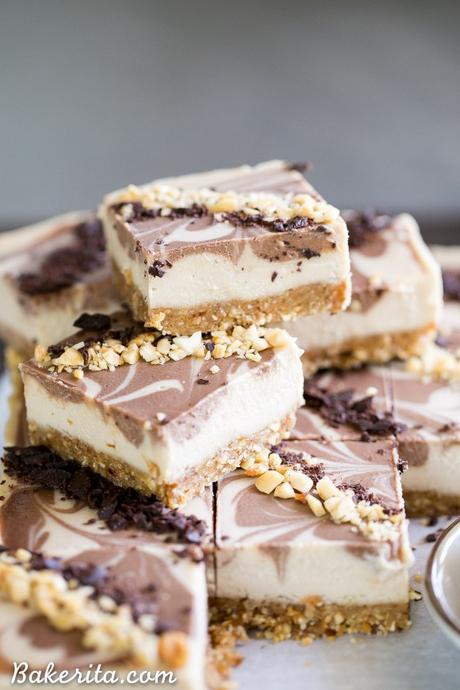 Does everyone else love chocolate and peanut butter as much as I do, or do I bore you guys with my incessant bombardment of chocolate and peanut butter flavored desserts?
As you can probably tell, I can't get enough of chocolate and peanut butter. I eat it all the chances I can get, and now that we've moved onto chillier days, this chocolate peanut butter oatmeal has become a staple breakfast item. It's dessert for breakfast, a little more guilt free…definitely worth waking up for.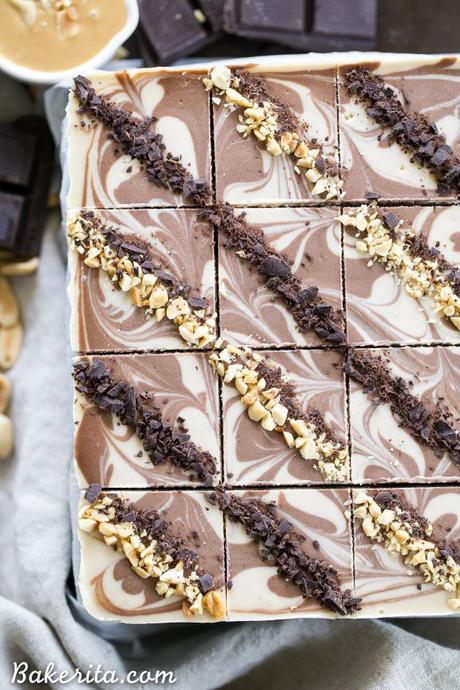 I think the chocolate peanut butter appeal has something to do with the bitter sweetness of the chocolate and the salty, slightly savory peanut butter – and when you add peanuts or use crunchy peanut butter, you've got texture too. But c'mon – I don't have to tell you how delicious chocolate and peanut butter is together. Peanut butter cups exist for a reason.
I'm pretty ecstatic about this particular peanut butter and chocolate rendition, though – these chocolate peanut butter cheesecake bars are rich, creamy, and absolutely delicious. Even more outstanding? There's no baking required and the "cheesecake" is actually cashew-based, making this dessert gluten-free, refined sugar free, and vegan.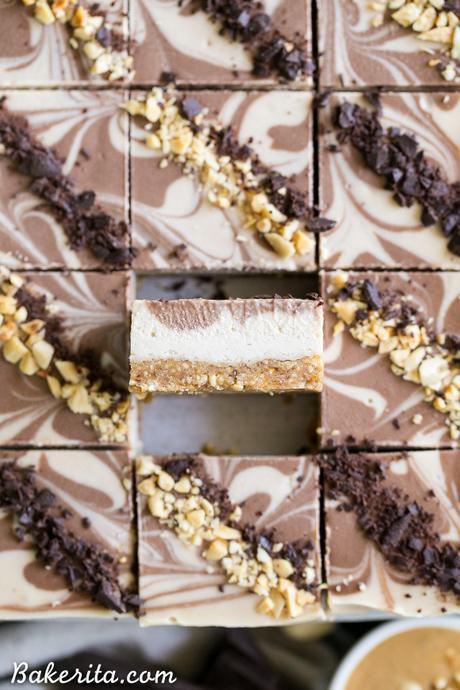 Let's start with the crust: it's a simple date crust, made with pitted dates, peanuts, oats, and a hint of salt. I used roasted peanuts because I love the flavor, but raw would also work. The crust tastes 
just 
like the Peanut Butter Cookie Lara Bars – probably because the ingredients are essentially identical, save the oats in the crust which add a little extra heft and texture.
The creamy peanut butter filling is cashew based, and to make sure you get the creamiest results, you've got to soak the cashews for between 6-10 hours. Any shorter and the cheesecake might not be as creamy, any longer and the cashews can get mealy. You can also try soaking them in hot water for about an hour if you want a shortcut!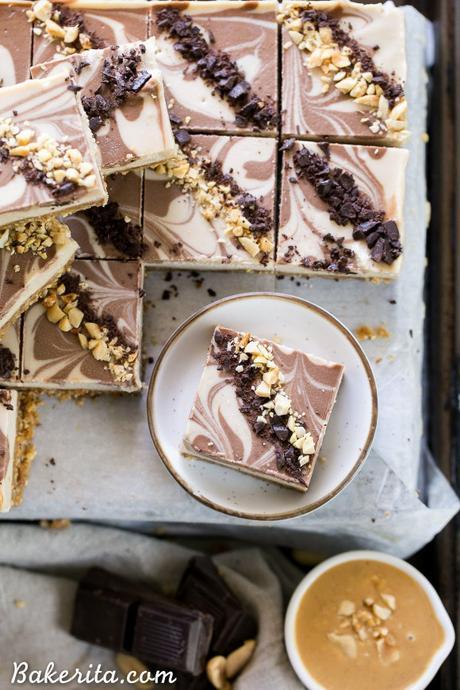 After draining the cashews, blend them up with the rest of the filling ingredients until it's all super duper smooth, about 2-3 minutes. 2/3 of the filling goes onto the crust, and the other 1/3 is blended up with a bit of cocoa powder to make the chocolate swirl. The chocolate filling is dolloped all over and swirled in with a knife, and then the hardest part: waiting for them to chill!
It's super important that these chocolate peanut butter cheesecakes bars are totally firm before you cut into them, or things are going to get very messy! These babies are stored in the freezer and they're super delicious frozen, or you can let them thaw for a bit at room temperature or in the refrigerator to soften them up.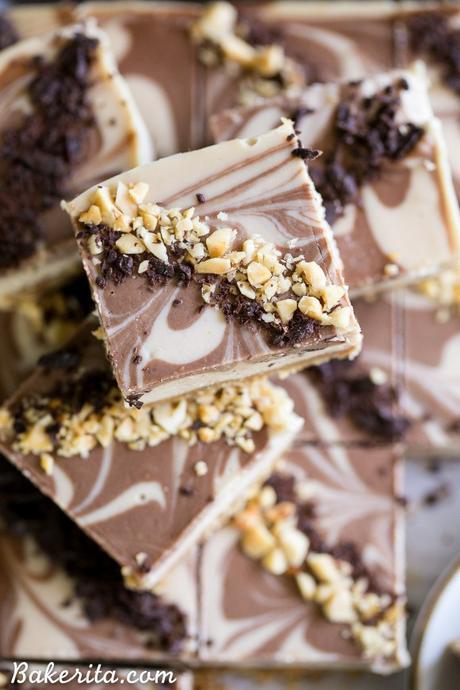 If you follow a Paleo diet, you can switch in almonds and almond butter for the peanuts and peanut butter in the recipe, and the oats in the crust can be replaced by an extra 1/4 cup almonds. Doesn't that version sound delicious?? It's next on my list 😋
I hope you love this recipe – and chocolate and peanut butter – as much as I do!! Have a good weekend, my friends ❤️
Remember to #bakerita if you try the recipe!
No Bake Chocolate Peanut Butter Cheesecake Bars (Gluten Free, Refined Sugar Free + Vegan)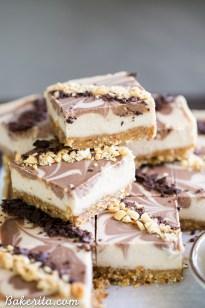 Save
Print
Prep time 20 mins Total time 20 mins   Author:
Rachel Conners
Serves:
16 bars
Ingredients
1 cup dates, pitted and chopped
1 cup peanuts (raw or roasted, whichever you prefer)
½ cup rolled oats
¼ teaspoon kosher salt
For the filling
1¾ cups cashews, soaked in water for 6-10 hours
¾ cup canned full-fat coconut milk
½ cup maple syrup (honey could also be used)
¼ cup coconut oil, melted
¼ cup natural 100% peanut butter
2 tablespoons fresh lemon juice
1 tablespoon vanilla extract
⅛ teaspoon kosher salt
3 tablespoons Dutch-processed cocoa powder
Chopped peanuts and shaved chocolate, to garnish
Directions
Line an 8" square pan with parchment paper for easy removal, and lightly grease with coconut oil. Set aside.
Add the dates, peanuts, oats, and salt to a food processor or high-powered blender and pulverize until it comes together into a sort of sticky dough, with small peanut bits remaining. Press the date dough evenly along the bottom of the prepared pan.
Drain the cashews. In a high-powered blender (I used my Vitamix, but most powerful blenders should do the job), combine the cashews, coconut milk, maple syrup, coconut oil, peanut butter, lemon juice, vanilla extract, and kosher salt. Blend for about 2 minutes, or until the mixture is silky smooth and creamy. You may need to add a bit more coconut milk to get it to blend smoothly if your blender isn't super high-powered.
Once it's smooth, taste the mixture and adjust the sweetness/tartness levels, if desired.
When you're satisfied with the taste, pour ⅔ of the filling into the crust.
Add the cocoa powder to the remaining filling and blend until dark and smooth. Dollop over the peanut butter filling and swirl in with a knife - careful not to over swirl, you don't want it to get muddy.
Tap the pan hard against the counter a few times to release any air bubbles and place in the freezer to set for at least 3 hours or until completely firm.
Once the bars are firm, cut into 16 squares. I recommend running your knife under hot water to warm it up before cutting the bars with the still-hot (dried) knife. Garnish with peanuts and chocolate.
Serve frozen or let them thaw at room temperature for 10-15 minutes before serving. Store in the freezer for up to a month.
Notes If you follow a Paleo diet, you can switch in almonds and almond butter for the peanuts and peanut butter in the recipe, and the oats in the crust can be replaced by an extra ¼ cup almonds. 3.5.3217

There's more where that came from!
Chai Cheesecake Bars (Gluten Free, Paleo + Vegan)

Peanut Butter & Jelly Crumb Bars (GF + Vegan)

Vegan Raspberry Lime Cheesecake with Coconut Crust

No-Bake Peanut Butter Dulce de Leche Cheesecake with Popcorn

No Bake Chocolate Peanut Butter Tart (GF & Vegan)

Peanut Butter Oatmeal Chocolate Chip Cookie Sandwiches