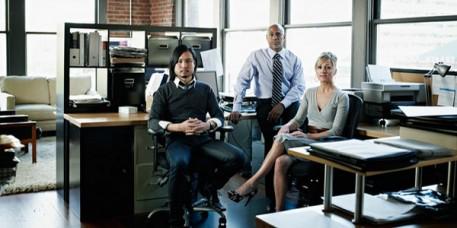 Some of the Team from Dimagi
Nine Certified B Corporations have been named by Bloomberg's BusinessWeek as 'America's Most Promising Social Entrepreneurs' of 2011. Azavea, Change.org, Dimagi, Emory Knoll Farms, Freelancers Insurance Company, Greyston Bakery, Nest Collective, Re:Vision Architecture and World Centric are all recognized this year as leaders in this growing sector of mission-driven businesses. The nine honorees this year represent diverse industries from insurance to green building and consumer products to health care technology.
B Corporations have represented 31% of 'America's Most Promising Social Entrepreneurs' since BusinessWeek began recognizing these leaders three years ago. Eleek, Napo Pharmaceuticals, DripTech, Mobis (Bikestation), The Redwoods Group, Source 44 and Sustainable Harvest were named in 2010. Better World Books, CleanFish, Fair Trade Sports, IceStone, Impact Makers, PhilanTech and SVT Group were included in 2009.
"We are honored that B Corporations continue to be recognized as leaders of this growing movement of social entrepreneurship," says B Lab co-founder, Jay Coen Gilbert.
Certified B Corporations are a new type of corporation that uses the power of business to solve social and environmental problems. To earn certification, B Corps meet rigorous standards of social and environmental performance, legal accountability, and public transparency. There are more than 400 Certified B Corps from over 60 industries. Investors are showing increasing interest in these high-impact businesses. A JPMorgan research report labeled impact investments as an "emerging asset class" with profit potential in the hundreds of billions over the next decade.
Read more about 'America's Most Promising Social Entrepreneurs' of 2011 in Bloomberg Businessweek.