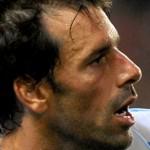 This weekend's clash between Real Madrid and Malaga should be extremely interesting and ex-Real Madrid star Ruud van Nistelrooy is looking forward to it.
This fixture will give way to a number of reunions. Brazilian midfielder Julio Baptista joins Nistelrooy in the list of players that will play against their former employers. Manuel Pellegrini, who coached Real Madrid during the 2009/10 season, will also have the opportunity to prove a point to Florentino Perez who sacked him.
"It is a special match for us and more so for those who played for Madrid," said Dutch striker Nistelrooy according to Real Madrid as he reflected on how emotional the match will be.
"If I score against Madrid, I will not celebrate. I am not really thinking about this [scoring]. We just want to prepare well for the game. Madrid are in great form and they have been scoring plenty in recent matches.
"However, we always have good motivation and we know where we want to go. I think that we will only get better by working hard."
Nistelrooy scored a total of 64 goals in 96 appearances at Real Madrid in a space of 4 seasons. He then joined German side Hamburger SV for 2 years before returning to La Liga thanks to a contract with new-look Malaga.
Last weekend, Malaga dropped onto the sixth position in La Liga standings following a heavy 3-0 defeat to surprise package Levante. However, only 3 points separate Malaga from third-placed Real Madrid.