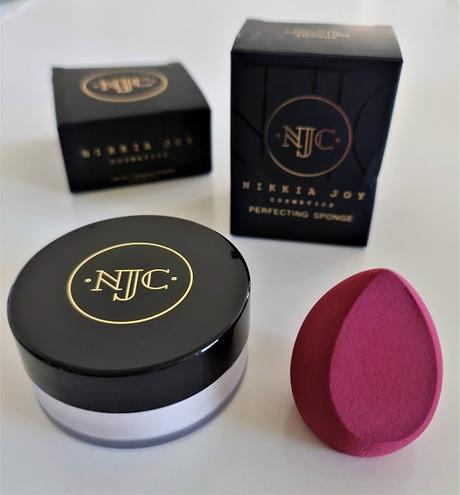 Sometimes being a blogger has it's benefits as it means I'm introduced to products that I wouldn't have bought. Nikkia Joy products fit that category.
There's no way I would have purchased the Nikkia Joy Velvet Finishing Powder as it's main purpose is to control shine. Being dry skinned, shine is not something I have to deal with. I also don't usually purchase products that are created or endorsed by influencers.
Having said that, I'm so very glad I was sent these products, they are truly beautiful. 
The Velvet Finishing Powder is easily the best new product I've tried this year. It was love at first application and I don't go a day without wearing it.
What Velvet Finishing Powder so amazing? I'll tell you. It;

Sets my make-up and makes a noticeable difference to the lasting powder of my foundation
Blurs my fine lines and pores
Sets my concealer and prevents it creasing
Feels soothing and hydrating on my skin
Is super fine and feels amazing. 
I apply with either a powder brush or the Pro Perfecting Sponge. Both work equally well. I usually use a brush when I'm in a hurry and just want a light layer and the sponge when I have a little more time and need a more precise application.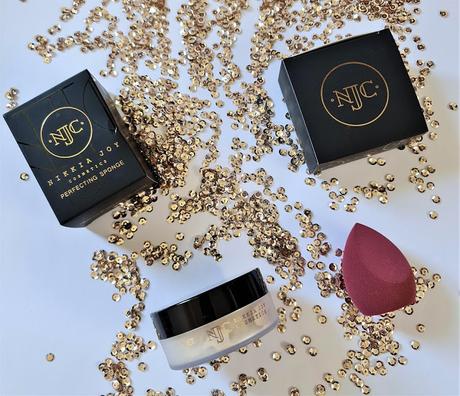 I wish I'd been able to capture the beauty of the Pro Perfecting Sponge in my photos. You can't tell but the color is pink with a black sheen, it's super pretty. 
There are so many make-up sponges available now and they really vary in quality. This is one of the best I've tried and is the only sponge I've used since it arrived. 
I like that it has a super pointy, flat edge because it means I can easily get product on the sides of my nose and under my eyes. I've been using the sponge damp to apply my concealer and it's made such a huge difference. I get better coverage and a lot less creasing. 
When you wet the sponge it swells up to three times it's size. Surprisingly it doesn't take long to dry out and shrink back to size, which is great because it means there's less chance of it getting mouldy inside. 
 I've use the sponge to apply both cream and powder products and haven't had any issues. The products don't absorb into the sponge much, so I can use it to apply my cream products and then powders without any problems.  
This also means that cleaning is quick and easy. I usually wash mine every couple of days.

You can purchase the Velvet Finishing Powder  for $55 for a 20 gram pot and the Pro Perfecting Sponge for $20. 
Both products can be purchased from the Nikkia Joy Cosmetics website.