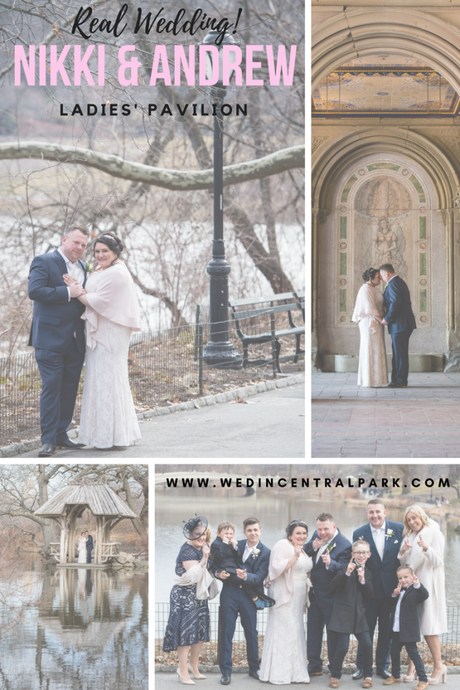 Nikki and Andrew came to New York from their home in Essex in the UK to get married on Valentine's Day. They visit New York every year together, and already had this trip planned when they decided that they would get married. They traveled with Nikki's nineteen year old son from a previous relationship, their four year old son, their niece and, at the last minute two close friends decided to come along once they heard there was going to be a wedding!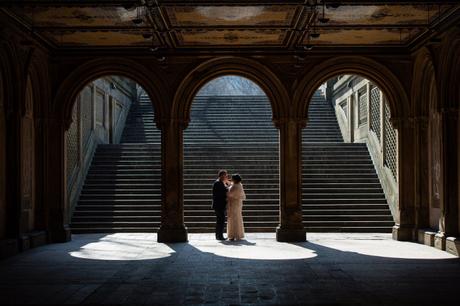 They had been together for over eight years when they got married. They share a property business, so they live together and work together! They got engaged in April 2011. Andrew gave Nikki a beautiful bunch of flowers with a card saying "will you…." and inside one of the roses was her engagement ring.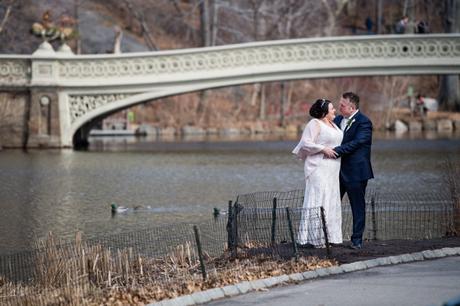 They had wanted to get married for some time, to formalize their commitment to their family unit and their young son. With all the time pressures of having a young child and running their own business, though, they just never got around to planning a wedding. In the end, they decided to just do it. Andrew first contacted me on the 18th January. So, the whole process took less than a month to plan. I do love a last-minute wedding! They said that they love New York and only ever considered this location for their wedding.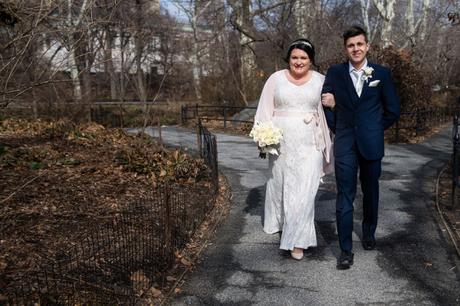 I asked if the couple had any regrets about not having the traditional wedding close to home. "No way!" said Nikki, we used Skype to set up a live feed so that anyone at home who could not attend could still see the ceremony.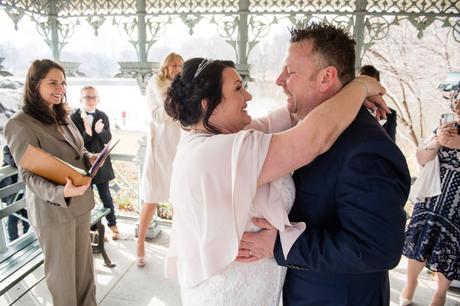 The couple know New York quite well, since they visit often, and Nikki knew straight away that she wanted photos on Bow Bridge. It's possibly the most iconic spot in Central Park – with that view over the water with the trees and buildings behind it. "I love Bow Bridge, I knew I wanted plenty of photos to be taken there, it's so picturesque," said Nikki.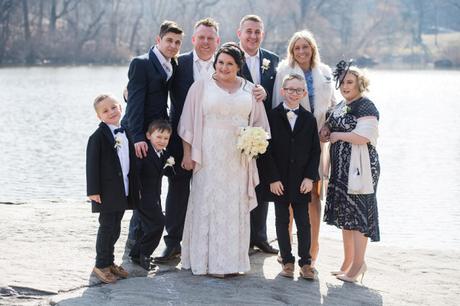 They stayed at the Roosevelt Hotel. They tell me that they usually stay at the Waldorf, but it is closed for a refurbishment right now. They're not planning on switching their custom to the Roosevelt in future. Nikki said that she and Andrew had a good sized suite, but she saw their guests' rooms and she felt that they were too small.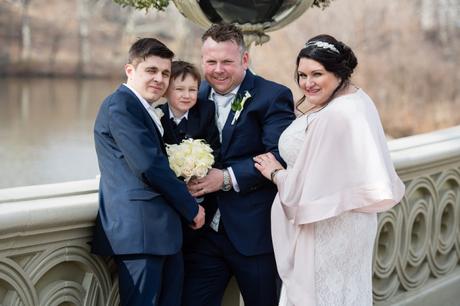 We arranged for their flowers to be delivered to their hotel (on the busiest day of the year for many florists, including ours!) and for hair and makeup artists to come to their room. "Claire made everything so simple and organised everything, I told Claire what we wanted and we got exactly what we asked for, I can't fault anything," said Nikki. So, we had the groom and guests waiting in the Ladies' Pavilion with our officiant, and then Nikki walked in to Central Park and to over to the Pavilion with our photographer, Jakub Redziniak. They were lucky with the weather and it was a beautiful sunny day.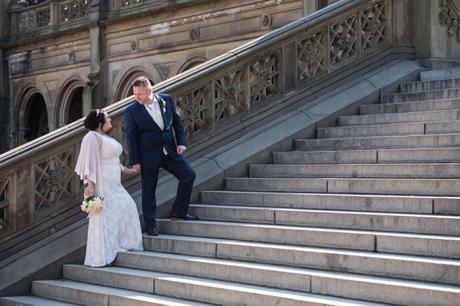 We kept their ceremony short and sweet, with traditional vows. Nikki was very clear that she would love and honor Andrew, but not obey! The ceremony itself, along with the paperwork, took under twenty minutes.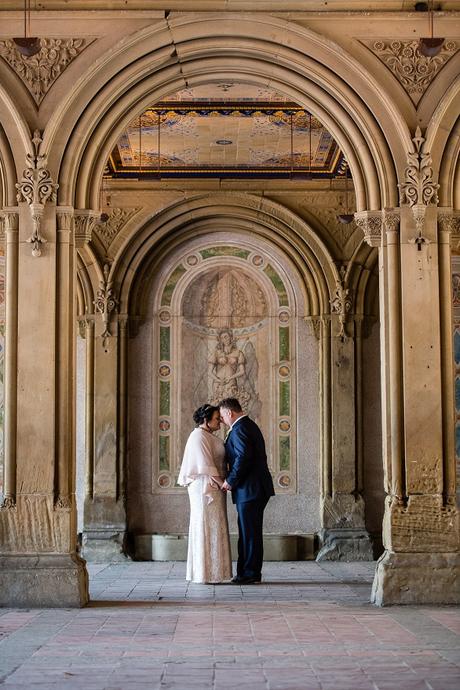 Nikki wore a long cream lace dress purchased from Jacques Vert with a blush pink shade under the lace. She wore a tiara and a wrap and shoes that matched the shade of blush in the dress. She carried cream roses and blush calla lilies. Andrew wore a navy blue suit and waist coat as did their sons and their male guest. The boutonnieres were cream calla lilies to match the bride's bouquet.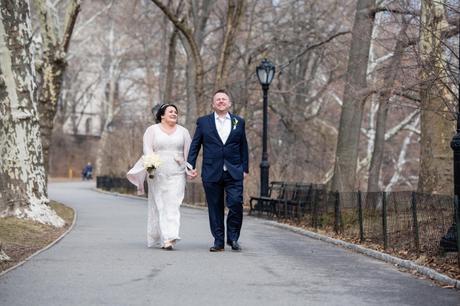 Andrew and Nikki got married in the morning, so afterwards they went for lunch at Keens Steakhouse, "we would definitely recommend this restaurant," said Nikki. And they had a New York cheesecake as their wedding cake! Afterwards, they all went to see the New York Knicks play the Washington Wizards at Madison Square Gardens. "It was the best day ever," said Nikki.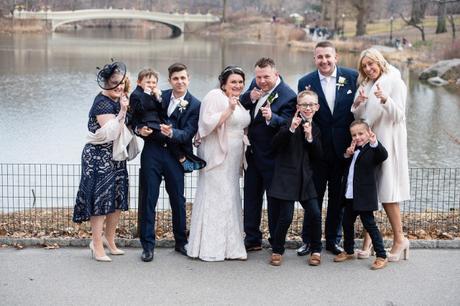 I asked Nikki how she would summarise their wedding in Central Park and she said "It was a beautiful day in a stunning setting, and I got to marry my best friend hassle free," which sounds fabulous! "OMG Claire was amazing" she added. "No stress. No hassle and everything ran perfectly. I would definitely recommend Claire and Wed in Central Park. Even our friends said that it was definitely the way forward in getting married rather than all the stress of eighteen months of arranging a wedding and being pulled from pillar to post by family and friends. There was no disagreements with the family as to colours, flowers and bridesmaids as we did everything our way. I loved it and can't thank Claire enough", she said. It makes me so happy to hear this; a stress-free, fun wedding day with those who matter most is truly the goal for all weddings!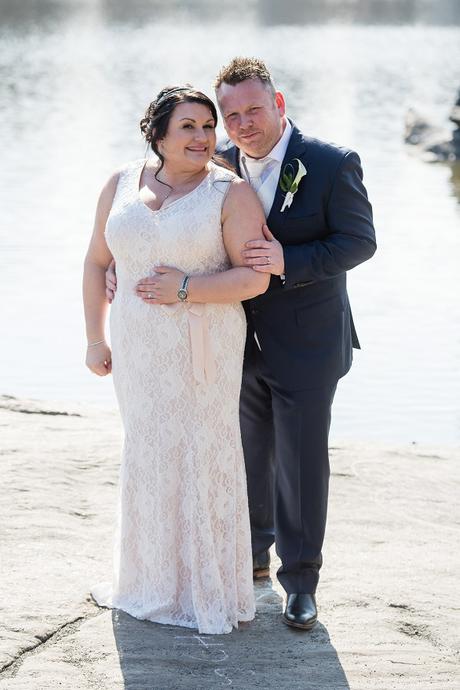 Thanks for sharing your story with us, Nikki and Andrew! I wish you lots of love and luck for your future together with your family. For more information to help you with planning your own Central Park wedding, visit our website, or "like" us on Facebook, follow us on Instagram and follow us on Pinterest where you will find lots of lovely photos and many more inspiring stories of real weddings.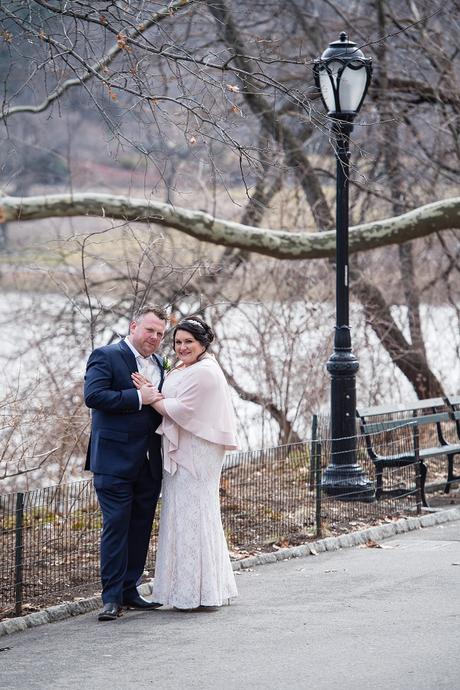 Advertisements
&b; &b;