Your mood can affect what you want to wear. We all know it's true. Sometimes you just want to rest so you throw on a pair of comfy jeans and a warm jumper. Other days, your inner vixen is just waiting to be unleashed, so on come the highest heels in your wardrobes along with your vampy bodycon dress
Why should your nightwear be any different?
Sometimes it's all about having a relaxing evening, others you want to feel feminine and pretty.
Here's our guide to the pyjamas at Idlewild for every you there is.
The Sunday morning chillax
You're recovering from last night. You have nothing to do until you meet the girls for lunch in the afternoon. That means you have a full four hours to chillout, watch TV, paint your toenails and read the papers. What better than these Calvin Klein Polo Loungewear Pyjamas. Pretty and feminine with the ribbon detail and full length making getting out of bed to make a cup of tea less of a chore, these pyjamas are perfect for lounging around the house.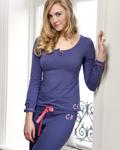 It's been a long day
Work ran late. You missed the bus and it's just started to rain. All you can think about is getting home and putting on your comfiest pair of pyjamas. These Check Flannel Pyjamas are warm and cosy. The lace detail retains a little elegance but these are perfect for a Winter's Evening.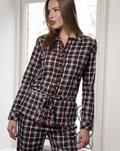 English Rose
Being girly and stylish shouldn't stop at the bedroom. These Fleur Lounge Pyjamas are as English Rose as they come. Dainty, feminine the flower print camisole top comes with ribbon and jewel detail in satin. The full length long pants add comfort. So great for a girly, indulgent night in you'll be looking for a nail colour to match.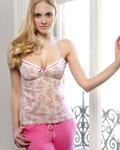 Seductress
Sometimes, the bedroom isn't just for sleeping. These Elle Macpherson Intimates Cotton Silk Pyjamas have a twenties feel to them, oozing elegance and feminine appeal. The lace detail on the hem and neckline match with a wide-leg full-length pant these are pyjamas (link) designed to make you feel your most beautiful.