Ah the countdown to Christmas is relentless isn't it? The weather is certainly hampering the shopping efforts of many, and unsurprisingly lots of you are turning to the internet to find the goodies you need for your nearest and dearest. Today we bring you our guide to nightshirts in our continuing quest to bring you the best ideas for perfect nightwear pressies.
Nightshirts are potentially an ideal pressie for your lovely lady lads, so listen up. The masculine styling shirt that skims the thighs turns something you'd wear to the office into your other half looking incredibly tempting just for you! The basis of the nightshirt is the button through look, which can be all done up or strategically left undone to add to the overall effect. Here are two of our best to show you exactly what we mean...as different as night and day, salt and pepper or well black and white to be honest!!!
Shadow stripe nightshirt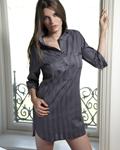 In a self striping black material this sexy mid thigh number really looks the part, the buttons are just at the top on this one, allowing for the perfect undone look. Three quarter length sleeves and a cute breast pocket make this Bodas offering the ideal nightwear gift. Charcoal is a good colour for ladies that are not the most girly, but still love to nail that sexy look. Now okay you blokes are less interested in that bit, but incase it helps make up your mind, it is made with 100% cotton which makes it warm in winter and cool in summer - perfect!
White cotton nightshirt

Now we promised you complete contrast, so here it is! Our next choice is poles apart from the first one, this time in a self striping white material, and again 100% pure cotton. Actually, we have to confess they are quite similar but, the white makes this an excellent choice for the more feminine girly types who love pretty and simple things. The quickest way to decide is simply to open her wardrobe door and see what colour jumps out as prominent. If its many colours then white is possibly the best choice, but if like mine you find a sea of black then please see above!! Good luck and happy shopping, we know you will find something in our vast nightwear collection to impress her.