Spring has definitely arrived. And that means one thing; spring fashions.
This season, the catwalks have been full of the new trends; minimal nudes, a seventies style and big bold prints.
There's no reason why your love of fashion should stop at the bedroom.
Idlewild London showcase pyjamas from the top designer brands designed to make you bang on trend from the minute you wake up.
Minimal whites
Think stripped back style, a classic look. Minimal whites or nudes are perfect for a clean, sleek look. Moonriver, 'Moonlight' luxury nightwear range brings that classic style into nightwear. This Sateen Classic Stripe pyjama matches a delicate feminine shirt with matching pyjama trousers with a tie and elasticated waist.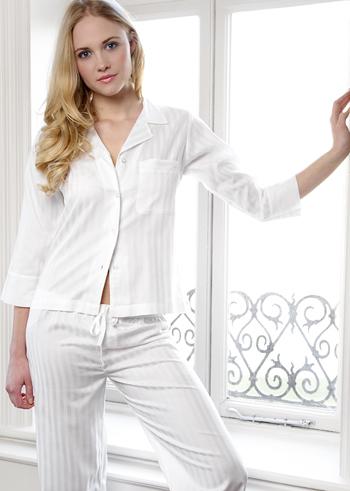 That Seventies look
The 70s are everywhere. From high-waisted flares to floppy hats, it will be difficult to avoid. This stunning Satin Kimono from Lunn Antiques offer a luxurious solution to the trend. Bold yet stylish, colourful yet elegant, this knee-length Kimono has a vintage feel. Ideal for a relaxing evening in.
Bold prints
This spring is expected to be filled with bright loud often mis-matched prints. It's not a style for the faint-hearted. Adopt it your own way with these Rosa Pyjamas from Cyberjammies. Silky soft pyjamas with a three-quarter length sleeve and satin detail, the trousers are full-length. Cotton fabric means they will help you stay cool as the night's get warmer.
Loungewear
Loungerie or Pyjama Dressing, as Harper's Bazaar dubbed it, this season expect a lot of nightwear mixing with daywear. These Amalie Loungewear Pyjamas by Papinelle are floral embroidered. 100% cotton, feminine and delicate the cami has a deep V neckline while the bottoms have an elasticated waist and bow detail at the back. They might be pretty enough to wear out but you'll feel most comfortable relaxing at home.