Juara Skincare was the choice for celebrity makeup artist Nick Barose who created the gorgeous, glowing look of Gugu Mbatha-Raw using Juara skincare products for her red carpet premiere of 'Belle' in NYC."Gugu is wearing a green dress that has a gorgeous golden sheen to it. Her jewelry has purple tones to it, so we went with a subtle eye incorporating purple but keeping it soft.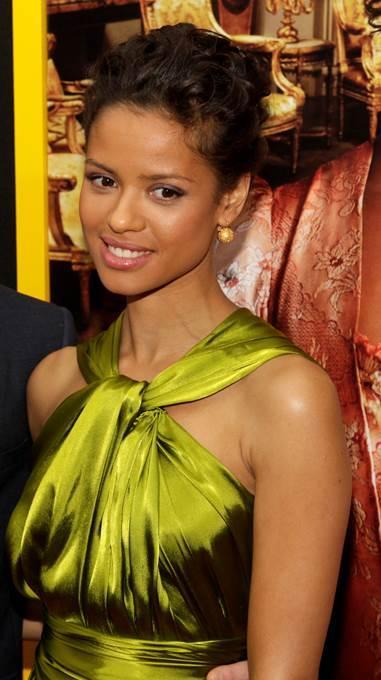 Nick Barose using Juara Skincare for Gugu Mbatha-Raw – Belle NYC Premiere
The whole look tonight is fresh, spring, sun kissed skin with soft, plum smokey eyes and peach lips and cheeks. I began by prepping Gugu's skin with the Juara Tamarind Tea Hydrating Toner, which gave her a bit of hydration. Since the weather's getting warmer, I used Juara's Sweet Black Tea & Ginger Mattefying Moisturizer to keep the skin from turning oily on the red carpet. I massaged it into her skin thoroughly using my fingertips and let it absorb.
Nick Barose using Juara Skincare for Gugu Mbatha-Raw – Belle NYC Premiere
Even though the product is great at controlling oils, it still leaves the skin supple and creates the perfect canvas for makeup. Next, I gently massaged in Juara's Sweet Black Tea Eye Crème to prep under the eyes and on the lids, and then blotted with a tissue.
I created soft, plum smokey eyes using the Tom Ford Eyes Colour Palette in Lavender Lust. To add lift and elongate her eye shape, I applied two coats of Votre Vu's Eiffel Power mascara, concentrating on the outer corners. For her lips, I applied Chanel's Glossimer in 119, a soft, peachy tone gloss.
Since she's wearing a sleeveless dress tonight and the weather is a bit warmer, I gently massaged the Juara Tiare Jasmine Tea Body Milk into her shoulders and arms. Body milk is perfect for warmer weather since it's not too thick, gives the perfect amount of hydration and brings out a subtle sheen in the warmer weather, whereas a regular body moisturizer or crème would be too heavy."Juara products are available at www.juaraskincare.com.
Nick Barose using Juara Skincare for Gugu Mbatha-Raw – Belle NYC Premiere