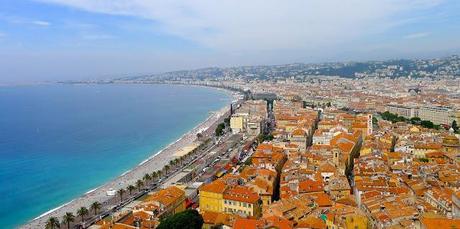 La ville Arc-en-Ciel
I don't know about you, but the excitement over fall colors is already wearing thin. It may be because in the Pacific Northwest, fall colors come in the wet form... Glistening pumpkins; shining evergreen leaves; dripping trick or treaters hopping over puddles to reach the next slippery driveway (well, ok. It poured all day, but the rain did stop tonight when the kids hit the street...) 
Give it another two or three weeks, and all we can hope for - for five more months at least - is a monotonous two-tone scenery: Grey (if you look up) and green (moss and evergreens.) Nothing to be excited about, n'est-ce-pas? Oh, I know. Things could be worse. Seattle could have been on Sandy's path this week when "Frankenstorm" took the East Coast by storm. That region is still reeling from the disaster, and will likely continue to do so for weeks. Hugs to you, East Coast! You were my first [American] love. I did not forget.But over here, in the Pacific Northwest, we are going to need - and use - every excuse to smile and have a good time over the next few months.In order to counteract the effect of a S.A.D. (Seasonal Affective Disorder,) a condition well-known in Northern latitudes, where Vitamin D is as elusive as a stylish Seattleite at the local Red Robin, a friend recently started researching the benefits of luminotherapy. She gets up 30 minutes early and sits by a small, blue light bulb while sipping her café Latte. Best way to combat the winter blues, she claims. Why do I find the idea of replacing natural sunlight with artificial light so depressing? Has mon amie gone "toc-toc?"Chacun son truc. To each his own. But, if the prospect of looking a blue light bulb in the eye several hours a week (or popping in "Happy Pills") does not appeal too you, follow me. I, French Girl, have found the Cure. And I will share it with you, my dear reader. Who says the French are arrogant and indifferent? People who have never traveled to France, that's who!This French Girl is going to tell you a secret. When you feel down, and need joy and energy in your life, go to Nice, France. Some people know that city as a jewel of the French Riviera. Others have heard her nickname, Nissa la Bella. Beautiful Nice. You may remember I have a soft spot for that Southern Belle.As I was going through old photos, I thought of a new name for Nice: La Ville Arc-en-Ciel. Rainbow city. Why don't you join me on a colorful promenade niçoise today? You will agree, I know it. Allons-y! Let's go!The first thing one notices is the sky. It takes on so many different shades throughout the day, and blue does not even start to describe it. It is best to show it.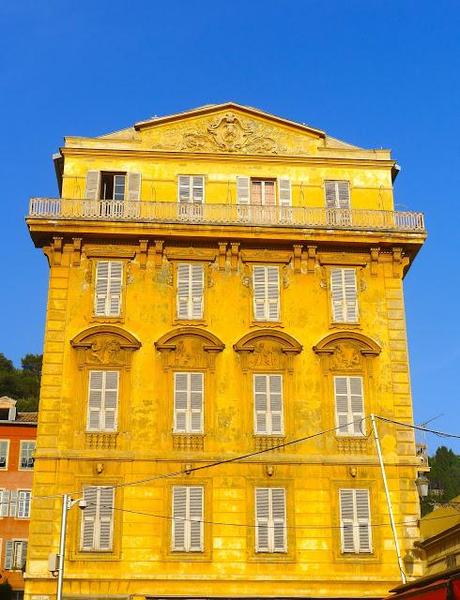 Painter Henri Matisse's old house, place Charles Felix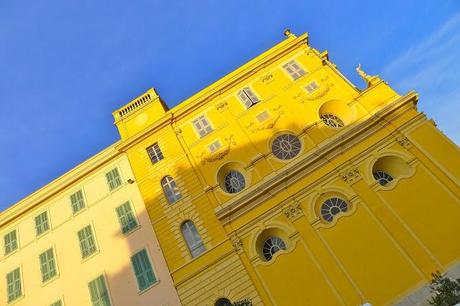 near the Préfecture
Do you see what I mean? Already, you are feeling better. Already, your spirits are up; your energy revived. Forget the blue light bulb. The blue light bulb now sits in the trash, useless, forgotten. 
While approaching the maze of seemingly dark, narrow, and winding streets of le Vieux Nice (the Old Nice,) one might hesitate for a split second. After all, one can't ignore the neighborhood's once shadowy past...
They say la fortune sourit aux audacieux (Fortune favors the Brave.) Come on, follow me...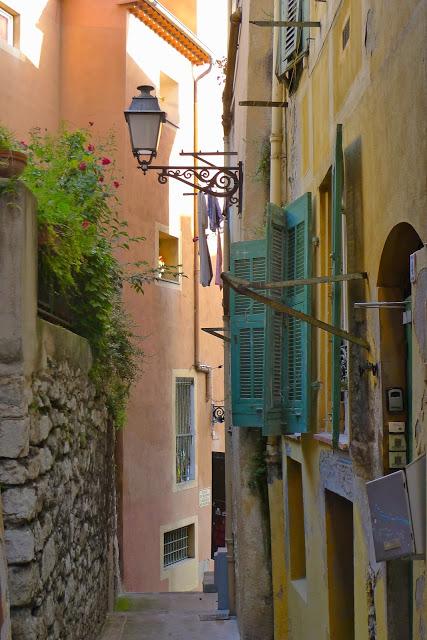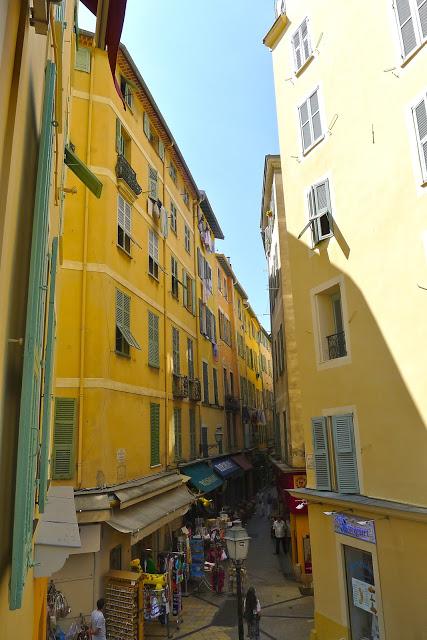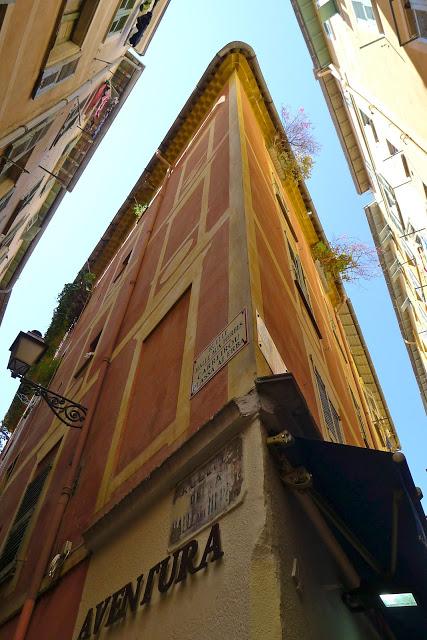 Is it Italy? Is it France? Old Europe, definitely. Everywhere around you, intense sounds, smells, and colors. Bright façades or unassuming walls. Sleepy houses in the early morning.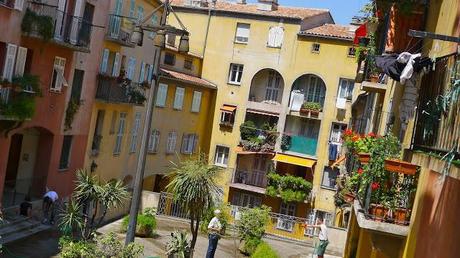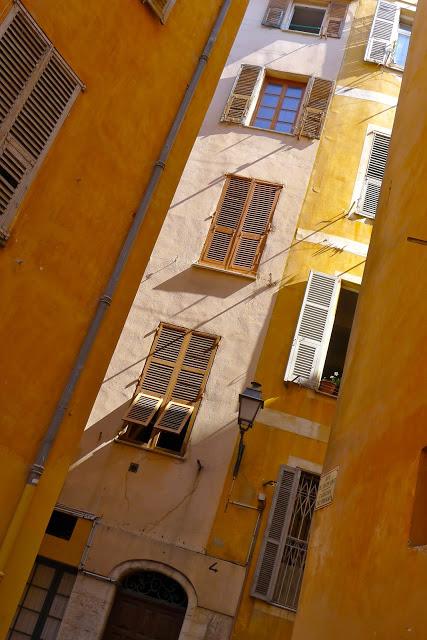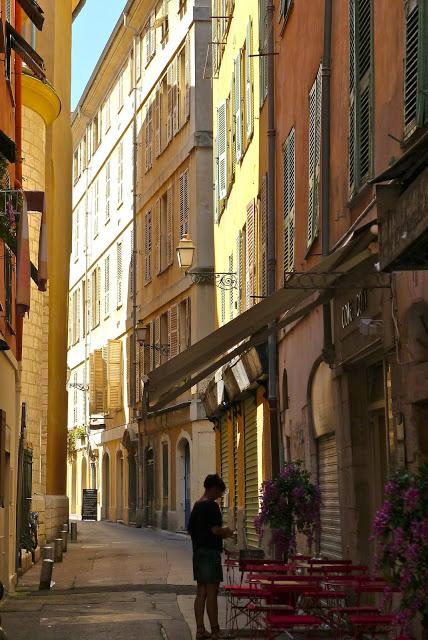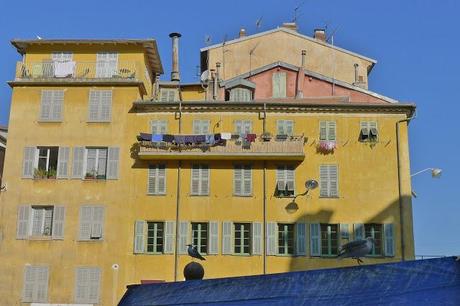 Et les volets de Nice. Did you notice them? Nice's wood shutters. A world all of their own. Unless their American counterparts, they work for a living, keeping houses dark at night, and cool in the summer heat. Sleepy giants who may - or may not - open one eye as you walk by. They serve the city well, as Nice façades reflect into their eyes... Again, colors, so many colors. Shades of ochre, yellow, red, green and blue. You feel yourself smiling.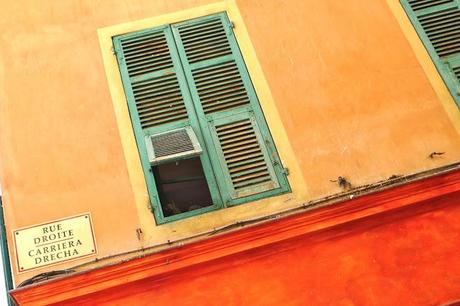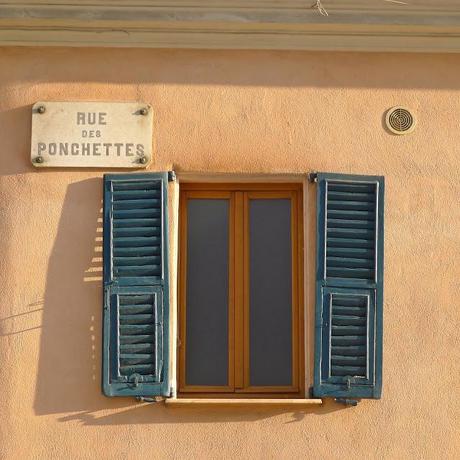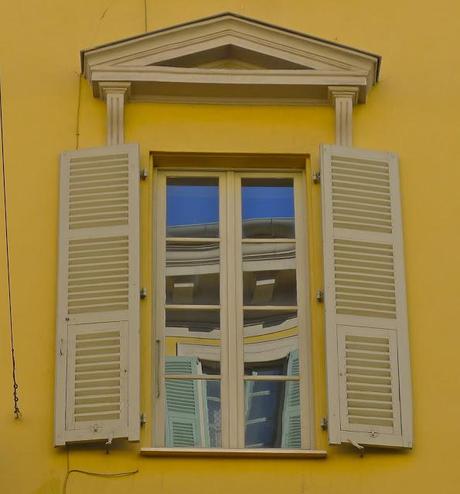 Leave la Vieille Ville (the Old Town) behind, and the rainbow follows you...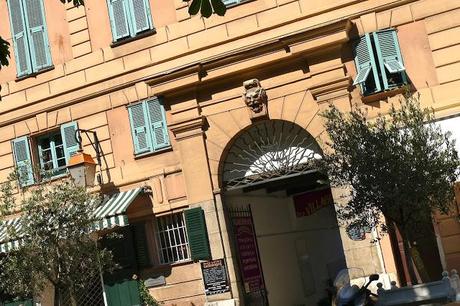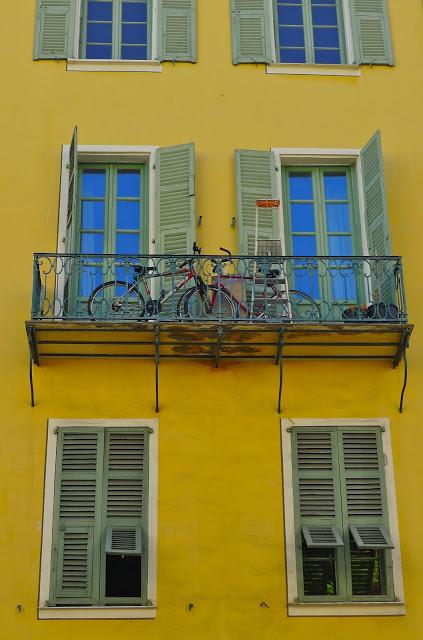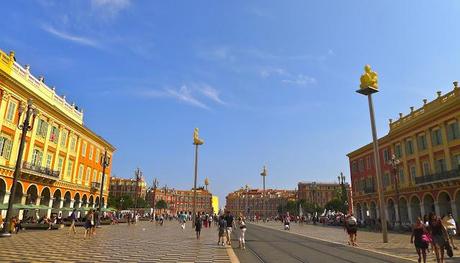 Place Masséna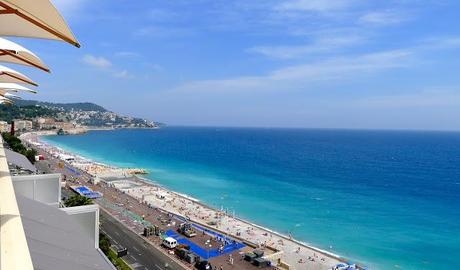 La Grande Bleue. The Big Blue.
At sunset, then at night, Nice, la ville Arc-en-Ciel, shines.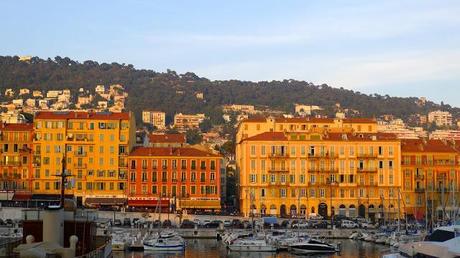 Le port, "en feu..."
The harbor, ablaze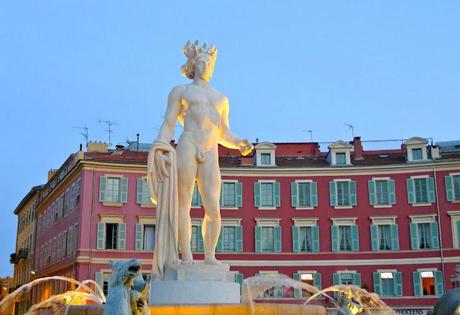 Place Masséna
Place Masséna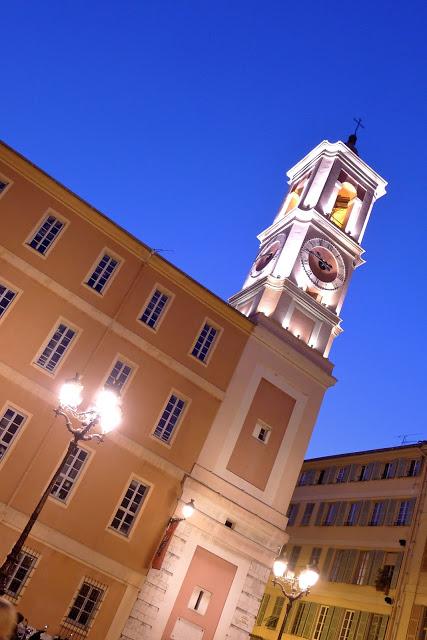 Palais Rusca
Place du Palais de Justice
Convinced yet?

Some might still prefer the blue light bulb. 
Moi, I have found it, my Happy Place: It is a lively, hospitable city on the shore of la Grande Bleue (the Mediterranean.) I have a friend in la Ville Arc-en-Ciel; another one nearby, and that makes it all the more special.
One day soon, I will go back. Until then, whenever I need a dose of good old-fashioned joie-de-vivre, I can look at these photos and pay Nice a visit. And now, so can you. 
A bientôt.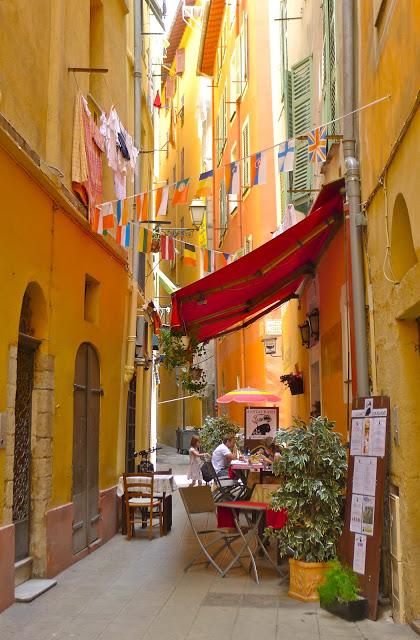 My table is waiting...
All photos by French Girl in Seattle
Do not use, repost, or Pin, without permission.
Thank you.
Note to my readers: 
I am having a hard time getting used to the new Blogger format. It seems I have a tendency to push "Publish" instead of "Preview" as I am writing my stories. This is why some of you may have received early notifications... for a post that did not exist yet. Je suis désolée. My apologies. Better late than never. I hope you enjoyed this story.