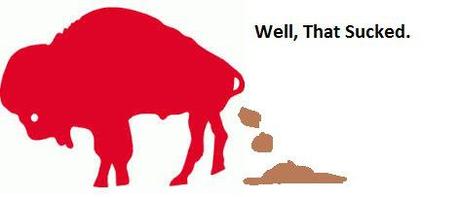 Season = Over.
Or better yet, why the Buffalo Bills suck.
Yesterday, teams in the NFL scored 90 touchdowns.  The Bills managed two fields goals and 214 yards of total offense. I can't even handle those numbers.
I've tried to be positive this year, I really have.  I've tried to look at a young team with a new coaching staff and just call it a work in progress, but god damn these guys just seem like they have regressed.  Maybe it's because the veterans see the playoffs passing the by, or the young guys are starting to run out of gas, or maybe all the early season injuries are starting to break people down.  Whatever it is, yesterday's 27-6 loss to the Tampa Bay Buccaneers pretty much has me about to give up on this coaching staff and players.
You're supposed to improve as the season goes on.  Especially as your team gets healthier and all the starters are back on the field.  The exact opposite seems to have happened in Buffalo.  I basically said last week that when you don't know what winning is like, it's hard to be a winner.  It's something you have to overcome.  Whether it's in the trenches, late in games or on Sunday's when you don't have your best stuff, you need to find a way to win the game.  The Bills just don't have it and haven't had it for a while.  I was optimistic when the new coaching staff came in, they drafted a franchise quarterback that a lot of people raved about and seemed to have a new outlook on life in Orchard Park.  Then the season began and I stayed optimistic even though we couldn't close games.  We won some, we lost some but we were battling.  Plus you could see a stretch of the season where we could make a move toward the playoffs.  After the early season struggles of the Falcons, Steelers, Jags and Bucs, it looked like, if we could hold down the fort early, that there were some very winnable games in the mid to late part of the season.  Now, again, we won't be at or above .500.  Another losing season, another top ten draft pick and another offseason of dealing with an owner that is too old and a front office that is too….whatever.
The Bills are like a girl that you really like but you know is no good for you.  You might have a few minutes of excitement here and there but over the long haul you're going to be disappointed.  The Bills kept pulling me back in.  A last minute win over Carolina, beating the Super Bowl Champion Ravens, taking a good Bengals team to OT with a backup QB, and beating the Dolphins when we needed an inter division win.  But the last couple weeks have been stupid.  The Falcons loss was just a microcosm of being a Bills fan.  No reason they should have lost that game.  Then yesterday happened.  While the rest of the NFL was having record setting days despite snowy conditions, the Bills mustered up a whole 6 points against the Bucs.  The same Bucs who got pummeled last week by the very Panthers we beat earlier in the season.  Yes, those Bucs who at one point in this season seemed ready to beat up their own coach.  They beat the living crap out of us yesterday.
And that gets me to my real question: Why are the Bills regressing as the season moves on?  Isn't this a terrible thing to be happening at this point?  I kept thinking that the Bills, if they held on through the first half of the season (a 1st half that was very tough,) that they could potentially find their way into a possible playoff race.  Even before losing to the Falcons last week they stood just barely on the outside looking in.  Again, they owned the tiebreaker with Baltimore and Miami so if they could win a few winnable games they might find themselves in a dogfight for the 6th spot.  Now, the season is officially over and there are rumors of the coaching staff having to scale back the playbook for EJ Manuel, their prized QB of the future.  SCALE IT BACK?  What the hell was he doing those 4 weeks he didn't play?  I imagine he had plenty of time to learn every inch of the god damned play book.  Why, now, does the coaching staff feel the need to pump the breaks?  It's just another thing to remind you that this franchise is so far behind the rest of the NFL.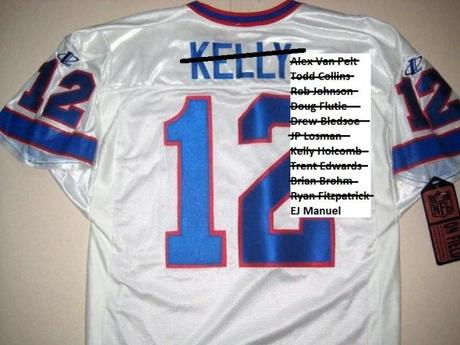 Is EJ the next to be crossed out?
The offense is the thing that is killing me because it's the thing that I felt was the best thing they had going for them.  CJ Spiller and Fred Jackson could potentially be the best 1-2 punch in the NFL at running back.  Could be, if they got more than 21 total touches yesterday.  The best thing for a young QB is to hand the ball off to your running backs and let them make life easier for you.  And keep doing it until you've exhausted your running backs because CJ Spiller is always one more rush away from breaking a long run. F-Jax is about as consistent as they come but if you don't give him the ball you don't get the consistency.  Yesterday proved that when he has to all the work, EJ Manuel just isn't ready.  Four interceptions is just completely unacceptable.
So who knows.  I'll get myself worked up next weekend in hopes of the Bills saving face, but at this point, isn't it better if they just lose the rest of their games, get a top 5 pick, trade down a few spots, pick up an extra 2nd round pick and then draft the best linebacker available?  I mean they need more talent and they need it quick or this franchise could be in real danger.