July 24, 2014
Nothing like the NFL kicking off training camp by shitting on women everywhere.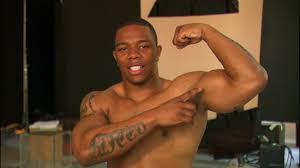 Was it the left he caught his wife with?
Via ESPN: The NFL has suspended Baltimore Ravens running back Ray Rice for the first two games of this season following his offseason arrest on an assault charge.The league announced the punishment for Rice in a statement Thursday, saying that the three-time Pro Bowler is eligible to participate in training camp and all of Baltimore's preseason games.
What an absolute joke the NFL is becoming.  Ray Rice, who punched his then girlfriend in the face and knocked her unconscious and then dragged her out of an elevator, was just suspended for two whole games by the NFL.  Furthermore, he doesn't miss any practice time or preseason games.  So the NFL feels that for beating the shit out of your future wife, the penalty is six hours of missed work.  Meanwhile, if you get caught smoking weed you basically should kiss your NFL career goodbye.  And this is coming from a guy who thinks weed is about the dumbest drug in the world, but that's not the point.  The point is the Baltimore Ravens just caught a break today because rather that get caught smoking weed or take some type of enhancement drug, Rice punched his wife in the face.  The NFL could have made a point here but instead decided to go light on Rice because he's a "good guy" and had a "good meeting" with Roger Goddell.
My question is what happens next time?  And I'm not talking about what the NFL will do, but what will happen to Ray Rice's wife?  It's apparent that she's scared shitless of this guy.  Days after he knocked her out she married him and then during their press conference she apologized for role in the altercation.  Now I know I get on chicks for being crazy and this one obviously is, but does that sound like a woman who has a say in anything she does?  I'm sorry I upset my boyfriend to the point he felt the only way of settling our argument was to punch me in the face.  Yeah, I'm pretty sure she lives in fear 100% of the time.  And anybody notice how smug Rice was during the whole thing.  Basically acted like it was no big deal.  Real good guy right there, NFL.
You know what though, why wouldn't Rice act smug as shit?  His lawyers probably told him from the jump that he wasn't going to get severely punished because he'd never done anything wrong and he wasn't smoking weed.   Probably was black out drunk but that doesn't matter.  The scariest moments were probably when rumor swelled that the Ravens might cut him, but why do that if you only miss him for two games.
But this is what the NFL can do when they basically own all of us.  They make billions of dollars a year, make decisions that leave everyone else baffled and all the while we (including myself) hang on their every word and tune in every week to watch.  Oh and they're a non-profit which will always piss me off.
PS, chances Ray Rice hits his wife ever again?  99%?  Maybe higher?
Post navigation
← ESPN Force Feeds Us A LeBron Story Because They're Butthurt They Didn't Get His Decision This Time.