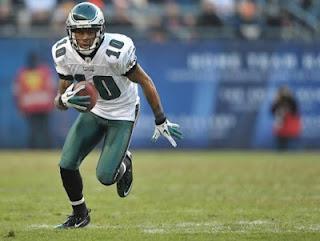 Photo: US Presswire

- Troy Ballard
Following a turbulent season that was dominated by distracting contract issues with the Philadelphia Eagles, wide receiver DeSean Jackson is now a free agent that can sign with whatever team he chooses.
Jackson, who is often considered the most explosive player in the NFL, is coming off an incredibly disappointing and underwhelming season in Philadelphia. However, when not focused on his contract, Jackson has proven that he can be an elite receiving threat in any offense.
Here are some potential landing spots for Action-Jackson:
Philadelphia Eagles 
This is a given. Even though Philadelphia may have a bad taste in their mouth after last season's contract issue, Jackson is still a big part of the Eagles' offense. He fits Andy Reid's west coast system almost perfectly, and automatically makes the entire operation run more efficiently.
Jackson loves Philly, and has already apologized to the organization, claiming that he would be happy taking a franchise tag. If the Eagles did end up deciding to use a franchise tag on Jackson, it would take him off the free agent market and lock him in for one year.
San Francisco 49ers
Aside from Vernon Davis and Michael Crabtree, the 49ers need serious help at wide receiver. San Francisco had an excellent season behind the energetic coaching of Jim Harbaugh and were one catch away from making the Super Bowl, even without help of a consistent passing game.
Jackson could fit right into the 49ers' offense seamlessly and totally blow-up San-Fran's playbook. The running game would be totally flipped with a deep threat, not to mention how it would open up the field for other receivers. Harbaugh is drooling at the thought of Davis over the middle, totally wide open, because Jackson stretched the defense back with his speed.
Not to mention, Jackson is a bay area native from Cal, it's only a natural fit.
Arizona Cardinals 
The Cardinals have one of the best wide receivers in the NFL in Larry Fitzgerald. Behind him? Not a thing. Arizona found immense success with the two-elite wide receiver system that the team used to run with Fitzgerald and Anquan Boldin, and they could look to get a similar style going again.
Throw Jackson into that mix in Arizona, and the Cards' may have the best wide receiving corps in the NFL. The combo of Fitzgerald and Jackson would be unstoppable, as the two would both demand a double team on nearly every play. Defenses would not have enough men on the field to contain Jackson and Fitz together.
Also, don't forget that the Cardinals have an ex-Eagle quarterback in Kevin Kolb. The same Kolb, that when he started, Jackson had excellent chemistry with.
New Orleans Saints
Who wouldn't want to play for the Saints? They have been consistent playoff contenders, have a dedicated fan base, perfect team unity, and an amazing coach in Sean Payton. Then some guy named Drew Brees as their starting quarterback.
With the possible departure of Marques Colston from New Orleans, the Saints could pursue Jackson as his replacement. Jackson's elite speed would fit in perfectly with an offense that already has more talent than most teams in the NFL combined.
Brees and Jackson could quickly become one of the best quarterback-receiver tandems in the NFL with Payton's agressive down field passing attack. It would be a win-win for both parties, and more than likely, the Saints would dish out the kind of money Jackson's looking for.
Where ever Jackson does end up landing, he will make a huge impact. Even though last season he didn't perform to expectations, he has proven that he can be a total game-changer. Jackson is a free agent and has the luxury of choosing what team he wants play for, meaning he could be anywhere next season.
Be sure to follow Beard and Stache on Twitter @BeardAndStache, and also Troy @TroyBallards, Like our Facebook page HERE!