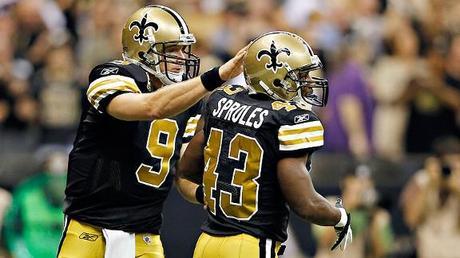 Photo: Crystal LoGiudice/US Presswire
- Adam Parker
New Orleans Saints running back Darren Sproles is the clear-cut favorite to win the NFL's Comeback Player of the Year Award.
After not being re-signed by the Chargers, Sproles agreed to terms with the Saints, allowing him to rejoin his good friend Drew Brees and re-kindle one of the most electrifying backfield combinations in the league.
In his final season in San Diego, the Chargers believed they had gotten all they could out of Sproles, and were willing to part ways with him in favor of the young running back out of Connecticut - Jordan Todman.
Fast forward to the end of the season and Todman is no longer with the Chargers after Minnesota signed him off San Diego's practice squad while Sproles has gone on to New Orleans and become a pivotal piece in the Saints' record-setting offense.
Now, don't get me wrong, there are some other quality candidates for Comeback Player of the Year in the NFL; most notably 49ers quarterback Alex Smith.
I don't want to take anything away from Smith, but let's be honest with ourselves. The defense is what carried San Francisco this season. 
Yes, I know must give credit where credit is due to rookie head coach Jim Harbaugh for getting the most out of the 2005 1st overall pick, but do I believe Smith impacted his team enough to put him ahead of Sproles for this award?
Not a chance.
I'll admit that Smith has had a decent season, but it's a bit underwhelming at this point considering the lofty expectations he had when San Francisco rolled the dice on him in 2005. 
The 90.1 quarterback rating (10th in the NFL), and the 16 touchdowns to only 5 interceptions are very solid numbers and a great personal improvement, but like I said, Smith should have been performing like this all along for the 49ers; and the fact that he's just now, in his seventh season, starting to prove that he might not have been a bust like we all originally thought is a little worrisome and why I ultimately don't see him winning the award. 
As for why Sproles deserves it, that's simple.
No other player, not just on the list of finalists for this award, but in the entire NFL, is the kind of
X-factor
for his team in all three facets of the game.
He's contributed heavily as a runner, receiver, and returner, and Sproles' total body of work is turning out to be one of the best all-around seasons in NFL history. According to ESPN Stats & Information, Sproles is already the first player in league history to have 1,200 yards from scrimmage and 1,200 kick/punt return yards in a single season.
If that wasn't enough, Sproles also has a chance to break the NFL record for all-purpose yards in a season. He currently has 2,528 yards, placing him fourth in history. If Sproles manages 163 yards on Sunday against the Panthers, he'll break the previous record (2,690) set by wide receiver Derrick Mason in 2000.
There you have it folks, Alex Smith had a nice season, but Darren Sproles' record-setting versatility and unique skill set are why he's a lock to be this season's Comeback Player of the Year.
Check out why Troy Ballard believes San Francisco 49ers quarterback Alex Smith is most deserving to be Comeback Player of the Year!
Be sure to follow Beard And Stache on Twitter 
@BeardAndStache
, 
and also Adam 
@Adam_Parker43
, Like our Facebook page 
HERE
!