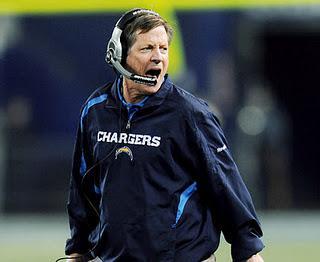 Photo: NYDailyNews.com
With only three weeks remaining in the NFL season, the Kansas City Chiefs and Miami Dolphins fired their head coaches in Todd Haley and Tony Sparano, prompting the idea that more firings are inevitably going to happen.
The NFL has become a 'what have you done for me lately' driven league, and it seems that head coaches jobs are never safe. Even coaches who have won a division title a year ago, such as Haley, can find themselves out of work by the end of the next season. With as many bad teams as there are in the NFL, it seems inevtiable that some of the current head coaches will be replaced.
Here are some likely candidates to be fired:
Jim Caldwell, Indianapolis Colts 
I feel bad for the guy, I really do. His Colts are currently winless and look like one of the most pathetic teams to take the field since the Detroit Lions of '08. There is almost no chance that Indy wins a game this year, and the Colts will finish a grim 0-16. It's not entirely Caldwell's fault that Peyton Manning is the only decent player on the Colts, and that he missed this entire season, but it certainly isn't going to help his case for staying the head coach.
Generally when an NFL team drafts a quarterback with the first overall pick, organizations like to bring in a new set of coaches to have a totally clean slate to start anew with. It's not a lock that the Colts will draft Andrew Luck, but that seems to be the best situation for Indy, and I'd bet that Caldwell will be dismissed at the end of this year.
Norv Turner, San Diego Chargers 
The Chargers were originally thought to be one of the best teams in the NFL going into this season, and now it's likely they will miss the playoffs entirely for the second consecutive year. In terms of slow starts and late-game collapses, Turner killed it. Unfortunately, he needed to do the opposite to fulfill San Diego's Super Bowl dream.
I honestly thought that Turner's job was in jeopardy about three seasons ago, but somehow he has managed to hold on this long. There is almost no chance that San Diego brings him back next season. A team that has as much talent as the Chargers should not be missing the playoffs, and the majority of the blame has to fall on coaching.
Andy Reid, Philadelphia Eagles
In terms of disappointment, Andy Reid and the Eagles have to be tops in the NFL. Following a free agent spending spree this off-season, Reid had a Philadelphia squad that was practically holding up the Lombardi Trophy. Reid blew it.
Some will point to the Eagles lack of individual effort from their players as a cause for their playoff-missing season. However, that only goes so far. Reid's play calling this year has been atrocious and he clearly has no control in the locker room. Philadelphia has retained Reid for 12 years, but this season will be the dagger in his career.
Tom Coughlin, New York Giants 
The New York Giants are an incredibly talented football team. However, Tom Coughlin seems to have a really big problem finishing out seasons and is infamous for his late collapses. It's possible it's a motivation problem, but following New York's Super Bowl win in '08, the Giants have not won a playoff game, and missed them the rest of the time.
Coughlin is a solid coach, and he picked up a much-needed win in Dallas, which very well could swing the NFC East in New York's favor. But if the Giants somehow miss the playoffs this season, Coughlin might as well start packing up his bags. New York is a tough market, and I'm surprised he has lasted this long without winning postseason games.
Steve Spagnuolo, St. Louis Rams 
The St. Louis Rams had a total collapse this season. Considering most people had the Rams winning the NFC West with ease, their miserable record is surprising. Sam Bradford has struggled mightily with key offensive injuries, Steven Jackson looks drained, and the defense is ineffective and flat.
About the only explanation for a team imploding the way the Rams have is coaching. Spagnuolo pointed St. Louis in the right direction and he was able to make the Rams a relevant team again. But it doesn't look like he can get them over the winning-season hump, and St. Louis will end up looking for another coach sooner rather than later.
Be sure to follow Beard and Stache on Twitter @BeardAndStache, and also Troy @TroyBallards, Like our Facebook page HERE!