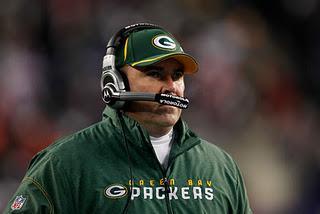 Photo: Zimbio.com
The 2011-2012 NFL season has provided some excellent games, even better players, and some amazing coaches, and the two best coaching performances of the year come down to the San Francisco 49ers Jim Harbaugh and the Green Bay Packers Mike McCarthy.
Both the 49ers and Packers have had amazing seasons. There really is no other way to put it, and both teams have already locked up a playoff spot and won their respective divisions. The 49ers, who were predicted to do nothing more than have a rebuilding year, have managed to post the second best record in the entire NFC at (10-3). The defending champs in Green Bay are red-hot and the Packers have yet to lose a game this year, posting an undefeated (13-0) record.
The two coaches, Harbaugh and McCarthy, are nearly exact opposites. This is Harbaugh's first season in the NFL, and was the coach at Stanford at a college level before taking a job with the 49ers. McCarthy, ironically, was the offensive coordinator in San Francisco before being offered the head coaching job with the Packers.
Harbaugh puts a heavy emphasis on team defense and a strong ground-and-pound running game, while McCarthy pushes an agressive turnover-based defense and a heavy passing attack. Harbaugh is electric on the sideline and has a tendency to over-celebrate, as to McCarthy who is excellent at holding his composure and keeping a professional demeanor.
McCarthy is leading an undefeated Packers team that is coming off a Super Bowl win last season, and Harbaugh is directing one of the most surprising sudden team turnarounds of the last decade.
Although having two entirely different styles and situations, both coaches have excelled immensely this season. The Packers and 49ers are two of the top teams in the NFL, and both are looking to make a strong run in the postseason. The question becomes, which one deserves Coach of The Year?
McCarthy.
I absolutely love what Harbaugh has accomplished in San Francisco, and I admire the energy he brings to his team. Most critics totally doubted that the 'other Harbaugh brother' could exceed on the next level, and that he would totally flop in the NFL. There were even jokes when Harbaugh was hired that he would intentionally bomb this season to get his Stanford quarterback, Andrew Luck, in the draft.
Harbaugh proved everyone wrong. He has turned a team that was thought to be nothing more than an NFC West doormat into a legitimate Super Bowl contender. The atmosphere that Harbaugh has crafted in San Francisco is totally unique, and his players have responded to it. His system works.
But Harbaugh is not leading an undefeated team, and he does not already have a Super Bowl ring. McCarthy has not only managed to craft the most deadly offense in the entire NFL, and a stunningly opportunistic defense, but he has managed to keep his team totally focused.
McCarthy has kept the beast of the media out, kept his team practicing, and instilled the belief that every single game is just as important as the last. The Packers locked up a playoff spot a number of weeks ago, but Green Bay still takes the field with the same energy and passion as they did in week one.
It's as simple as this -- McCarthy has a team that is (13-0), and he will likely finish the season undefeated.
The case will be made that Harbaugh is doing much more in San Francisco with a whole lot less talent than what there is in Green Bay. This argument holds no weight, and individual coaching is what should be looked at for this award, not base talent on the rosters.
McCarthy and Harbaugh should both be commended for excellent work, and both deserve recognition for their efforts. We wish them both the best of luck in the playoffs, and if we as fans are lucky, we may even get to see the two coaches play each other.
Be sure to follow Beard and Stache on Twitter @BeardAndStache, and also Troy @TroyBallards, Like our Facebook page HERE!