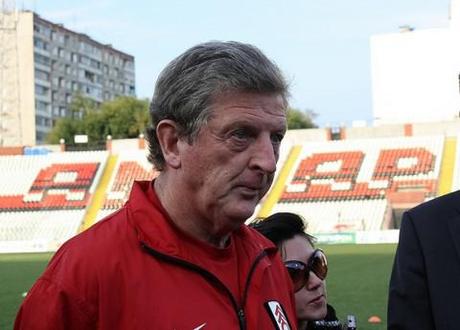 Football manager Roy Hodgson. Photo credit: ajlisss http://flic.kr/p/8amkTf
West Bromwich Albion manager Roy Hodgson is set to start talks with the Football Association today and is expected to be appointed England manager within 48 hours. The FA says the 64-year-old manager is the only person it has approached about succeeding Fabio Capello. FA Chairman David Bernstein approached West Brom on Saturday and was given permission to speak to Hodgson, who is likely to be appointed on a long-term basis.
The news is a hammer blow to Tottenham manager Harry Redknapp, who has been the bookmakers' firm favorite for take the job since Capello unexpectedly quit. The FA's move for Hodgson has been largely met by howls of disappointment by England fans as the lion's share want Redknapp to take the national team to this summer's European Championships.
Hodgson 'blew' his last big job. Hodgson for England "is a shock choice and maybe a wrong one," wrote Daniel Taylor at The Guardian The Sport blog. Taylor insisted that he had "no appetite here to dismiss him before he has even been fitted for his FA blazer" but expressed concern about how Hodgson performed as Liverpool boss: "Liverpool, under Hodgson's guidance, were hovering just above the relegation places at one point and suffered the ignominy of going out of the Carling Cup to Northampton Town. In the process Hodgson became increasingly erratic. The style of football was poor and, for such an intelligent man, he struggled to immerse himself into the culture and essence of the club. However it is dressed up, he blew it. The FA appears willing to airbrush this from his CV."
England, the birthplace of the game, have not won anything at international level for 46 years.
Safe choice. Hodgson "is the safe choice," insisted influential sports writer Henry Winter of The Daily Telegraph. He conceded that Hodgson would "not be the choice of the England players or the long-suffering supporters. But he is experienced internationally and he definitely has this observer's backing. Why? Hodgson's intelligent, a deep thinker of the game, a man with a huge understanding of how to organize a team." Winter reminded that Hodgson guided Switzerland to the last 16 of USA 94 and is "still respected in Italy for his work at Inter Milan." Winter described Hodgson as a "broadsheet man in a tabloid world," and said it "will not be his style but Hodgson must exude a greater aura" if he is to succeed. "A good man is just about to take on the Impossible Job. Good luck," concluded Winter.
"Students of England's history may find echoes of Ron Greenwood's appointment instead of Brian Clough in the Hodgson-Redknapp dynamic," suggested Henry Winter at The Daily Telegraph.
Don't write off Hodgson before he's even started. Oliver Holt of The Daily Mirror urged England fans to back Hodgson despite their disappointment about the FA's call not to approach Redknapp first. "He is not Harry Redknapp. He is not the popular choice. He does not have Redknapp's common touch. Nor does he have the charisma of Martin O'Neill. But Hodgson also deserves a lot better than to be written off before he has even taken the job. His record and experience of coaching across the world demands that. He knows about the demands of international football. He is comfortable in that world." "What he will need to overcome is the inverted snobbery that will be aimed at him by some because he's a cerebral manager," said Holt, who concluded that Hodgson "was not the popular choice but he may yet prove to be the right one."
Senior England players Rio Ferdinand and Wayne Rooney have gone public in their backing for Redknapp.
What about Harry? An editorial in The Sun, entitled "Hod Choice," said that the "shock announcement" throws up some difficult questions for the FA: "Redknapp has been the overwhelming people's choice since Fabio Capello quit. The fans want him. The players want him. And if the FA is to avoid an angry backlash it needs to come up with a few answers. Has Harry turned it down? Was he even approached? Is he too expensive?" Turning to Hodgson, the tabloid argued that, "no one" doubts his "pedigree" but his "brief unhappy spell at Liverpool begged the question of whether he is the man to deal with the dressing room's big egos. That's a skill Harry has in spades. And it's a skill we need if England's serial underperformers are to ever live up to their hype."