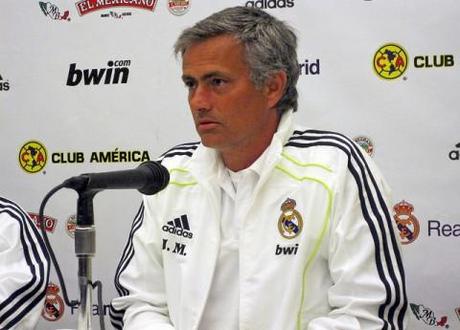 Real Madrid manager Jose Mourinho. Photo credit: Apasciuto
Having controversially sacked manager Andre Villas-Boas, Chelsea Football Club go into tonight's tricky FA Cup replay clash against Birmingham in a state of some chaos. Ex-Chelsea midfielder Roberto Di Matteo has been appointed interim manager until the end of the season but all the talk is of who will replace Villas-Boas as next permanent manager. Lots of big names are being bandied about but the question many sports writers is asking is whether any self-respecting top-level manager will actually want to accept the job, given the reported level of dressing room disquiet and owner Roman Abramovich's increasingly poor reputation in the game.
Real Madrid manager Jose Mourinho, who enjoyed a hugely successful spell as Chelsea boss remains the club fan's firm favorite but newspapers are today also heavily linking the club with moves for Barcelona's Pep Guardiola and Germany manager Joachim Loew. Meanwhile frontrunner Rafael Benitez has declared his interest in taking the reigns at Stamford Bridge.
Ex-Chelsea manager Luiz Felipe Scolari, quoted in The Daily Mail, insisted that, "it will be hell for whoever succeeds him. The move to sack Villas-Boas is strange, but not so strange to me because of what I went through there. Some things are known, like the relations with the owner and his relationship with some of the players." Scolari was sacked by Abramovich.
Moyes would be ideal. James Lawton of The Independent said that Everton manager David Moyes, "a scrapper never known to draw back in the face of uncomfortable truths" would be perfect for the Chelsea job. Lawton insisted that non-nonsense Moyes has "every quality required to make a dynasty except the larding of football celebrity and that ultimate achievement made possible by the financial means he has never enjoyed." "So why wouldn't the oligarch invest in a football man many see as a natural successor to Ferguson at Old Trafford?" asked Lawton. "There is one outstanding obstacle. It is the potential availability of Jose Mourinho, a man who might well have flowers thrown at his feet should he deign to return to the place from where he was so bizarrely ejected."
Canny Scot David Moyes has been named manager of the year three times in the last decade by his Premier League peers.
Is the Chelsea job a poisoned chalice? Matt Lawton of The Times (£) suggested that the firing of AVB "may have scared off top names." Lawton said that "you have to wonder why any of those on Roman Abramovich's shortlist would want to replace Andre Villas-Boas. Not when it would mean working for an owner branded a 'serious embarrassment' by League Managers Association chief executive Richard Bevan. Not when the most hostile of dressing rooms needs rebuilding before there is any hope of delivering the success the owner craves." Lawton said that Abramovich has an "image problem" and that hamper his search to find his next managerial "casualty." That said, Lawton said Moyes might be seduced by the Chelsea job: "After 10 years of consistent over-achievement at Everton, it would be an exciting move for the Scot. He would finally have the opportunity to spend some money and finally have the chance to compete for the major titles his obvious talent demands."
Mourinho is the bookmaker's warmish favorite to be the next Chelsea manager. He is a best-priced 5/2 shot. Loew remains backable at 22/1.
Does Di Matteo have an outside shot? Louise Taylor at The Guardian's Sport Blog, said interim manager Roberto Di Matteo could just have a slim outside chance of landing the big job on a permanent basis. She acknowledged that Roberto Di Matteo "may be unloved by some of Chelsea's squad and is no man-manager or master tactician in the José Mourinho mould," but insisted "he hold three aces": "First and foremost the former Italy midfielder is adored by Chelsea fans who recall his role in securing the five trophies won by the club during his Stamford Bridge playing days. Ashley Cole, Frank Lampard, John Terry et al will be smart enough to appreciate a potentially powerful synergy between stands and technical area." "Di Matteo's second ace card is that he boasts a less than shabby, albeit relatively brief, managerial track record," noted Taylor. Di Matteo's last ace, argued Taylor, is that he possesses a "slight superiority complex" which "could aid his survival amid one of the Premier League's most difficult, player-power-suffused and highly politicised dressing rooms."
Roberto Di Matteo begun taking his coaching badges while still a Chelsea player. In his brief managerial career, the 41-year-old analytical coach has led MK Dons to the League One play-offs and won West Bromwich Albion automatic promotion to the Premier League.