TAKEAWAY: So, it is hello again, Newsweek print edition? For those who missed touching their newsweekly, 2014 may bring it back from the dead.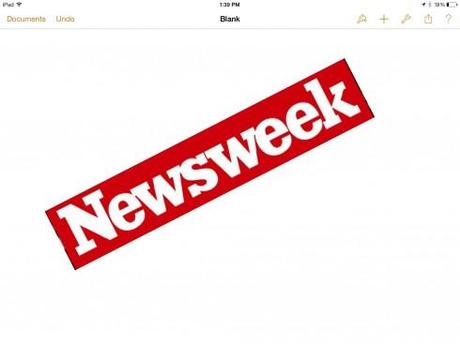 Parting was semi sweet sorrow for those who were used to their printed version of   Newsweek that iconic newsmagazine which seems to be in a constant state of transition—-or should we call it evolution?
The New York Times reports that the magazine expects to begin a 64-page weekly edition in January or February, according to Jim Impoco, Newsweek's editor in chief.
The resurrection of all that ink on paper comes with a price: Mr. Impoco said in an interview that Newsweek would depend more heavily on subscribers than advertisers to pay its bills and that readers would pay more than in the past.
So, there is life beyond death—-and even beyond such a high power editor as Tina Brown—-for the battered, but always survivor that is Newsweek.
This is good news, indeed.
Just today, here in Zurich, a young man not a day older than 30 confessed to me that he started getting the print version of The Economist simply because it was part of a subscription bundle.
"But,"he said, said, "little by little, I started putting the print edition in my briefcase, and reading it. It feels good to touch the pages, can't explain it, but I like it."
No explanation needed. Call it the power of touching paper as opposed to glass, or disconnecting from the slavery that can be all things digital.  For many Newsweek fans, 2014 holds the promise of better weeks ahead, the return of glossy sheets, ink on paper and all that may entice us to romance print.
For more
http://www.nytimes.com/2013/12/04/business/media/newsweek-plans-return-to-print.html
TheMarioBlog post #1392