This is the weekend edition of TheMarioBlog and will be updated as needed. The next blog post will be Monday, Dec. 3


Purchase the book on the iBookstore
The EPUB version of book is HERE:
Now available: The EPUB version of iPad Design Lab: Storytelling in the Age of the Tablet, ready for download via Amazon.com for Kindle:
http://tinyurl.com/8u99txw.
TAKEAWAY: This week Newsweek said goodbye to Twinkies, and in a few weeks we say adios to Newsweek.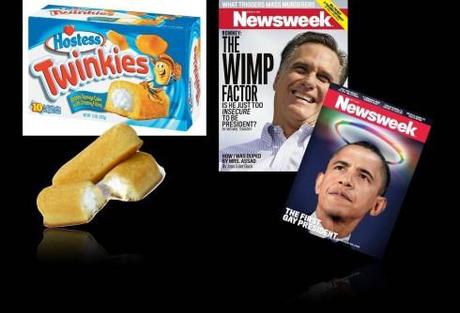 Shakespeare's words "parting is such sweet sorrow" were probably never more appropriate than in the case of Twinkies, those extremely sweet snacks that have generated tremendous interest lately since, Hostess, the company that makes them declared it was going out of business.
If you are breathing on your own, you have not escaped the Save the Twinkies campaigns on Facebook, Twitter, and even the Jeannie Moos CNN spot on the subject. 
I remember eating my last Twinkie as a 10th grader at Miami Senior High School, since I was in a club that would sell Twinkies to raise funds. Leftover boxes would end up in my house, and so I indulged. I probably thought that it was part of the Americanization of Mario. And, maybe, those Twinkies accelerated my assimilation into the new culture.
It was ironic, however, to pick up a printed copy of Newsweek—-soon to be also a relic from the past—and read its own goodbye to Twinkie.  Under the headline: R.I.P., Twinkies—What really did in America's favorite guilty pleasure?, the newsmagazine that is practicing for its own swan song, analyzed the demise of those highly caloric snacks as follows:
"The unwillingness or inability to update its business strategy and products for a changing world was more damaging to Hostess than the brief strike this month. A white bread manufacturer that focuses solely on the US market in 2012 is a little like a white-bread GOP candidate who focuses only on white voters in 2012."
Perhaps a similar analysis will be written about Newsweek when it publishes its last print edition Dec. 31.
It may all be about guilty pleasures and how, in our society, we just don't wish to engage in anything that will make us feel guilty or bored—-whether sweet caloric Twinkies or newsmagazines that fail to engage.
Please pass the carrot sticks and the tablets, but rest assured that there is still a demand out there for sweet things and for publications printed with ink and paper.
Oreos, M&Ms and printed magazines
If you ask me, there is also a sense of generational irony in the way we react to both sweet treats and printed materials.
Take my house, for example. While I do not eat them myself, I always stock up on Oreo cookies and M&Ms to offer my grandchildren when they come to visit me after school.  They come in thru the back door and know that I will have these "guilty pleasure" items waiting for them.
My daughters and daughters-in-law DO NOT buy those sweet treats in their own homes as they monitor their kids' sugar intake carefully, as they should. They make me proud.
I also have, in my family room, an Ottoman on which rest a variety of print magazines: Monocle, Time, Newsweek, Runner's World, People, Departures, etc.
So, as the grandkids indulge in the Oreo cookies and M&Ms that I offer them, my daughters sit comfortably in the family room, legs crossed, picking up magazines and flipping through them.
Guilty pleasures of another era indulged in real time now. In my home. Mind you, they are not buying the sweet or the printed, but they are indulging in both.
There may still be hope for Twinkies and Newsweeks in the future.
They may just have to adapt their recipes for a different world, one where people are more conscious of what they consume and about the guilt that comes with it.
Of special interest this weekend:
Dear Jeff: a Handy List of Contradictory, Surefire Paths to Success at CNN
http://nyti.ms/10Yk46i
Highlight:
Jeff Zucker, reported to be the choice to run CNN Worldwide, no doubt is getting much advice on how to revitalize the United States outlet, whether to add more celebrities, double-down on news or documentaries.

Here is my own letter to Jeff Zucker: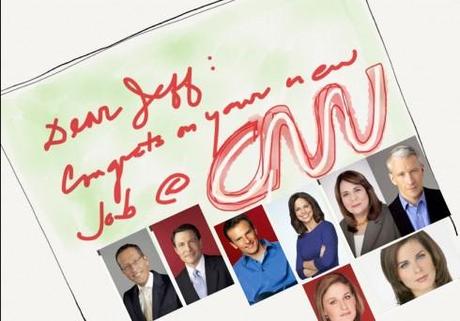 That is a fun read, and, as someone who keeps CNN as company in hotels worldwide, I have a few of my own Dear Jeff suggestions:
Start with repetition. My biggest pet peeve as a viewer: repetition. I know that you operate 24 hours a day for various time zones (so do I, by the way).  But over the years the amount of repetition has become worse, something which I have reported to two of your stars with whom I correspond often, Richard Quest and Guillermo Arduino. By the way, make sure those guys stay put, since they have their own unique personalities which they bring to their shows.  Quest combines the rare qualities of depth, focus and entertainment. One is never bored with Richard Quest.  Arduino does more than just tell you the weather. He lives it, and there is no monotone there, but shared experiences, and excellent weather reporting.
Easy on Freedom Project promotions: While the Freedom Project may be an admirable program for CNN in its quest to be the network which cares,  we grow tired of all those Freedom Project promos. Do your good deed, please, reward your heroes, but don't torment the rest of us with the excesses of promoting that particular part of your programming.
Let's hear it for Anderson: Give me more of Anderson Cooper, who calls it as he sees it and seems well informed on most subjects, not to mention that when he can't contain his laughter on The Ridiculist, it makes for great YouTube moments.  CNN needs more of those.
Less of Hala and Erin: Perhaps give me less of two feisty ladies, Hala Gorani and Erin Burnett. Don't take me wrong, they are talented. They are work in progress, but their own shows? C'mon. Both are perky and ready to attack whoever they are interviewing.  The body language of these two project anything but objectivity most of the time, but they do try hard. What gives these two smart young ladies the background to command shows that require a little bit more gravitas and a little less Freshman Television 101.  Give them three more years and they will be ready, just not yet.
Oh, but I want more of Christiane Amanpour: I would like more of Christiane Amanpour, your no nonsense senior member of the cast who is always informative, and always informed.  Glad she is back, don't let her go.
Punish those pundits: give most of them a sabbatical after the Presidential Election.  They repeat themselves ad infinitum, run over each other (but you know it is all theater without a good script), and don't convince anyone.  We get tired of the template:  your anchorman du jour  with two pundits representing two different viewpoints. When the opposite views come from an actually married couple, we know that this is Neil Simon territory. Get rid of them, or look for new ones.
And keep Soledad covering monster storms: Soledad O'Brien will get to be a Katie Couric one of these days, but she needs Katie's smile and her sense of objectivity, which was lacking through most of the Presidential Election coverage. No matter who you favored in the Election, there were times when you turned off Soledad simply because you were not interested in her takes.  She does storms and hurricanes rather well, just keep her out of the political soup.
The Katie Factor: Talking about Katie: how about bringing her to CNN? She could be the new-old Hala-Erin-Soledad. 
Let's hear it for Candy and Gloria:  Two who do their job well, and always appear to project gravitas: Candy Crowley and Gloria Bolger
John King and Jim Acosta: They were the saving grace of the Presidential Election coverage. Always composed, always informed and not letting body language indicate which way their own vote would go. Bravo.
The serious and the silly: Finally, and I may disagree with The New York Times letter to you on this: I think that audiences today want to get what I call "that tango of the serious and the silly."   CNN makes vague attempts at this nice cocktail, but it lacks focus. You got close to this with Jonathan Mann's Political Mann. And while Jeanne Moos is funny with her timely reports, this is like putting "lifestyle" at the end of the newspaper, with the comics and the horoscope.  You need the mix of serious and silly as part of a systematic formula, and not just as "comic relief" in the midst of the rest.
A rethinking is in order, and everyone expects you, Jeff, to be the one instituting it at this venerable institution. 
Good luck, and perhaps you will show the world how news television should be done in the age of the tablet!
By the way, Jeff, have you read the research that tells that a large number of people who are reading on their tablets in the evening, are also watching television? Synergies to be explored.
You could be the one going double on that lean experience: how the tablet and your television set could redefine user engagement. I am seeing double already.
Thanks for listening. And good luck!
For the complete story:
http://edition.cnn.com/2012/11/29/us/jeff-zucker-cnn-president/index.html
Pages we like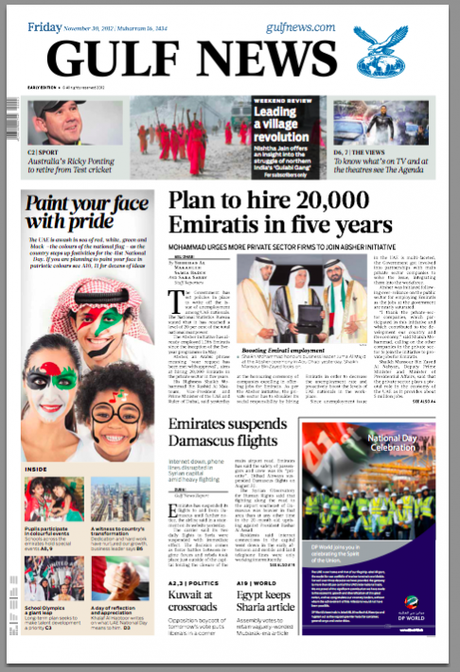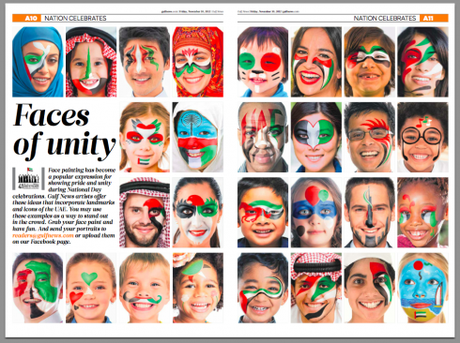 Dubai's Gulf News displays a lot of color starting on its front page of today Friday, and continuing inside, with a double spread about the many faces of multi cultural United Arab Emirates. Abdul Hamid Ahmad is editor in chief; Miguel Gomez is design director.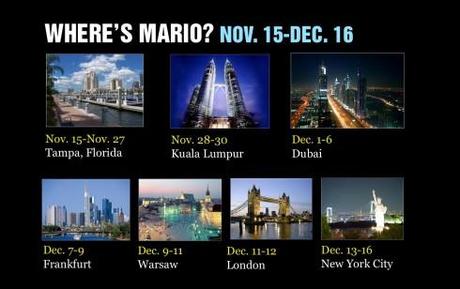 Take a video tour of iPad Design Lab
"iPad Design Lab" trailer on Vimeo.
Read the Society of Publication Designers' review of The iPad Design Lab here:
http://www.spd.org/2012/10/must-read-ipad-design-lab.php

Keep up with Mario Garcia Jr. via Garcia Interactive: helping transform online news since 1995.
http://www.garciainteractive.com
Here's a gift you don't have to wrap!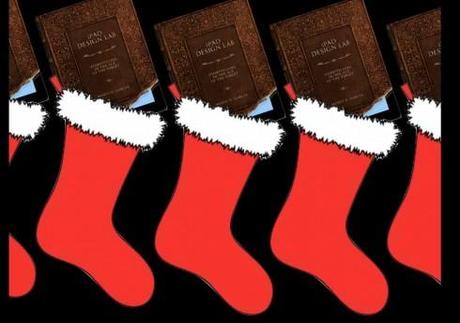 It's official. The Christmas/holiday shopping season is here.
Here is a suggestion for someone on your list, the digital book iPad Design Lab: Storytelling in the Age of the Tablet.  No need to stand in line, no need to buy wrapping paper.  Just send it to someone you think might enjoy a book about this magnificent new platform that is the tablet, and how to maximize its potential for storytelling.
Here is how you can get the book:
The original version of the book is the multitouch textbook version available on the iBookstore for iPad (iOS 5.0 and up):
https://itunes.apple.com/book/ipad-design-lab/id565672822. This version includes video walkthroughs, audio introductions to each chapter, swipeable slideshows, a glossary and a sophisticated look and feel.
Apple only sells multitouch textbooks in certain countries at this time, unfortunately. Copies are available in at least the following countries: Australia, Austria, Belgium, Canada, Finland, France, Germany, Great Britain, Greece, Italy, Latvia, Luxembourg, The Netherlands, Poland, Portugal, Romania, Slovakia, Spain, and the United States.
For those in other countries and without an iPad, we have made the book available in a basic edition for other platforms. This basic edition includes the full text of the original, along with the images and captions, but lacks the other features such as audio and video. It is available on the following platforms in many countries:
Amazon Kindle: http://amzn.to/SlPzjZ
Google Books: http://bit.ly/TYKcew
Scribd: http://bit.ly/PQTwla
TheMarioBlog post #1148