USA Today - June 27, 2014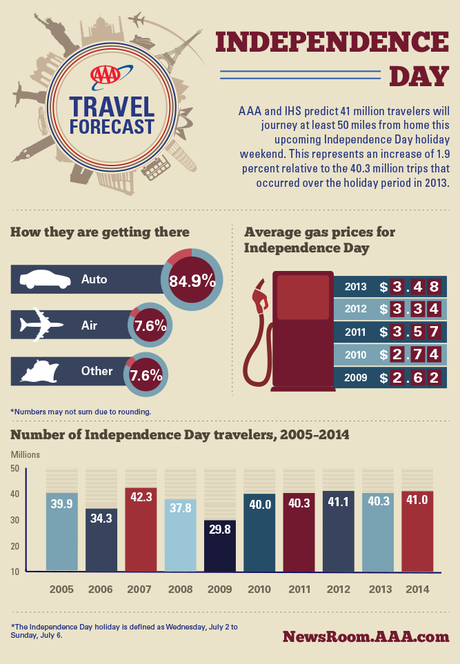 Fourth of July Infographic © AAA
If you're traveling for the Fourth of July holiday, you're not alone. According to auto club AAA, 41 million people will travel – by road, sky and other – this weekend. That is a 1.9% increase from the 40.3 million that traveled over Independence Day in 2013. About 34.8 million people will travel by car, the highest level since the pre-recession holiday in 2007. Air travel between July 2 and July 6 is expected to jump 1% to 3.1 million travelers from 3.07 million last year. 
As far as prices go, rental car costs have remained consistent with last year's, while hotel rates have risen 15% for AAA Two Diamond hotels and 9% higher for AAA Three Diamond hotels. Airfares are a little harder to decipher. AAA says prices are 5% lower on average than a year ago, but other analysts claim they have increased nearly 6% from April to May. Gas will cost more this year, as the national average is about 20 cents more a gallon than it was on July 4, 2013. 
#MyTake
: People are ready to travel. The high traffic on Memorial Day kicked off the summer season, and with the kids out of school, even more people are packing their bags and hitting the road. The sting from the long, brutal winter can still be felt, and people are eager to get in their much deserved vacation time. Also, with the fourth falling on a Friday – automatic three-day weekend for most – more people are inclined to extend their trips by either taking Thursday or Monday off to get the most out of the holiday. The long weekend has also made it easier for people to take a trip during the holiday, as opposed to when it falls in the middle of the week, which would force people to take two or more days off for a vacation.
USA Today - June 30, 2014
A new cruise in the Pacific Northwest offers a new way to tour the wineries of the region. Un-Cruise Adventures, a small-ship line, introduced four wine-themed sailings on the Columbia and Snake Rivers that combine scenic cruises with stops at nine wineries. The cruises will take off from Portland, OR, and visit vineyards throughout Washington and Oregon. Passengers will be accompanied by a local wine expert who will lead presentations and tastings on board. Fares start at $3,695 per person.
#MyTake
: It's one thing to offer local wines on board a cruise, but quite another to take passengers to the vineyards where they were created. More tour companies and cruise lines are offering experiential travel opportunities, allowing people to really experience the places they are visiting. This gives guests the chance to not only taste the wine, but see where it came from, the local scenery and the culture. It offers immersion into a region that many people may not know very well.
Hospitality Net - June 30, 2014
It seems that Americans aspire to have fitness-focused vacations, but tend to engage in more relaxing, leisurely activities instead. A new survey from Room Key found that nearly one in two individuals expressed that fitness-related activities would dictate their travel plans, such as learning a new sport or fulfilling an extreme goal (i.e. skydiving or bungee jumping). About 57% of Americans said they would choose one hotel over another based on fitness-related amenities. However, when asked how they would actually spend their summer vacation, 74% said they would forgo fitness for more leisurely pursuits, like sightseeing, laying on the beach or by the pool or attending a yoga class or visiting the spa.
#MyTake
: Travelers always express certain expectations or ambitions ahead of time, claiming they'll do this, that and the other. But when it comes down to it, vacations are meant to be an escape, a time to relax and kick back after months of hard work and crazy schedules and stress. So, while the idea of going hiking and taking a scuba diving class may be on their minds, they might decide to forgo those activities once they check in and see that a massage or a lazy afternoon by the pool seems more appealing. However, if they do decide to get some fitness in, at least they will have picked a hotel that offers those amenities.
Travel Pulse - June 27, 2014
Royal Caribbean created a new company called TourTrek that develops, markets and sells land tours in over 90 countries. Details on the new company are few and far between, but I expect the offerings to be unique to each port stop, and offer travelers a completely new experience.
#MyTake
: Cruises have a lot to compete with, from amusement parks to conveniently priced hotel packages, not to mention travelers who are wary of taking a cruise given some of the recent incidents that have taken place. In order to become more appealing to both veteran and first-time cruisers, Royal Caribbean has expanded their offerings to give people more exposure to the places where cruises dock. Usually, cruises are all about being on the boat, but these excursions are becoming more and more popular as people seek out new adventures and experiential opportunities.
USA Today - June 30, 2014
Rollin King, who, along with Herb Kelleher, launched Southwest Airlines, passed away on Friday at the age of 83. His vision to create a low cost, better-service airline spurred a major shift in the airline industry, and has since created one of the most successful airlines in the country. King and Kelleher came up with the idea back in 1967, according to sources, and the airline launched only in Texas in 1971. The company has taken off – pun intended – developing a reputation for low fares, good service and no fees.
#MyTake
: This is a true loss for Southwest, but King has left the company in capable hands, as the airline continues to deliver good numbers, excellent customer service, on-time flights and low fares. King built an innovative airline that has made a lasting impression on the industry and he will be missed.