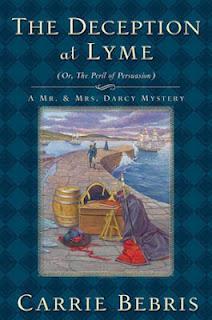 Carrie Bebris has written one Mr. & Mrs. Darcy Mystery for each of Jane Austen's six completed novels. Her Mr and Mrs Darcy Series includes: Pride and Prescience, Suspence and Sensibility, North by Northanger, The Matters at Mansfield, The Intrigue at Highbury, and the latest  The Deception at Lyme. 
Will  the series continue?  "
Indeed it shall!"
  - answers the author. She is presently writing the seventh book of the series. She assures:  "There is still plenty of mayhem in Regency England to entangle the Darcys, and many troublesome Austen characters they either have not seen the last of, or not yet met". 
NEW!
An unabridged audio version of 
The Deception at Lyme
 has just released, published by 
Recorded Books
. It is available on CD and digital Playaway, with a cassette edition scheduled for March, and as a digital download from 
Audible.com
NEW!!
TEA Books, has just released
Inganno e persuasione, o: La sventurata di Lyme
(Deception and Persuasion: The ill-fated of Lyme)
. As with TEA's editions of the previous Mr. and Mrs. Darcy Mysteries, this Italian translation of
The Deception at Lyme
is a handsome trade paperback with a lovely cover. It is available in print and ebook formats.  
Libri: IBS.it
http://www.ibs.it/ 
eBook: Il Libraio
http://www.illibraio.it